Gigabyte GTX 560SO
NVIDIA's GeForce GTX 560 GPU has opened up an avenue whereby add-in card partners have constructed genuinely custom boards. Retailing from £145, partners choose just how much to invest in this mid-range GPU. We've already taken a look at the ASUS TOP and MSI Twin Frozr II/OC, so now it's the turn of Gigabyte to show what can be done with the GeForce GTX 560 GPU.
Like the others, Gigabyte has multiple offerings on the GTX 560. The standard 'OC' model chimes in with an 830MHz core and memory running at 4,008MHz, and it's currently priced at a hair over £150.
Looking identical on the outside is the faster SO variant (GV-N56GS0-1G1), this time specified with a 900MHz core, though the memory remains at 4,008MHz. Given what other partners have put forward, the SO, priced at £180, can be considered an average pre-overclocked GTX 560.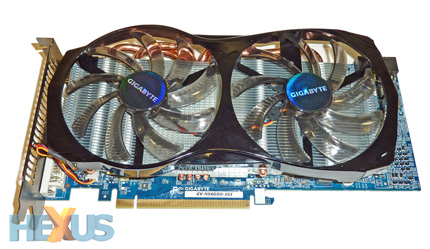 The first thing that strikes you is the two huge fans dominating the heatsink. Looking akin to a pair of goggles, the 100mm fans sit at different heights on the card, due to the shaped nature of the dual-thickness heatsink. Four copper heatpipes attach directly to the core and feed out to the aluminium fins.
Gigabyte reckons the larger fans mean they need to spin slower to generate the same airflow as, say, 80mm models, though we'd be concerned about the bigger dead-spot in the centre of each fan. This WindForce 2X is tuned to provide total 61CFM of airflow at just 31dB - we'll be putting it to the test in due course.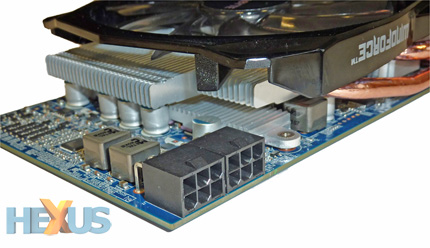 As you may just be able to see, a separate heatsink cools the hot-running power-delivery components. Like many of its competitors, Gigabyte forgoes explicit cooling for the 1GB GDDR5 RAM.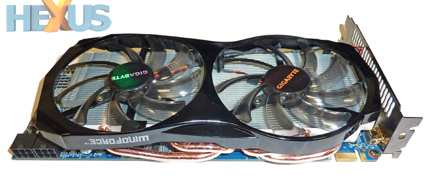 Plumbed out of the back is the standard NVIDIA output setup of two dual-link DVI and a mini-HDMI. This GTX 560 features voltage adjustment for the GPU, ranging from 0.825V through to 1.087V (1.012V default) when used in conjunction with Afterburner software.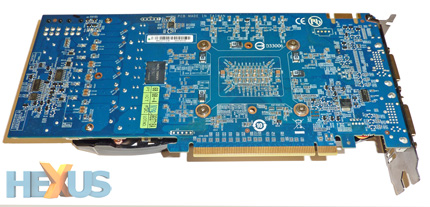 The uncomplicated heatsink comes away with the removal of four screws on the back. As a rough-and-ready guide to operation, Gigabyte has six LEDs that indicate the number of power phases in use, assuming the firm's OC Guru software is installed. It's kind of interesting to know if you're super-geeky about graphics.
It makes sense to directly compare this card against the two also-pre-overclocked GTX 560s we've reviewed recently. Head on over to take another look at the ASUS TOP.