Tool up
NVIDIA proudly proclaims the GeForce GTX 590 graphics card to be the fastest in the world. Our review of the card paints a different picture, with AMD's Radeon HD 6990 just ahead, but there's little denying that GTX 590 is one fast beastie.
It transpires that only a handful of NVIDIA's many partners have the right to market the card in each territory. Motherboard giants Gigabyte, ASUS and MSI all get a look-in, which is interesting insofar as the trio all market AMD's Radeon HD 6990, as well.
Gigabyte has done rather well with its NVIDIA line-up in recent months, with the non-reference GTX 460 SO and GTX 560 SO cards deserving of particular attention.
But the twin-GPU GeForce GTX 590 is a different kettle of fish, as all partners are tied to the reference design for the foreseeable future. One reason for this is the complexity of the cooling used, and it will take a while for partners to figure out how to better the impressive reference heatsinks.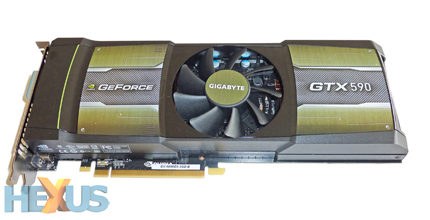 And so the Gigabyte GTX 590 3,072MB card is the same as every other partners', save for the change in sticker on the shroud and fan.
The 11in-long card fits in two reduced-speed GeForce GTX 580 cores and links them together using NVIDIA's nF200 bridge chip. The cores operate at standard GTX 590 speeds, that is, 607MHz core, 1,215MHz shaders, and 3,414MHz GDDR5 memory.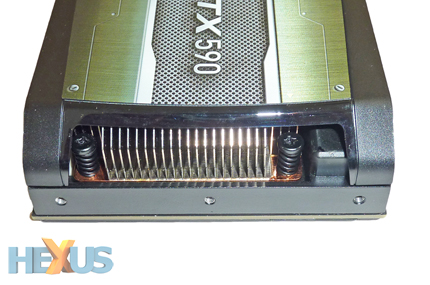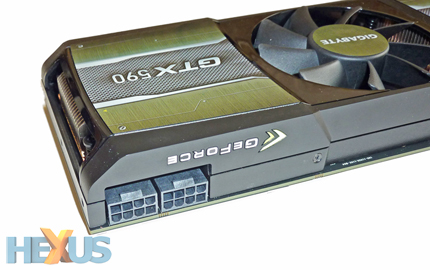 A stout PSU is needed to drive the card which, NVIDIA says, pulls an average 365W when under the cosh. Advanced power-regulation technology ensures the card doesn't pull an inordinate amount of watts, thereby putting the dual-GPU at risk of overheating, though there have been instances of where this technology has failed when used with early drivers.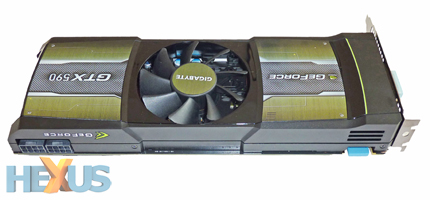 Gigabyte prices this model at a sniff over £600 - yup, you read that right - while a second can be added courtesy of the solitary SLI connector on the right-hand side. Be warned, NVIDIA recommends that an GTX 590 SLI system requires spacing between the two cards. As such, it has certified 20 motherboards with the requisite gap between x16 PCIe slots. What's more, two cards require a PSU with a minimum capacity of 1,100W: heavy-duty stuff indeed.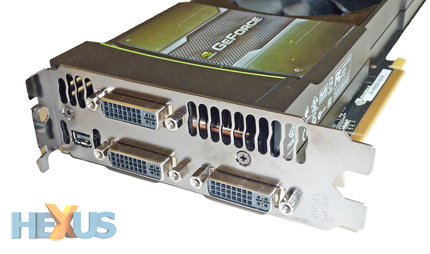 Expanding the feature-set compared to previous generations, gaming-wise, the GTX 590 is able to drive three screens from the trio of dual-link DVI outputs. This extends to running 3D Vision on each, if you have the appropriate monitors.
A mini-DisplayPort 1.1a connector can be used to drive a fourth display, but it's limited to general-purpose 2D work.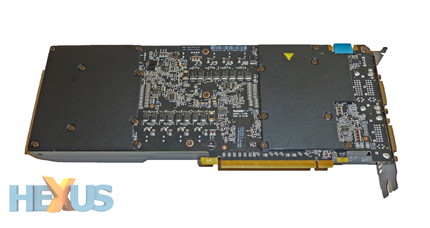 The focus on cooling translates to a card that's wonderfully well-built. GTX 590's complement of 3,072MB of GDDR5 memory - 1,536MB per GPU - is ensconced between close-fitting heatsinks. Please head on over to the original review if you'd like to learn more about the card and architecture.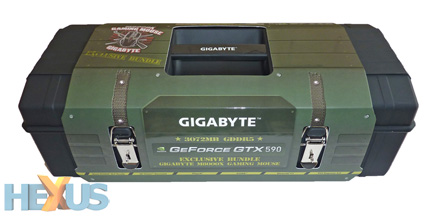 We'd normally leave out commentary on the packaging. Gigabyte's requires at least a couple of photographs, though.
The card is shipped inside a toolbox presentation box. Yup, this is a real man's toy, not to be meddled with by girls. We were half-expecting a large Yorkie and Snickers bar to be present inside.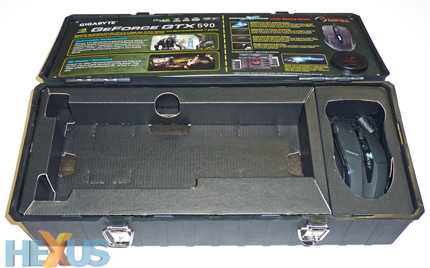 Gigabyte must have a surplus of M8000 Xtreme gaming mice at HQ. The £40 mouse is bundled alongside the card, and it makes a pleasant change from having a bulk-bought piece of software thrown in. The mouse is pretty good, though it's obviously only useful if you don't have a decent input device already.
The package is backed by a three-year warranty, which is important when shelling out more money than some people spend on their first car.