Attack of the Antilles
Kingdom come
Recent research indicated that the total available market for discrete graphics cards - consumer, gaming and workstation - numbers some 70 million units. Factor in the average selling price and the market was worth $17 billion in 2010. Totally dominated by AMD and NVIDIA, both companies strive for the halo effect that emanates from having performance leadership.
Having the fastest GPU in the world is relatively unimportant in the grand scheme of things, as it adds little in terms of cold, hard cash, but the waterfall effect of manufacturing the best graphics cards is not to be underestimated.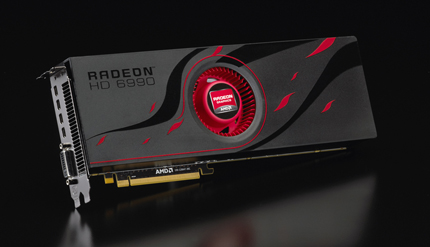 Gamers, enthusiasts and early adopters tend to be a fickle bunch whose only god is speed. Satisfy their cravings for all-out power and they'll make plenty of noise in praise of your card, which helps nudge the volume market a percentage point of two in your direction. Of course, it isn't that simple, because there's a whole different play for keeping tier-one box builders - Dell, HP, Acer, et al - happy, yet there really is more than just pride and hubris at stake when it comes to super-fast GPUs.
The current sheriff of GPUville is the old-in-the-tooth AMD Radeon HD 5970 2GB. Released in November 2009 and made up of two high-end Cypress-based GPUs on one PCB, it's fast and noisy, and ready to be pensioned off to pastures new.
AMD has since brought the refined Radeon HD 6970 into play, while NVIDIA has really upped its game with the GeForce GTX 580. Both high-end pixel munchers are ripe for a dual-GPU-on-one-PCB makeover, and both vie for the much-valued title of fastest graphics card in the world.
AMD blinks first
Bringing in its super-high-end mojo first, AMD is now ready to release, in limited quantities, the Radeon HD 6990 4GB graphics card. Taken from a high-level overview, the new heavyweight contender is composed of two Cayman (read super-fast) GPUs on one PCB. The very nature of current enthusiast cards means that the HD 6990 - codenamed Antilles - is big, beastly, power-hungry, and, yup, devilishly fast.
AMD's main obstacle in producing a monster gaming card is more practical than technical. The company knows that modern graphics-card designs dictate that ultra-high-end offerings need to have two of your very best GPUs working in tandem, linked together using established multi-GPU technology. Understanding that the Radeon HD 6970 - the best single-GPU card in AMD's considerable arsenal - can chew through 250W and takes some rather clever engineering to keep cool, having two similar GPUs on one board isn't easy when considered from power delivery and cooling perspectives.
First off, we're going to show you just makes up the HD 6990 and then move on to how AMD has designed an actual card around the specifications. Shifting gears, benchmark numbers will determine if the effort has been worthwhile. Hold on to your hats for the HEXUS Table of Doom.