Introduction
Can you believe AMD's 6000-series GPUs were introduced in the form of the Radeon HD 6870 and 6850 just last October? Since then, the red team has moved on and ushered in the high-end Radeon HD 6970 and 6950, whilst the rival green team has been keeping us all on our toes with the introduction of the GeForce GTX 580, GTX 570 and the venerable GTX 560 Ti.
There's no lack of choice when its comes to new-generation GPUs, but if you're working on a £200 budget, AMD's Radeon HD 6870 remains an excellent bet and it's being made all the more attractive by the launch of Sapphire's TOXIC Edition.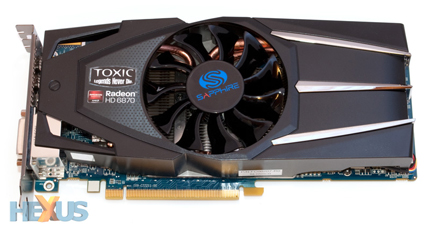 The TOXIC brand is synonymous with souped-up AMD Radeon parts, and Sapphire's 6870 derivative is no exception. For many readers, this is the 6870 you've been waiting for - and the paper specification suggests that you won't be disappointed.
Out the box, Sapphire pre-overclocks the GPU core to 970MHz (up from a reference 900MHz), while the 1GB GDDR5 frame buffer trots along at a merry 4,600MHz (up from an effective 4,200MHz). That makes this one of the fastest Radeon HD 6870s money can buy, and Sapphire's clearly out to one-up NVIDIA's GeForce GTX 560 Ti. We reckon there's still a little additional headroom to work with on the 6870 core, though, but perhaps Sapphire is saving the magic 1GHz for an ATOMIC successor?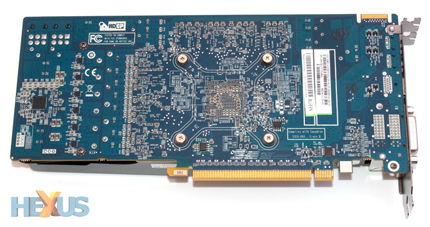 Flip the card over, and we get a look at Sapphire's re-jigged blue PCB. Measuring 240mm in length, the TOXIC card is as long as AMD's reference design but includes a few enthusiast-orientated niceties - including a 10-phase power supply and Sapphire's patented second-generation Black Diamond chokes.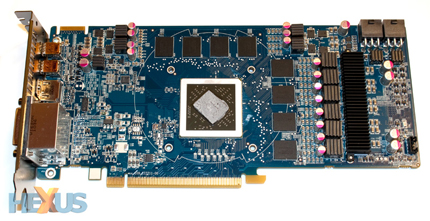 In keeping with AMD's 6870 architecture - which you can read all about over here - the mid-to-high-end card retains two six-pin PCIe power connectors and a single CrossFire link for dual-GPU configurations.
A couple of changes to the PCB, then, but what's arguably of more interest is Sapphire's exclusive Vapor-X cooler. The latest iteration consists of an 11-blade fan, three thick copper heatpipes and an array of aluminium fins than encompass the majority of the card.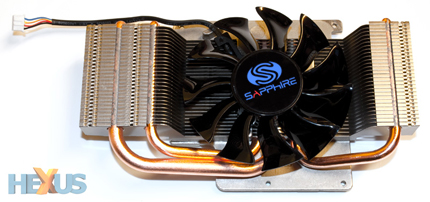 It's a meaty-looking solution, and it needs to be - running a 6870 core at 970MHz demands adequate cooling.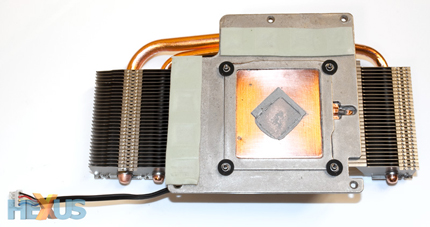 The cooler's thick copper base makes direct contact with the GPU, and without spoiling the surprises later in the review, the Vapor-X's cooling credentials are really rather good.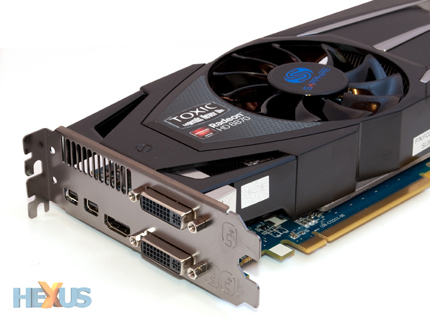 It's an all-round impressive package, and there's little need to chop and change AMD's dizzying array of ports. Dual-link DVI, single-link DVI, HDMI and a pair of mini-DisplayPorts will cover almost all bases, and the card can output to up to four monitors in Eyefinity mode.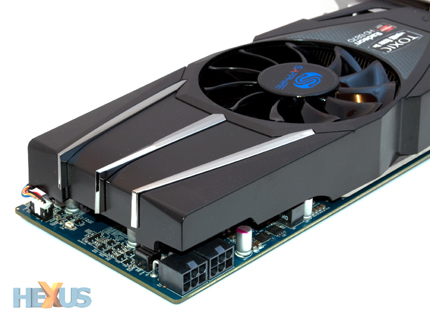 Making its way to retail in the very near future, Sapphire's Radeon HD 6870 TOXIC is expected to fetch roughly £200 - making it a direct competitor to the GeForce GTX 560 Ti. Let's see who comes out on top, shall we?