GTX 570 or GTX 580? We take a look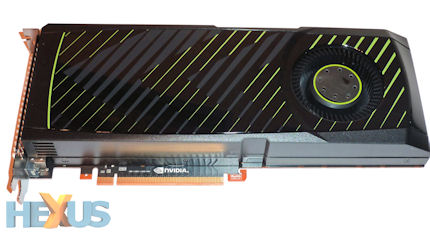 Case of déjà vu? The GeForce GTX 570 reference card is practically identical to the GTX 580. Measuring in at 10.5in and enclosed in the same frame-style shroud, the only method of discerning between the two NVIDIA heavyweights is by the green lines that go across the top on this card.
The cards are manufactured on a contract basis by a company called Flextronics. Given the similarities between the two high-end GF110 GPUs, it makes sense to keep the GTX 580's PCB. Partners will add their own twist with grounds-up designs in the weeks to come.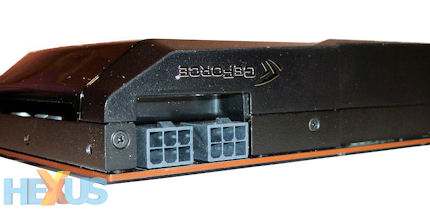 Flip it around and another telltale sign that this the GTX 570 is provided by the two six-pin PCIe connectors; the GTX 580 has an eight-and-six-pin arrangement.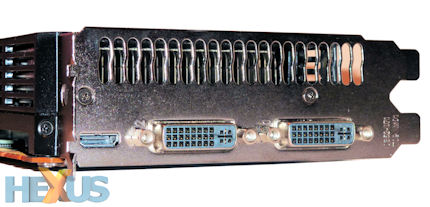 Come around again and the card keeps the standard NVIDIA layout of twin dual-link DVI and mini-HDMI. However, NVIDIA doesn't carry over the bitstreaming-over-HDMI (Dolby True HD and DTS-HD) goodness from GTX 460, which is a shame. The nature of the NVIDIA beast also means that you will need two cards to run 3D Vision Surround.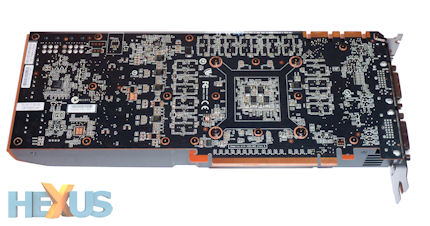 The GTX 580's PCB is identified by the provision of an eight-pin power connector on the left-hand side and spaces for 12 memory chips, which lead to a combined 384-bit interface. Look closely at this picture - enlarge it by clicking - and you will notice that the two bottom-left memory-chip spaces are bereft of components. Reducing the number of chips to 10 also has the effect of diminishing the frame-buffer from 1,536MB to 1,280MB and the memory-connected pathway to 320 bits - or five 64-bit channels.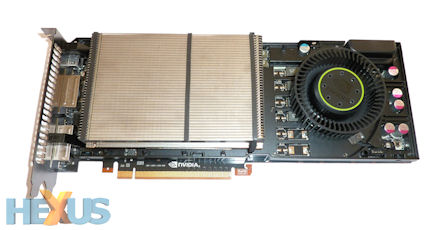 Whipping off the cover shows the same vapour-chamber technology found you-know-where.
Summary
The physical appearance of the GeForce GTX 570 1,280MB is very similar to the more-powerful GTX 580 1,536MB: both share the same PCB and cooling technology. We conjecture that partners will have a tough time in bettering the Flextronics-manufactured design without spending an inordinate amount of money on custom cooling.