Two is better than one
NVIDIA unveiled its newest mainstream graphics card earlier in the week. The GeForce GTS 450 1,024MB uses the modular Fermi architecture in a sensible fashion to create a GPU that marries performance, features and price in a reasonable-enough package. Our thoughts concluded that GTS 450 would succeed if priced below £100.

Modern GPUs' modular design means that two-way multi-GPU scaling - adding a second card into the system - approaches 100 per cent in new games, and the combining of two mainstream GPUs always offers readers some food for thought, to see how they compare to genuine high-end GPUs. To this end, NVIDIA dropped off a couple of reference-clocked GTS 450 cards and told us to get on with it.

Please head on over to the original review to get a better understanding of how the GeForce GTS 450 works. Stay on this page if you want to see benchmark results.

The multi-GPU SLI recipe is quite simple. Grab two cards, install them into an SLI-compatible motherboard with two x16 mechanical slots, lash them together with a cable, and install the driver. We used an ASUS P7P55D Premium motherboard and Intel Core i5 750 CPU as the supporting platform.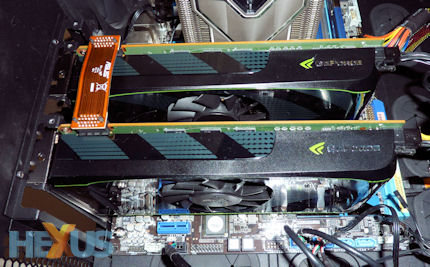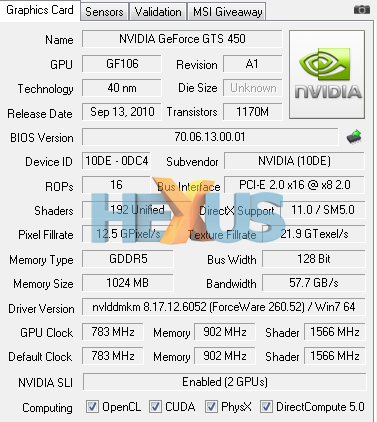 The motherboard provides PCIe gen 2 x8 bandwidth on each x16 slot. Now let's get on to some benchmarks.