Stack it up, Sandhu
Graphics cards
NVIDIA GeForce GTX 460 768MB
NVIDIA GeForce GTS 450 1,024MB
AMD Radeon HD 5770 1,024MB
ATI Radeon HD 5750 1,024MB
ATI Radeon HD 5670 1,024MB
Die size
1.95bn
1.17bn
1.04bn
1.04bn
0.63bn
Manufacturing process
TSMC, 40nm
TSMC, 40nm
TSMC, 40nm
TSMC, 40nm
TSMC, 40nm
General clock
675MHz
783MHz
850MHz
700MHz
775MHz
Shader clock
1,350MHz
1,566MHz
850MHz
700MHz
775MHz
Memory clock (effective)
3,600MHz
3,608MHz
4,800MHz
4,600MHz
4,000MHz
Memory interface and size
192-bit, 768MB, GDDR5
128-bit, 1,024MB, GDDR5
128-bit, 1,024MB,
GDDR5

128-bit, 1,024MB,
GDDR5
128-bit, 1,024MB,
GDDR5
Memory bandwidth
86.4GB/s

57.7GB/s

76.8GB/s

73.6GB/s
64GB/s
DirectX/ Shader Model
DX11, 5.0
DX11, 5.0
DX11, 5.0
DX11, 5.0
DX11, 5.0
Shaders
336
192
800
720
400

Single-precision GFLOPS (single-issue)
907.2

601.3

1,360

1,008

620
Texturing
56ppc bilinear
28ppc FP16

32ppc bilinear
16ppc FP16

40ppc bilinear
20ppc FP16

36ppc bilinear
18ppc FP16
20ppc bilinear
10ppc FP16

ROPs
24

16

16
16

8
GPixels/s throughput
16.2

12.5

13.6

11.2
6.2
GTexel/s bilinear
37.8

25.1

34

25.2

15.5
Multi-GPU
Two-way SLI
Two-way SLI
Four-way XFire
Four-way XFire
Four-way XFire
Connectors (native)
2 x dual-link DVI Mini-HDMI
2x dual-link DVI
Mini-HDMI
2x dual-link DVI
HDMI, DisplayPort
2x dual-link DVI
HDMI, DisplayPort,
2x dual-link DVI
HDMI, DisplayPort,
Retail price
£130 ($179)

£99 ($129)

£115 ($159)
£105 ($135)
£85 ($99)



Analysis: GeForce GTS 450 1,024MB



NVIDIA appreciates that, in late 2010, GPUs intended to fill the $99-$129 price point need small dies and cheap memory. GTS 450's 1.17bn transistor-count is 40 per cent lower than the GTX 460's and is comparable to the Radeon HD 57x0 GPUs that have been around for nearly a whole year.

Taken as an on-paper competition, GTS 450 is comprehensively outpaced by the Radeon HD 5750 1,024MB in the shading and memory bandwidth stakes, and it's just able to keep in touch with respect to texturing capabilities. What's more, the maximum board power is almost 25 per cent higher than the Radeon's. NVIDIA's GPUs tend to perform better in gaming than the specifications would suggest, however, and this really needs to be the case if the GTS 450 is going to displace the HD 5750 as the best £100 graphics card.

We must remember that GeForce 4xx GPUs put a greater focus on geometry performance than on shading and texturing, so the analysis suggests that its performance will be largely game-dependent.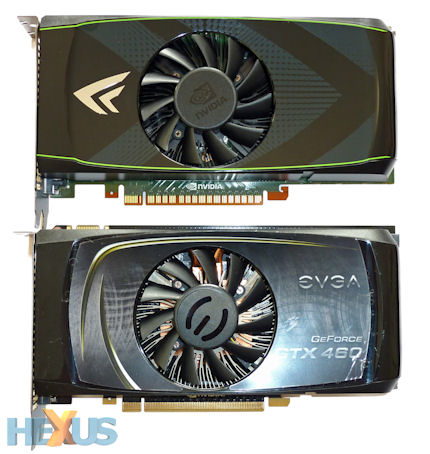 NVIDIA's partners will launch a reference-based model, shown above, or a custom card that's heavily pre-overclocked. The reference design is practically identical to a GeForce GTX 460's, and while this is a boon for the overclocking potential of the board - wait till you see the numbers - hopes of a single-slot GTS 450 1,024MB rest in the hands of partners.