Introduction
When it comes to customised and pre-overclocked graphics cards, few are as venerable as Gigabyte's Super Overclock series.
The range has thus far delivered custom takes on GPUs such as the AMD Radeon HD 5870 and NVIDIA GeForce GTX 275, but only now has it turned its attention to NVIDIA's Fermi.
But going against the grain, Gigabyte isn't applying its Super Overclock treatment to the newly-popular GeForce GTX 460 or the ultimate high-end GeForce GTX 480. Instead, it's turning its attention to an often-overlooked number; the GeForce GTX 470.
Out the box, the Gigabyte GeForce GTX 470 SOC provides a core bumped up from 607MHz to an impressive 700MHz, and 448 stream processors clocked at 1,400MHz. That's joined by a 1,280MB GDDR5 frame buffer clocked at a reference 3,348MHz.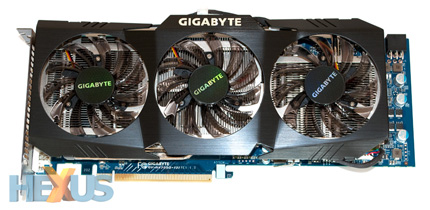 It's one of the fastest (if not the fastest) pre-overclocked GeForce GTX 470s currently available, and it commands a premium £300 asking price.
That's around £80 more than a reference card, but Gigabyte's hoping to justify the outlay with more than just a healthy bump in speed.
There's a raft of upgrades tied to the Super Overclock design, the most obvious of which is a three-fan custom cooler dubbed the WindForce 3X. Unlike NVIDIA's reference design - which features just a single fan - Gigabyte's cooler utilises a trio of "ultra-quiet" PWM fans that generate 27CFM of airflow per fan whilst keeping noise levels down to 22dB at 1,800rpm or 38dB at a full 3,300rpm.
Beneath the fans - each of which features anti-turbulence inclined blades - you'll find an array of aluminium fins, three copper heat pipes and a vapour chamber. It's a meaty cooler alright, and Gigabyte reckons it'll lower temperatures by up to 18 per cent when compared to NVIDIA's reference design. We'll find out if those claims hold true a little later in the review.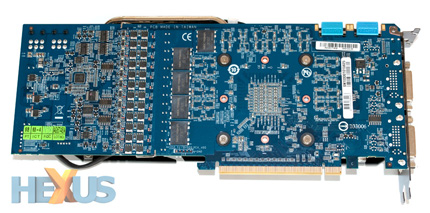 In addition to a healthy out-the-box overclock, Gigabyte's custom design - measuring a hefty 280mm in length - suggests there's more performance available to those willing to push the card that little bit further.
Like others in the Super Overclock range, the GTX 470 SOC makes use of a Gigabyte Ultra Durable design that includes a 2oz copper PCB, Japanese solid capacitors, ferrite chokes, tier one Samsung/Hynix memory and five Proadlizer film capacitors that lower power noise and increase power efficiency.
Whilst we're on the subject of power, it's worth noting that the GTX 470 SOC comes equipped with a 14-phase PWM design. That's 12 phases for the GPU - each with its own green LED indicator - and two phases for memory.
This clearly ain't a half-baked card, and you needn't worry about the quality of its GPU, either. The core of each GTX 470 SOC is cherry-picked through Gigabyte's "GPU Gauntlet" sorting process. In layman's terms, that means every GTX 470 SOC GPU is tested to ensure it meets three key criteria; "maximum overclocking ability", "the best power efficiency" and the "lowest power consumption".
Plenty of buzz words, but here's the bottom line; compared to a reference GTX 470, Gigabyte claims this pre-overclocked monster will provide 12 per cent better performance, 17 per cent lower power consumption and an 18 per cent reduction in temperature.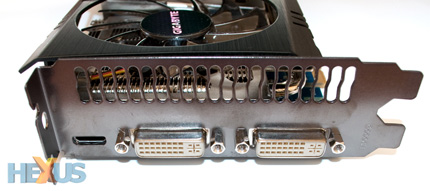 Not everything's improved, though. You still get NVIDIA's standard combination of dual-link DVI and mini HDMI outputs, and though the cooler's still a dual-slot design, a lot of the GPU's heat will be dispersed inside the body of your chassis.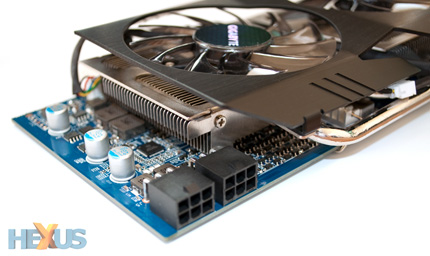 Two six-pin PCIe power connectors are still required, and overclockers can keep an eye on core power through a dedicated voltage read point located toward the edge of the PCB.
There's plenty of card for your £300, but don't expect much from the bundle. Gigabyte includes just a HDMI cable, a DVI-to-VGA adapter, a couple of PCIe power cables and a driver disc as standard. NVIDIA has you covered, though, as anyone buying a GeForce GTX 465, 470 or 480 graphics card is currently entitled to a free copy of 2K's third-person shooter, Mafia II, as part of a limited-run promotion.