Introduction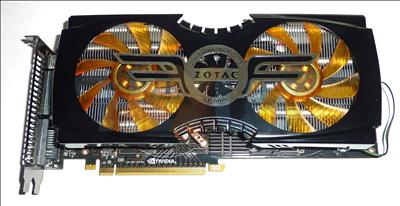 Much to NVIDIA's chagrin, there's probably been more talk about the NVIDIA GeForce 480 cooler's noise characteristics than on performance. We reckon that the range-topping Fermi card would make a lot of sense if it was watercooled from the get-go, because paying an extra £50-£75 on top of the £400 asking price is no deal breaker.

The next best thing to a liquid-cooled GPU is one that's got an efficient aftermarket air cooler strapped on it, reducing noise and temperatures in one fell swoop. ZOTAC's of this thinking, because it's taken the best GTX 480 GPUs, overclocked them, and then stuck a massive cooler on top.

Claiming to be the 'world's fastest' GeForce GTX 480, we examine the ZOTAC GeForce GTX 480 AMP! Edition and see if more speed can coexist with a less-noisy cooler.