Introduction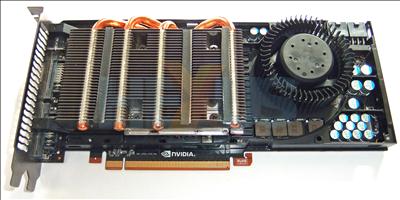 NVIDIA launched the GeForce GTX 480 GPU late last Friday night. The 100-plus comments in the HEXUS.community indicate that NVIDIA's newest graphics architecture has been something of a letdown, with particular puzzlement over the range-topping card's high power-draw and ensuing thermal problems.

Whilst the £450 GeForce GTX 480 hasn't set the world on fire (or has it? ed.), we still believe the underlying GF100 architecture to be a fairly potent one. NVIDIA is facing a race against time, frankly, as it cannot wait for yields to improve before having another shot at desktop GeForce 400-series, whereas AMD's had ample opportunity to refine its 5-series cards that have been out since September 2009.

GeForce GTX 480 was accompanied by a little brother during the soft launch last week. The GeForce GTX 470 promises most of the GF100 (Fermi) goodness but at a lower cost and, for NVIDIA's sake, a better noise profile and associated thermals.

To debut at around £300-£330 in a couple of weeks' time, thereby putting it directly in the crosshairs of the well-established Radeon HD 5870, we see if GeForce GTX 470 can give AMD's best single-GPU card a run for its money.