System Setup and Notes
Graphics Cards
Inno3D GeForce GTX 260 OC 896 MB
PowerColor HD 4870 1GB PCS+
Current pricing, including VAT
£199.99
£172.49
Stream processors
216
800
GPU clock speed (MHz)
620
800
Shader clock speed (MHz)
1,242
800
Memory clock speed (MHz)
2,100
3,700
Memory bus width (Bits)
448
256
CPU
Intel Core i7 920 LGA1366 (2.8 GHz, 8MB L3 cache, quad-core plus hyperthreading)
Motherboard
Gigabyte GA-EX58-UD5 (X58+ICH10R)
Motherboard BIOS
F5
Memory
6GB Kingston ValueRAM (3 x 2GB) DDR3-1,066
Memory timings and speed
7-7-7-20 1T @ DDR3-1,066
PSU
Zalman ZM850-HP
Monitor
Dell 27in 2709W - 1,920x1,200px
Disk drive(s)
Samsung 1TB F1
Graphics driver
NVIDIA 180.37
Catalyst 9.4 pre-release (8.600)
Operating system
Ubuntu Linux 8.10 AMD64
Software
3D Benchmarks
Enemy Territory: Quake Wars v1.5, HEXUS custom-recorded benchmark. OpenGL - very high quality
Unigine Tropics Demo 1.1, high-detail presets
Unigine Sanctuary Demo 2.1, high-detail presets
Lightsmark 2008
Video Benchmarks
Mplayer SVN r29053 (default compiler optimizations)
A Scanner Darkly (HD VC-1 playback sample)
Dawn of the Dead (HD H.264 playback sample)
Notes
The price gap between these cards is pretty big - partly because the pre-clocked Inno3D card - which is pre-overclocked, however - is so expensive. Other 216-core GTX 260 cards with different clock speeds may be up to about £50 cheaper.
Compiz (3D desktop effects) was disabled completely for testing, to ensure possible interference between desktop 3D and app 3D didn't occur. I also disabled CPU frequency scaling, and locked the CPU at its stock top speed (2.8GHz)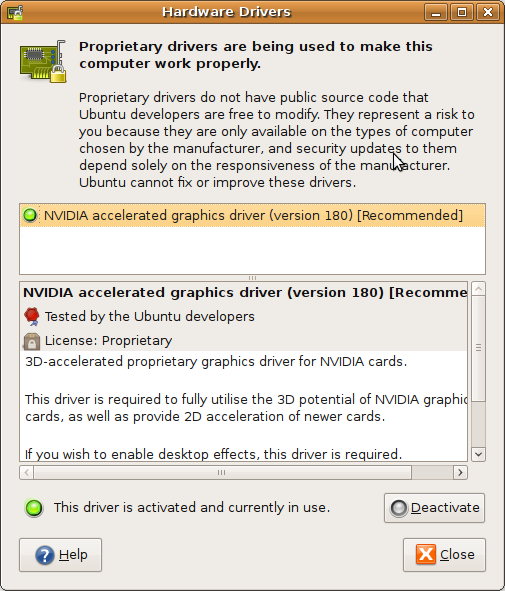 For those wanting to use these newer drivers easily on their Ubuntu 8.10 systems, they should try adding the line "deb http://ppa.launchpad.net/directhex/ppa/ubuntu intrepid main" under System/Administration/Software Sources/Third Party Software. You may need to manually install the package nvidia-180-modaliases for the 180.xx driver to be offered to you.