Introduction
Having sat undisturbed at the top of the graphics tree for a reasonable amount of time, NVIDIA was given a shock to the system when AMD knocked it from its perch with the ridiculously-fast Radeon HD 4870 X2.
Back in August 2008, AMD's literally heavyweight card pummelled the competition with over-the-top quantities of bandwidth and compute power. So much so, that our benchmarks proved the card only really made sense when gaming at a high resolution of 2,560x1,600 with seriously high image quality.
Since then, we've been awaiting NVIDIA's retort - and it had previously promised to win back performance leadership last year - but before we get to that, let's quickly flick through the history books for a little light-and-humorous reading...
As if often the case, NVIDIA opted to dampen AMD's Radeon HD 4870 X2 launch in August '08 with a series of fractious remarks - and, we should add, these launch-day shenanigans swing both ways. As expected, NVIDIA urged journalists and readers alike to consider the "massively parallel compute capability" of GeForce products, insinuating that technologies such as PhysX and CUDA make for a better value prospect.
Going further, NVIDIA added that it believes "many enthusiasts would appreciate the ability to purchase a powerful single-GPU card today, then upgrade to multi-GPU solutions in the future, without being forced into a multi-GPU products initially", despite carrying the doubled-up GeForce 9800 GX2 in its existing product range. Adding insult to injury, it quipped that "4870 X2s are quite heavy, and could pose shock and vibration problems if not secured well into systems".
With that bit of ill-tempered history in mind, one would assume that NVIDIA's attempt at conquering the Radeon HD 4870 X2 would be a single-GPU solution that doesn't weigh a tonne, right? Wrong.
Highlighting the theory that innovation may potentially be lost in the search for framerate domination, NVIDIA's first riposte to AMD's monster is the GeForce GTX 295 - a single card solution that features two GTX 200-based GPUs via two sandwiched-together PCBs (printed circuit boards).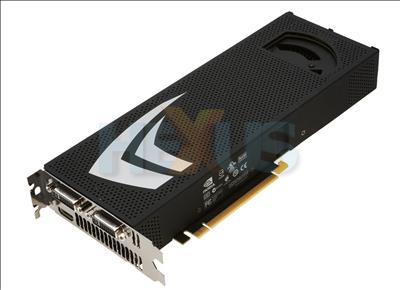 It's a heavyweight match up that would have Don King rubbing his jewel-clad hands in delight.
In the red corner, a card that needs no introduction in the enthusiast world, weighing in at 1,092g, from Sunnyvale California, with a record of one victory and no losses, the undisputed graphics card champion of the world - AMD's Radeon HD 4870 X2.
In the green corner, introducing a new challenger, weighing in at a show-stopping 1,213g, from Santa Clara, California - NVIDIA's GeForce GTX 295.
Let's get ready to rumble...