Is two better than one?
Let's do some architecture comparisons and try to shed some light on to whether the Radeon HD 4670, run in two-board CrossFire, stands a chance against Radeon HD 4850.

Please note the stated CrossFireX figures, shown in column two, are for two Radeon HD 4670 boards.


Graphics cards
ATI Radeon HD 4670 GDDR3
ATI Radeon HD 4670 GDDR3 XF
ATI Radeon HD 4850 GDDR3
PCIe
PCIe 2.0
GPU clock
750MHz
750MHz
625MHz
Shader clock
750MHz
750MHz
625MHz
Memory clock (effective)
2,000MHz
2,000MHz
2,000MHz
Memory interface, size, and implementation
128-bit, 512MB GDDR3
256-bit, 1,024MB, GDDR3
256-bit, 512MB, GDDR3
Memory bandwidth
32GB/sec
64GB/sec
64GB/sec
Manufacturing process
TSMC, 55nm
Transistor count
514M
1,028M
965M
Die size
146mm²
292mm²
260mm²
DirectX Shader Model
DX10.1, SM4.1
Vertex, fragment, geometry shading (shared)
320 FP32 scalar ALUs, MADD dual-issue (unified)
640 FP32 scalar ALUs, MADD dual-issue (unified)
800 FP32 scalar ALUs, MADD dual-issue (unified)
Peak GFLOP/s
480
960
1,000
Data sampling and filtering
32ppc address and 32ppc bilinear INT8 filtering (16ppc FP16), max 16xAF
64ppc address and 64ppc bilinear INT8 filtering (32ppc FP16), max 16xAF
40ppc address and 40ppc bilinear INT8 filtering, (20ppc FP16) max 16xAF
Peak GTexel/s (bilinear)
24
48
25
Peak GPixel/s
6
12
10
ROPs
8
16
16
Peak TDP (claimed)
59W
108W
110W
Power connectors (default clock)
None
None
6-pin
Multi-GPU
CrossFireX - four-board
CrossFireX
CrossFireX four-board
Outputs (native)
2 x dual-link DVI w/HDCP, DisplayPort, HDMI 7.1-channel
Hardware-assisted video-decoding engine
AMD UVD 2 - full H.264 and VC-1 decode
Reference cooler
single-slot
single-slot
single-slot
Retail price (default-clocked model)
£50-£55
£100-£110
£110-£125


What do you know: Radeon HD 4670 two-card CrossFire stacks up quite nicely against single-GPU Radeon HD 4850.

Overall memory bandwidth is the same. The math throughput is also very similar, with clock-speed making up for shader-count. The transistor-count and, to an extent, die-size and pricing are all pretty close, too.

Radeon HD 4670 XF has the edge in filtering, being endowed with a better shading-to-texturing ratio than HD 4850.

Power-draw, too, is eerily similar, and the non-3D feature-set is, for all intents and purposes, identical.

So, should the budget CrossFired pair be faster than a single-GPU '4850? The answer is yes and no. Pure on-paper specifications would lead us to believe that it can be, but the vagaries of multi-GPU rendering mean that linear increases are not always observed in games.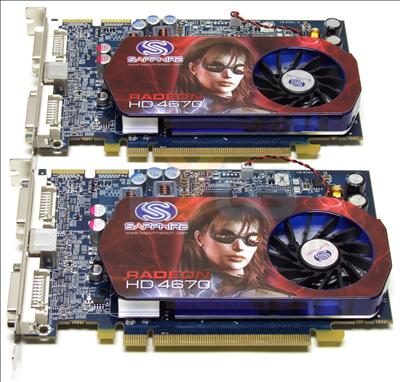 Seeing double? You bet.