Meet the PowerColor Red Devil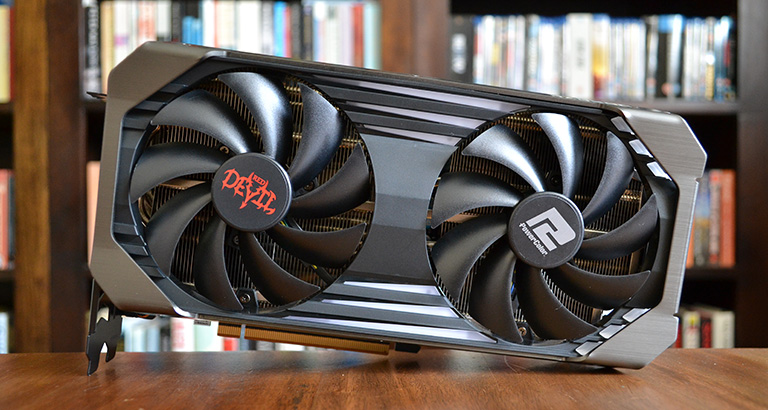 PowerColor goes in heavy with the Red Devil. The 2.7-slot beast is for all intents and purposes a scaled-back version of the RX 6800 XT RD we took a look at last year. Measurements duly shrink to 251mm long, 133mm tall and 54mm thick. Having smaller proportions gives rise to two 100m fans sat on top of a four-heatpipe heatsink that makes contact with the RX 6600 XT GPU through a thick nickel-plated base. Weight is a sturdy 999g.
Even this modest cooling is overkill for the GPU because it's rated for a maximum power target of 145W. We fully expect both temperature and noise to have excellent characteristics.
The core has base and boost speeds of 2,428MHz and 2,607MHz, respectively, so whilst it is technically overclocked, it's only running 18MHz faster than AMD's guidelines. Logs highlight that it does actually run more quickly, clocking an average 2,675MHz across our titles. Memory remains at a default 16Gbps.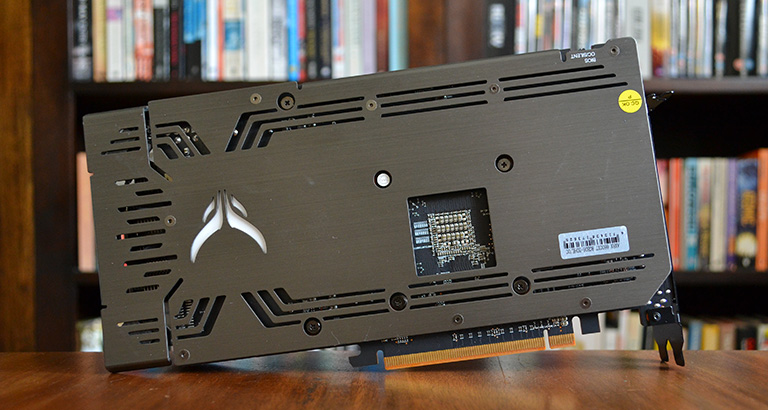 PowerColor installs a two-position BIOS switch that alternates between the default OC and silent modes. The latter reduces the power target down to 135W and, in our testing, knocks 30MHz off from the core speed. Fan noise remains exactly the same as the OC mode, however. The materials used to build the card are decent everywhere - there are no squeaks or rattles and coil whine is not an issue on our sample. What's more, the transition between fans being off (at below 55°C or so) and on is smooth and predictable.
Like most modern cards, the rear heatsink is used more for rigidity than any component cooling. The various cutouts look decent in the flesh, too.

We're not convinced PowerColor needs the additional 6-pin power connector. The reason for it is most likely down to the company using a pre-existing PCB for this model. Look closely by the BIOS switch and you'll see three pins. These attach to a supplied cable enabling easy lighting synchronisation with your system.
Said lighting is contained in two sets of three light bars on the front and also across the Red Devil logo on the rear. It also comes across the six go faster stripes on the front and even manages to illuminate the I/O ports. The effect is bright but not even on the light bars because, like on the RX 6800 XT, the illuminating LEDs can be seen around them.

Outputs are familiar and come in the form of three DisplayPort and a single HDMI.
PowerColor says it will have 'have plenty of cards on day one in the channel, enough that no eTailer will have NO reason to have inflated prices.' We'll examine if that's true in a few hours, but if so, this card ought to cost around £360.