Introduction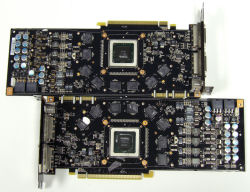 The last month has been an exciting time to be commentating on the discrete graphics-card market.

NVIDIA's launched its next-generation GPUs, GeForce GTX 280 and GTX 260, on June 16th. Based primarily on 18-month-old GeForce 8800 GTX technology, the new pair adopted the bigger-is-better approach, leading to 1.4bn transistors and a monolithic die-size of 576mm². Expensive, yes, but GeForce GTX 280 become the fastest GPU on the planet.

Just over a week later, on June 25th, AMD launched its own next-gen. parts, Radeon HD 4850 and HD 4870. Appreciating that the design cycle was such that it couldn't beat NVIDIA in a pure straight-line speed fight, the Radeons were architected to provide decent performance against a backdrop of excellent pricing, helped by the 55nm manufacturing process and general efficiency of the architecture.

HEXUS believed that Radeon HD 4850, priced at around £125 at launch, offered GeForce 9800 GTX-matching performance, and that the £179 Radeon HD 4870 fell somewhere between GeForce 9800 GTX and GeForce GTX 260.

The problem for NVIDIA and its partners was that their fat margins didn't correlate well with the Radeon's pricing, with 9800 GTX retailing for around £180 and, at the time, GTX 260 for £275.

Something had to give and, as suspected, NVIDIA instructed its partners to drop reseller buy-in prices such that GeForce 9800 GTX would be available to the consumer for £129. Even now, a few weeks on, that considerable snip hasn't been reflected in many UK etailers' pricing - AMD is making hay whilst NVIDIA procrastinates.

Bizarrely, however, NVIDIA all-new GTX-series has seen a wholesale reduction in pricing: GTX 280 is now available for £319 - down from £420 at at launch - and the GTX 260 from £215.

NVIDIA's retort against the salvo of AMD cards is more than just reducing pricing on incumbent models. Rather, it's to introduce a 'new' SKU that's intrinsically cheaper to produce.

Welcome to the 'all-new' GeForce 9800 GTX+, based on a 55nm manufacturing process and bumping GTX speeds up a touch.

Is that enough to take away the shine from AMD's Radeon HD 48x0? We tell you.