Introduction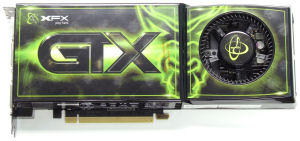 The graphics-card market has become exciting again. NVIDIA launched the GeForce GTX 200-series family a couple of weeks ago, cementing 18-month-old single-GPU performance leadership.

Just a week later, however, ATI hit back with the price-to-performance salvo of Radeon HD 4850 and HD 4870, forcing NVIDIA to cut comparison-GPU pricing until 55nm GeForce 9800 GTX+ hits the shelves, later on this month.

Our performance looks were compromised by the egregious lack of a GeForce GTX 260 card - arguably, at £250, offering better value than the £399 range-topping GTX 280 and providing a real alternative for partner-overclocked, suped-up Radeon HD 4870s we'll see trickling through in the next few weeks, no doubt.

With retail availability of the GeForce GTX 260 being less constrained and partners launching multiple SKUs, we thought it high time to take a look at XFX's XXX effort.

Does GeForce GTX 260 provide a modicum of value? How does it compare to the Radeon HD 4870, and just how fast is the XXX Edition? Let's find out.