Introduction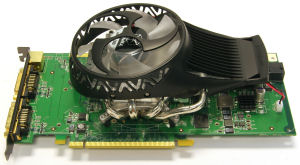 The mid-range market for discrete graphic cards received an unexpected jolt with the arrival of the ATI Radeon HD 4850 graphics card.

Previously, NVIDIA low-to-mid-range GPUs - GeForce 9600 GT and 8800 GT - took on the Radeon HD 3850 and 3870 in this crucial sector, generally winning the benchmark battle but losing out on multimedia capabilities.

Radeon HD 4850's arrival, at £125, has put pressure on NVIDIA to reduce pricing on its GeForce 9800 GTX, further squeezing the cards directly below it in the pecking order.

The current state of play, then, is that NVIDIA's AIBs need to be cleverer than just rolling out reference SKUs, hoping that will be enough to assuage potential buyers into making the purchase.

Inno3D has tried to do just that with a special-edition GeForce 9600 GT. Say hi to the install-it-yourself ZEROtherm Hurricane model.