Introduction
The busy holiday period is nearly upon us, and with the year's biggest sale events looming, this could be an opportune moment to bag a graphics upgrade. In the sub-£250 space, Nvidia has moved to catch gamers' eyes with the release of the 'new' GeForce GTX 1660 Super.
Looking beyond the Super name, our launch-day analysis reveals this latest Turing GPU is essentially a GTX 1660 that trades 8Gbps GDDR5 memory for faster 14Gbps GDDR6. Such a simple tweak results in a massive increase in memory bandwidth, which in turn translates to a framerate uptick of between 10 and 20 per cent depending on title, putting the GTX 1660 Super right on the heels of the pricier GTX 1660 Ti.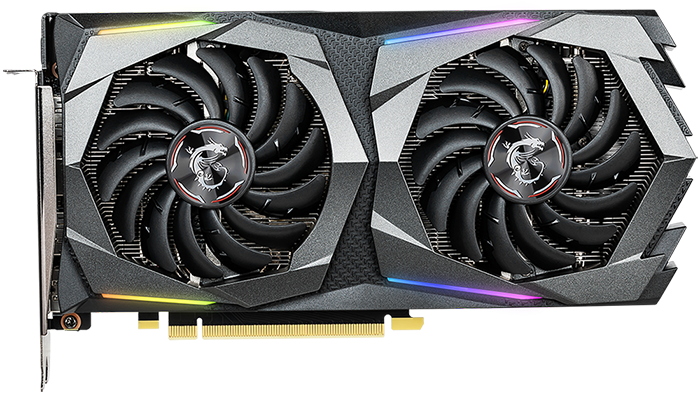 A slew of GPU launches has resulted in a congested GeForce product stack, but with the cheapest RTX models starting at around £300, we reckon GTX 1660 Super is a prime candidate in the mid-range price bracket. There isn't a Founders Edition to fall back on, so the question is, which partner card deserves your hard-earned?
We've already examined offerings from Gigabyte and Palit, but having spent the past few days putting the MSI Gaming X model through its paces, we feel comfortable in stating that this is a benchmark for other 1660 Super cards to match. We're typically fond of MSI's Twin Frozr aesthetic, and right out of the box, the 1660 Super Gaming X looks and feels the part. The angular accents might be deemed a bit much by some, but we quite like it, and there's just enough RGB lighting to appear trendy but not ostentatious. It's a good-looking piece of kit.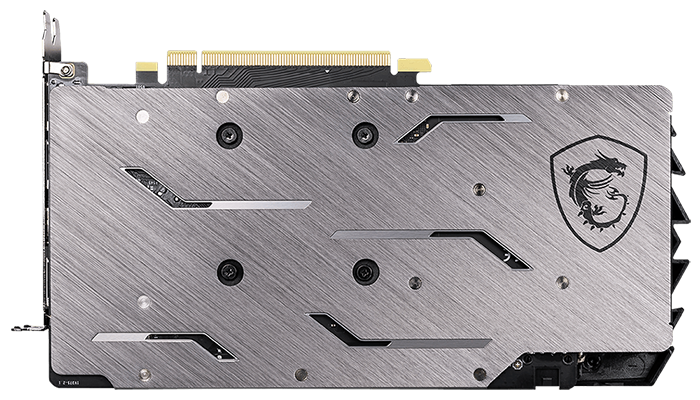 Dual-slot dimensions of 247mm x 127mm x 46mm aren't overly excessive (MSI does offer an ITX variant for those planning a small-form-factor build), and though the 862g weight is unlikely to cause any sagging, a full-size gunmetal grey backplate provides good rigidity while enhancing the overall aesthetic. Bending this card is easier said than done.
Nvidia's 12nm TU116 GPU doesn't require serious cooling, yet it can't do any harm, particularly if you want to keep temps and noise levels down to a minimum. MSI's Torx 3.0 fans switch off when core temperature falls below 60ºC, and unlike many competitors, the transition between on and off is barely discernible; you don't get that annoying rev that's often noticeable on cheaper cards. Behind the fans is a full-size aluminium heatsink interspersed with three heatpipes, and this sits on top a die-cast metal heatspreader that cools memory using a series of thermal pads. Build quality is top-notch.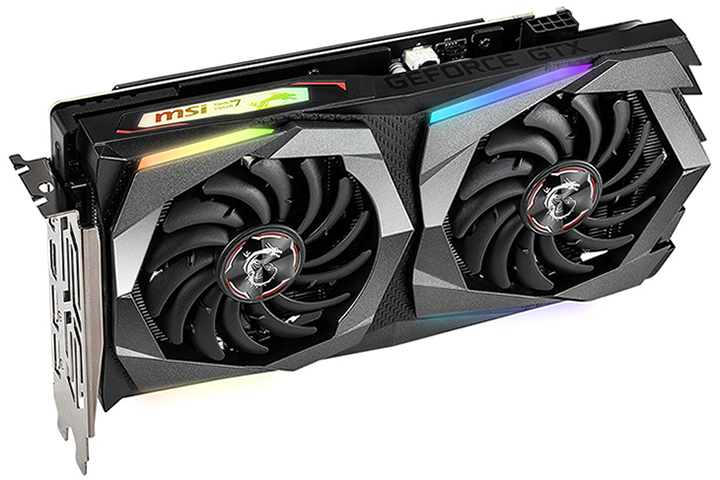 Power is sourced via a single eight-pin connector, and as you'd expect from a Gaming X model, there's an out-the-box factory overclock. MSI has the 1,408 cores raised from 1,785MHz to 1,830MHz, and though that's a tad slower than the 1,860MHz available to the aforementioned Gigabyte Super Gaming OC, there's very little in it when it comes to real-world usage. Our logs reveal that the MSI card averaged around 1,890MHz during actual gameplay, compared to roughly 1,905MHz for the Gigabyte. The 6GB GDDR6 frame buffer, as expected, operates at a standard 14Gbps.
Lighting is by default set to a rainbow effect - including the MSI logo across the top - but this is easily changed via the Mystic Light utility if you prefer a static colour or synchronisation with other hardware. In the I/O department, there's nothing out of the ordinary, with MSI sticking to the familiar quartet of three DisplayPort 1.4 and a single HDMI 2.0b.

Few GTX 1660 Supers will be as well-knitted-together as the MSI Gaming X, however such goodness does come at an inevitable cost. At the time of writing, the review model is listed at UK stores with a £250 price tag. That is right at the upper end of GTX 1660 Super territory, and if you shop around, you can probably find a budget GTX 1660 Ti for similar money.
There isn't a great deal of wiggle room for partners having to juggle so many Nvidia SKUs - MSI's cheapest 1660 Ti currently sits at £260 - but with the impending release of Radeon RX 5500 and upcoming sales, pricing could shift in the weeks ahead. It will certainly be interesting to see how the mid-range stack evolves in the run-up to 2020.