Introduction
Nvidia pre-empted AMD's moves in the mainstream add-in graphics card market by releasing the GeForce GTX 1660 Super GPU earlier this week. Coming in at just £10 more than the existing GTX 1660, it improves on the base design by swapping out slow, old GDDR5 memory running at 8Gbps for some GDDR6 humming along at 14Gbps. The 75 per cent extra bandwidth offers between 10-20 per cent extra frame-rate performance, which is enough to put this Super variant on the heels of GTX 1660 Ti. Looking to buy a £250-ish card in the run up to Christmas? Nvidia wants the GeForce GTX 1660 Super to be it.
The move to a new GPU is easy for add-in card partners because they already produce a slew of GTX 1660 cards. Simply repurpose that cooling, change the memory, and voila, a new GPU is born. Palit produces four cards on this GPU, split between StormX and Super GamingPro models. Each sub-family is home to a standard-clocked edition running at 1,530MHz base and 1,785MHz boost and an OC variant chiming in at 1,830MHz boost. All four harness 14Gbps memory.
Super GamingPro of more interest as it's a variant we've not seen before at this price point, and we have the base model (NE6166S018J9-1160A) in for review today.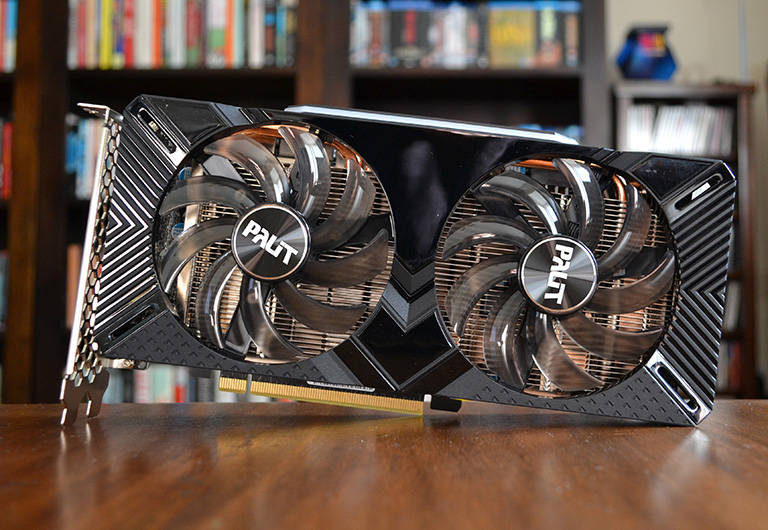 It's important to know that the OC part (NE6166SS18J9-1160A) is otherwise identical, meaning you save a few pounds by not opting for a factory core overclock. Dimensions of 235mm (l) x 115mm (h) and 40mm (w) mean it will fit into a wide range of chassis, but for those wanting to go down the mini-ITX route, the StormX is the way forward.
It appears as if Palit is using the same cooling and form factor as present on the RTX 2060 version, and this translates to the use of a black plastic shroud covering dual 90mm fans. The glossy finish does the heatsink no favours, and the design is more functional than flashy. Unlike some of the competition, there's no RGB on this side, and the fans don't switch off at low load - the lowest speed is 29 per cent, or about 1,000rpm.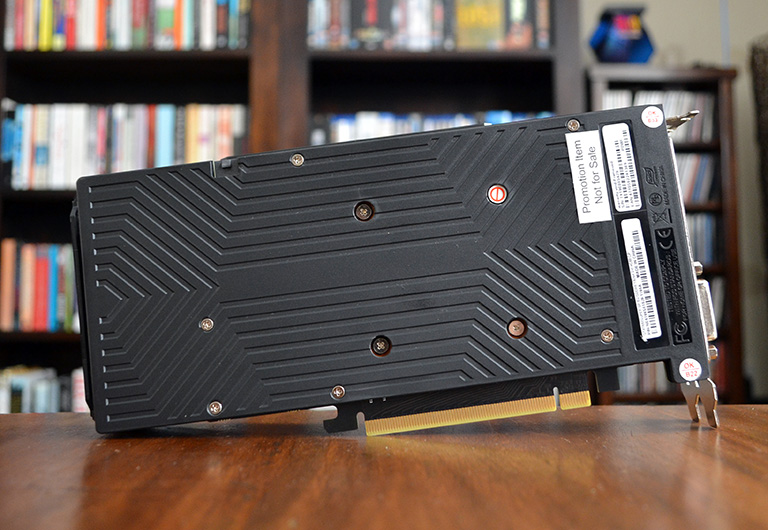 Palit adds a plastic backplate more for rigidity than real-world heat transfer; it barely becomes warm to the touch after prolonged load. The reason it makes sense here is because the PCB isn't as long as the card - it effectively finishes by the eight-pin power connector - so the backplate acts more like a brace than a pure heatsink.
Weighing in at 585g all told, however, the dual-slot card doesn't need fancy cooling or overengineered design, which makes sense given the meagre 125W TGP attached to this model.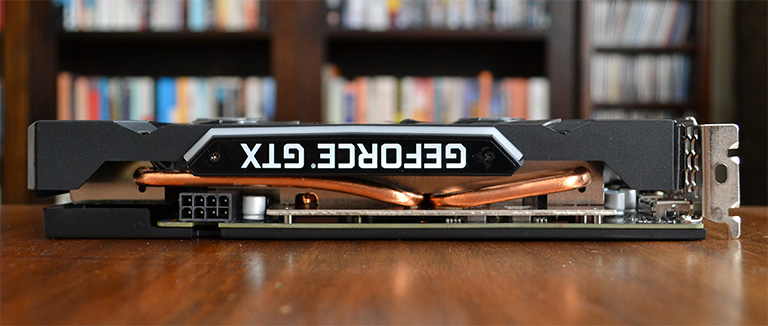 A peek at the side shows that Palit uses two heatpipes across a one-piece heatsink. Rather than employ multiple cooling apparatus, The Super GamingPro uses a single metal block to make contact with the TU116 core, 6GB GDDR6 memory, and VRMs, with thermal tape ensuring good contact between the block and the latter duo. The design is simple and easily transferrable to other GPUs.
GamingPro further differentiates itself from StormX by having an LED strip surrounding the GeForce branding. It's white only, so no RGB, though the company's ThunderMaster utility does offer the option of toggling brightness and providing a basic breathing mode.

The back, meanwhile, opts for maximum flexibility by having DVI alongside the more common HDMI and DisplayPort. As usual, the card is backed by a two-year warranty.
Clocked in at default speeds but actually achieving a very decent 1,870MHz boost across our games, the Palit GeForce GTX 1660 Super GamingPro, priced at £220, sensibly puts value ahead of features mostly unnecessary at this price point.