Introduction
Nvidia add-in board partner Inno3D goes about its business by having three distinct ranges for its enthusiast graphics cards. Catering for the user who wants the cheapest possible entry into a particular GPU is the standard Inno3D line. Upping the budget, usually accompanied by a custom PCB and overclock for the core, is the Gaming OC, but the real attention is reserved for the iChiLL series.
We have previously taken a look at the liquid-cooled iChiLL presented on the top-of-the-range RTX 2080 Ti GPU. Occupying a twin-slot form factor and connected to a thick 240mm radiator, Inno3D reckons the same cooling apparatus makes sense further down the stack. Without further ado, here's the RTX 2080 Super iChiLL Black Edition (C208SB-08D6X-11800004) sporting the reference-beating technology.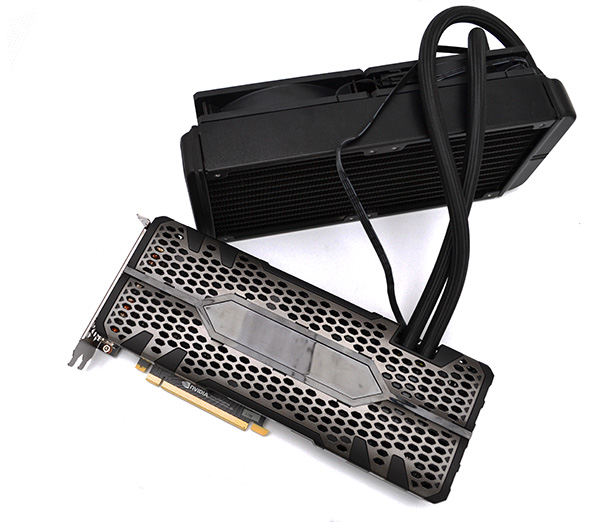 Having an external cooling solution enables Inno3D to produce a reasonably small, compact card. Measurements of 272mm long, 112mm high, and fitting into a strict dual-slot form factor are common amongst this range. That's all well and good, but you obviously need room to house the radiator and fans, and it's no surprise to learn the cooling is actually bigger than the card, coming in at 280mm long, 120mm high, and 60mm thick (including dual 120mm fans). 350mm of sleeved tubing from card to radiator is relatively bendable, though we'd recommend at least a mid-tower case for decent clearance between components.
It's handy that everything is self-contained and enclosed. Simply attach the usual 8+6-pin power connectors, screw in the card and radiator, and you are good to go. No faffing around with additional cables and splitters. This isn't some in-house-developed cooler, mind, as Inno3D makes no bones about teaming up with specialists Arctic for the iChiLL Black Edition cards. Most of the cooling know-how appears to come from the Liquid Freezer 240mm CPU model.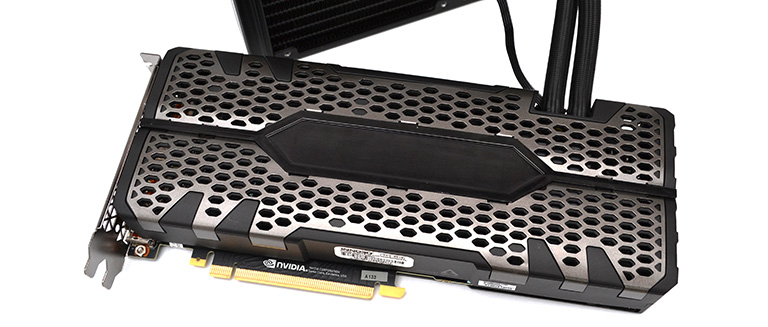 The middle section of the card appears blank but is actually an LCD screen that provides information on fan speed, GPU status, memory frequency and temperature. It scrolls through the information and also provides additional statements such as 'hear the footsteps' or 'absolutely silent', hinting at the near-silent operation. Though easily readable in the right environment, it's only good for chassis that support vertical GPUs, as it's difficult to see inside our be quiet! Dark Base 700 chassis, even if you peer down from below the PCIe slots. On the side, however, there's another LCD iChiLL logo whose lighting can be customised by the firm's TuneIT utility
The pump sits on a full-coverage plate beneath the plastic exterior. It covers the memory modules, too, though in an effort to get these iChiLL cards to market as quickly as possible, Inno3D uses Nvidia's Founders Edition PCBs, rather than build custom models itself.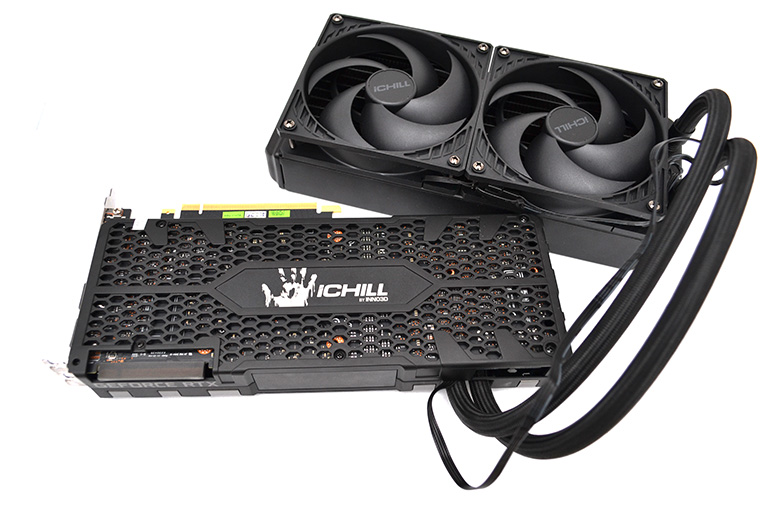 It is usual for premium cards to have a backplate. This model clearly does, yet it's purely of decorative value because it doesn't get at all warm even when the card is under sustained load. There's some good news insofar as the twin radiator fans switch off at low temperatures, and then only start spinning up slowly, and predictably, once the GPU hits about 50°C.
One would expect such a model to offer significantly higher core and memory frequencies compared to basic air-cooled models. That's not the case, as Inno3D ships with a boost clock of 1,845MHz - the Founders Edition, for example, runs at 1,815MHz boost - and memory runs at a reference 15.5Gbps. Such conservative out-of-the-box frequencies are consistent across the liquid-cooled range. That said, there is less under-load frequency fluctuation than on air-cooled cards: we saw a consistent 1,995-2,010MHz under full load.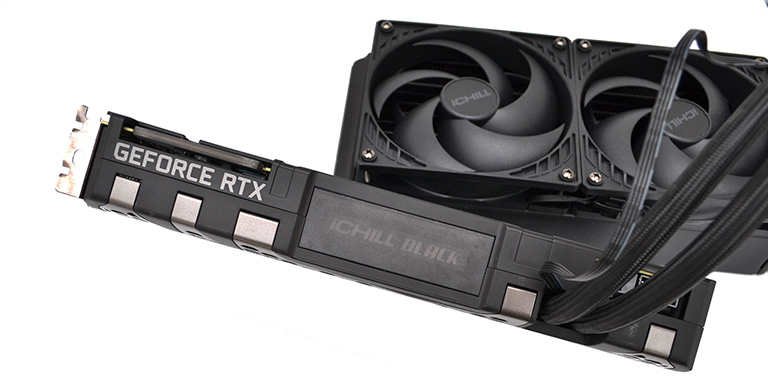 The card features a standard output array of a trio of DisplayPort 1.4 and a single HDMI 2.0b. Annoyingly, it doesn't take up the USB-C of the Founders Edition, which we believe to be an oversight given the premium positioning of this liquid-cooled model. There's also no dual BIOSes or ability to connect external fan headers, unlike some of the high-end competition.
Due to be priced at around £800, or £100 dearer than the cheapest RTX 2080 Super cards on the market, it ought to do well in the gaming benchmarks and should ace the temperature and noise tests. Let's find out if that's true.