Introduction
AMD made a graphics splash this summer when it released the Radeon RX 5700 and XT cards. Offering enough firepower from the Navi-based architecture to worry rival Nvidia, the only downsides to the reference cards were a bit too much noise and one-fits-all aesthetics. We reckoned, at the time, that add-in board partners would up the ante on both fronts.
Sapphire has done just that with its Pulse duo that offers enhanced cooling, lower noise, and a tad better performance than the basic card. Pulse is the entry gateway into Sapphire's enthusiast kingdom, but it's the Nitro+ and, potentially, Toxic models that really get the enthusiast excited. Just over a couple of months on from initial launch, Sapphire duly rolls out the Radeon RX 5700 XT Nitro+, and it's rather good, so let's explain why.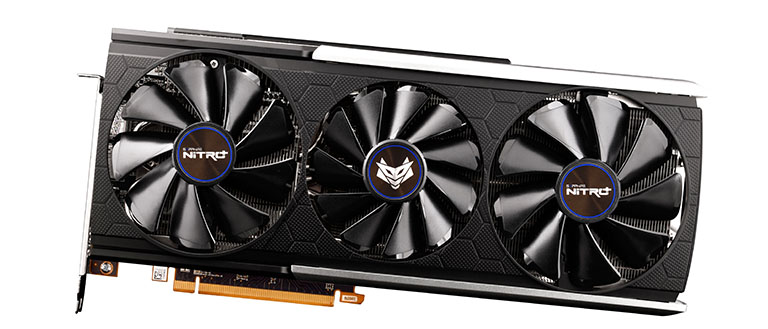 It's big, really big, measuring 304mm long, 120mm tall and 48mm thick. Standing proud of the regular-sized PCIe bracket and tipping the scales at 1,147g, it's function provided by super-sized form. Two dual-ball-bearing 100mm fans surround an 88mm central spinner, and Sapphire employs reverse spinning on the outer duo to minimise turbulence and create more airflow for the same sound level as a traditional three-fan setup. As expected, the trio switches off at loads below around 60°C. Those wanting to add more colour to the card can invest in a pack of three ARGB-infused fans, costing £29.99, that take less than five minutes to install thanks to the QuickConnect system. The card also has a header that hooks up to the 5V addressable RGB pins on the motherboard, should you want to light it that way.
Build quality is decent throughout. The outer shell is plastic, unlike many of the competition who use metal shrouds, but its construction is a notch or two above what we usually see. The two-tone finish works well, too, and one can immediately determine that Sapphire has spent a solid amount of time and resource on kitting the card out.

A metal backplate adds rigidity to the wide card, dual indented 8-pin power connectors offer ample juice, though the open-air design inevitably means that a lot of heat will be recirculated into the chassis. Nitro+'s thickness is just over two slots; we'd recommend having a total gap of three slots to ensure adequate airflow to the fans.
Electrically, Nitro+ uses a 7+1+2-phase supply to mete out the watts. It also employs black diamond chokes - unique to this model, as far as we can tell - which are reckoned to be 25 per cent more power efficient than regular ones.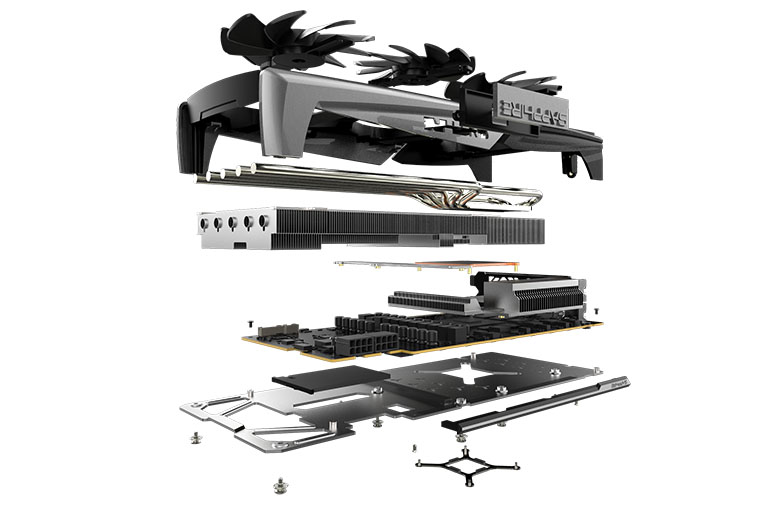 The entire cooling ensemble is shown above. Characterised by five heatpipes traversing almost all of the 300mm card, they flatten and mate into a block around the GPU core. Nitro+ then adds chunky heatsinks for the 8GB of GDDR6 memory, running at a stock 14Gbps, while the main finned heatsink extends on down to cover the VRMs and other hot-running components.
It's largely overkill for the underlying GPU, yet that's the entire point. Making the most of the cooling potential, the card has a three-position BIOS switch by the I/O bracket. It could do with being a bit bigger because it can be hard to determine exactly which position it is in without peering closely. The first position loads the primary performance BIOS, the second uses what Sapphire terms the silent BIOS, whilst the third is interesting insofar as it enables the accompanying software TriXX utility to control the BIOS state upon reboot.
Getting granular, the performance BIOS loads base, game and boost clocks of 1,770/1,905/2,010MHz, respectively, and the silent speeds of 1,670/1,815/1,925MHz, respectively. The aim for the second BIOS is to reduce noise by increasing the temperature, lowering the default TDP from 225W to 195W, and moderating the clocks appropriately. Our logs show that the performance BIOS has an average game clock of 1,923MHz; the silent an 1,852MHz one, though, unlike Nvidia cards, neither are rock-solid. The frequencies fluctuate quite a bit under load - 1,823MHz to 1,999MHz over the course of 15 minutes of gaming.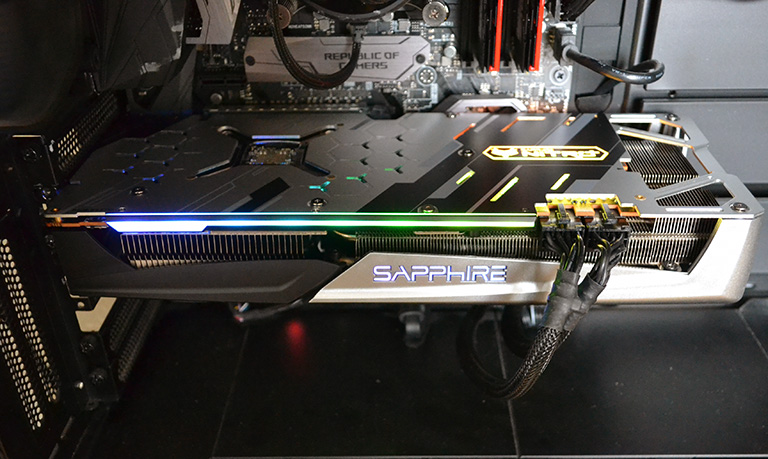 You didn't think that Sapphire forgot (A)RGB, did you? Located in three places - just under the rear backplate, the main Sapphire logo, and the Nitro+ branding on the rear - the implementation, dubbed Nitro Glow, is actually pretty good. That's coming from someone who traditionally steers clear of RGB on any peripheral or component. It's not as harsh as regular lighting, either, and represents more of a soft ambience.
Sapphire's TriXX utility offers control over how the RGB is illuminated, including brightness levels. I quite like the 'runway' effect, but if you are not partial to any of the six pre-baked effects, the lighting can be turned off.
The updated TriXX utility also has a cool feature that boosts framerate by a combination of resolution downscaling and Radeon Image Sharpening to increase performance by as much as 20 per cent. There is, of course, a trade-off in terms of image quality, but it is nonetheless a handy to tool to have, and a key point of differentiation between Sapphire and other partners. The Nitro+ performs a tad better than the RX 5700 XT Pulse's prior performance. One can also run a 'Fan Check' application within TriXX, aimed at ensuring all three spinners are working as expected.
Twin DisplayPort and twin HDMI, ostensibly for VR duties, are presented on a single row at the rear, leaving the upper section free to divert limited amounts of hot air out of the chassis.
One would expect the Nitro+ to cost a fair bit more than the Pulse; it's faster and plain better in every regard. Hoping to catalyse sales, Sapphire is retailing this model for £449.99 - a £10 premium. It's still £70 dearer than the cheapest, of course, but that's par for the course for a best-in-class model. Looking across to rival Nvidia, its RTX 2070 Super models start at £500 for base designs.
Backed by a three-year warranty and part of AMD's GamePass promotion, let's get on over to the benchmark run.