Introduction
It has been a busy few weeks for GPU launches, and with so many new arrivals, there was a strong possibility that something would slip under the radar. That something was Nvidia's GeForce RTX 2080 Super, a mighty fast GPU that for various reasons was met by a feeling of indifference by those readers who took note.
Such a response can be attributed in part to more interesting developments further down the chain - rival Radeon RX 5700 Series GPUs have at the very least stirred the pot - but that shouldn't detract from the fact that RTX 2080 Super is the second-fastest consumer GeForce graphics card available to date. Trouble is, if Nvidia's beautifully designed Founders Edition struggled to spark the imagination, how are partners going to attract attention with custom cards that typically cost more?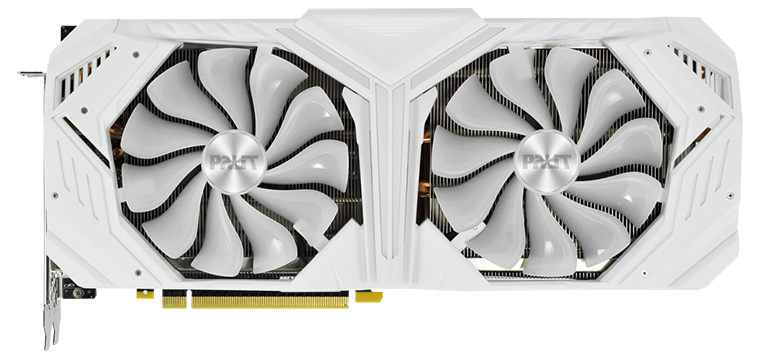 Palit's decision is to go bold with the GeForce RTX 2080 Super White GameRock Premium, or Super WGRP for short. Taking an all-white approach is always interesting for those planning a stark snow-themed build, and in a sea of largely black/grey graphics cards, Palit's WGRP is at least different.
As you might imagine, such an aesthetic is guaranteed to elicit mixed reactions. It's an acquired taste that some will love and others will hate, but could Palit have done a little more to refine the card's overall appearance? The plastic front shroud doesn't quite have the feel of a premium product, the copper heatpipes might have been nickel-coated, and if you're finickity about your whites, you may lament the fact that the fans are slightly greyer than the rest of the card.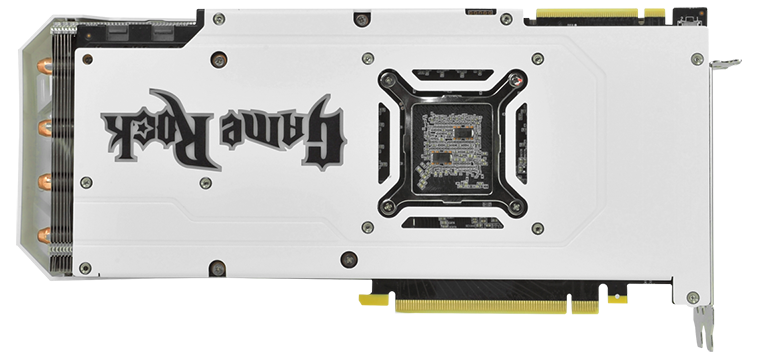 Still, going bright is one way to stand out from the Founders Edition, and as expected, there are RGB lights that help accentuate the effect. A T-shaped strip illuminates the front, while the GameRock logo lights up on the back, and there are a good choice of effects, as well as the option to link LED colour with core temperature. Palit's lighting generally works well - you'll see at least some illumination in either a vertical of horizontal installation - but do note that there's no RGB lining the top edge; the GeForce RTX and GameRock logos up here are static.
A full-size backplate is par for the course on a card of this ilk, and WGRP is naturally a lot larger than the Super Founders Edition. The board occupies the best part of three slots and measures almost 300mm in length, and given that it is bulkier than the dual-slot SFE, it would be fair to expect a noticeable reduction in under-load temperatures coupled with lower noise levels. Surprisingly, our benchmarks reveal that not to be the case; WGRP actually runs warmer than the SFE in our tests, and isn't discernibly quieter.

Might we then expect an outlandish factory overclock? Palit raises boost clock from 1,815MHz to 1,860MHz, putting the WGRP among the quickest RTX 2080 Super cards currently available, but our prior experience of the reference GPU revealed it to be running close to the wire, and we don't expect souped-up partner cards to be hugely faster than the SFE in their out-the-box state. There's only so much you can do with the TU104 die and those wanting to seriously boost performance will need to look at RTX 2080 Ti, based on TU102, for a far greater fee.
Elsewhere, the 8GB GDDR6 frame buffer is kept to a reference 15.5Gbps, but power credentials are enhanced across the board. Extra juice is made available through the availability of 8+8-pin PCIe connectors (remember 8+6 are present on the SFE) and delivery is managed by an eight-phase configuration for GPU and two phases for memory. Thankfully, these upgrades could be deemed invaluable to those who like to tinker, as our benchmarks reveal the WGRP to show far greater overclocking potential than Nvidia's reference design; more on that later.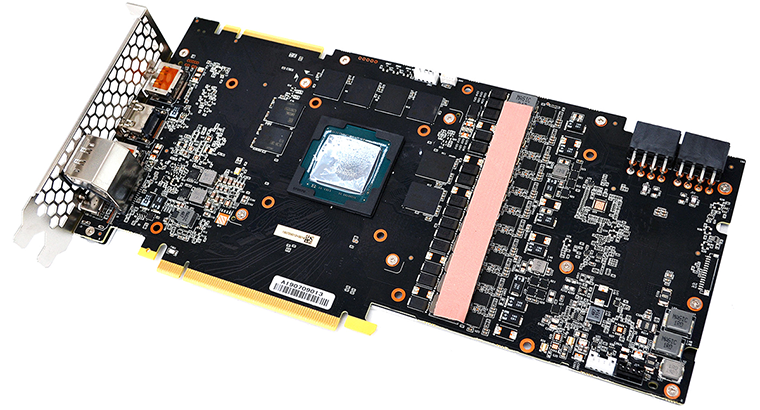 Palit's large copper base makes good contact with the GPU, thermal pads help cool the surrounding components, and five thick heatpipes traverse the giant slab of aluminium. It's a meaty build, however the copper heatpipes do look out of place behind the white shroud, and we can't shake the feeling that nickel-plated 'pipes would have streamlined the cooler aesthetic.
In keeping with Palit's other recent releases, WGRP includes a dual-BIOS switch with two different modes of operation. BIOS 1 (default) enables the factory overclock, while BIOS 2, designed as a fail-safe, drops frequencies to reference levels and enables a 0dB mode, whereby the fans switch off at low load. The availability of a secondary BIOS, and the ability to run practically silent when not in use, are viewed as key advantages over the SFE.

Rounding out the card, port selection is kept in line with Nvidia's reference mandate, meaning a trio of DisplayPort, single HDMI, and USB Type-C with VirtualLink support. Performance is surely going to be strong, yet as was the case with the Super Founders Edition, the uplift over last year's regular RTX 2080 is only likely to be in the region of 5-7 per cent.
Complicating matters, Palit isn't able to price its card to compete with the SFE. At the time of writing, WGRP is available to purchase at a cost of £750, and the number doesn't read favourably given that Nvidia's reference RTX 2080 Super is readily available at £669. Will the benchmarks reveal anything to justify the 12 per cent premium on an already pricey GPU? Let's run the numbers and see what's what.