Introduction
Were we too optimistic for the launch of GeForce GTX 1650? As an opportunity to bring Nvidia's Turing architecture to the masses, we had hoped for a highly efficient GPU that would deliver silky 1080p gameplay in today's latest titles without the need for any additional power cables. Partner cards would ideally be as small as possible, and in a perfect world, we'd want pricing to start as close to £99 as possible.
Wishful thinking on our part, of course, as the GTX 1650 that has arrived at retail doesn't tick every box, and going by what we've seen thus far, Nvidia's partners are struggling to create models that stand out alongside the rival Radeon RX 570.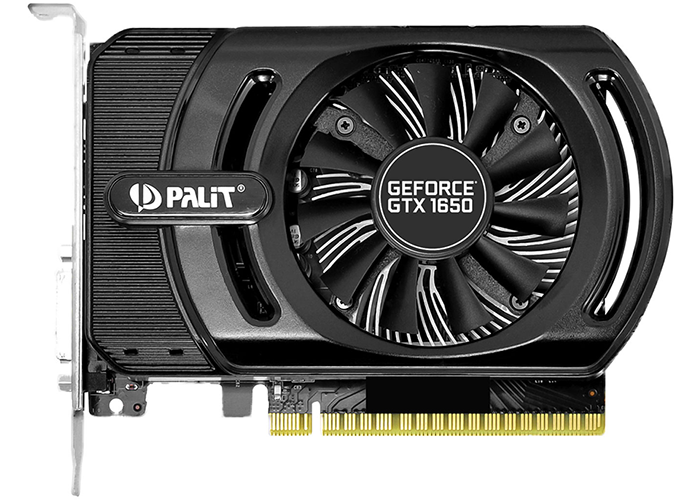 Not through a lack of trying, mind you. Palit is bringing half-a-dozen GTX 1650 variants to retail, including the StormX OC that we have in for review today. We're of the opinion that partners need to emphasise the GeForce's leaner architecture, as while the red team's mid-range stalwart bosses proceedings in terms of raw power, RX 570's 150W TDP is double that of the GTX 1650, meaning GeForce ought to be the default option if you need a card that's both small and efficient.
Palit seems to see things the same way, as its StormX OC is one of the most petite graphics solutions we've tested in recent years, measuring a mere 145mm x 99mm x 40mm in size. There's no real need for GTX 1650 to be any larger, though for the HTPC crowd, it's worth noting that there doesn't yet appear to be a low-profile or single-slot solution. We wonder if any partner will make it happen, but Palit's diminutive card is still useful for a small-form-factor build.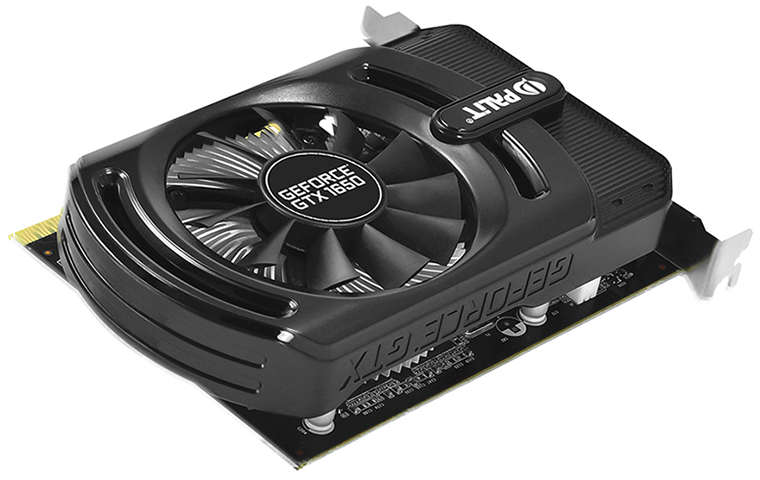 There's no need for any additional power cables - all the required juice is sourced from the PCIe interface - but do be aware that the heatsink is reasonably chunky, so while there's only a single bracket at the end, the StormX OC will occupy two slots inside your system. Peeling away the shroud reveals a basic PCB, and the heatsink and fan is reminiscent of a stock Intel CPU cooler.
Hoping for a few frills? Well, there really aren't any. The fan remains operational at all times, as opposed to switching off at low load, there's no lighting whatsoever, and no backplate, which is to be expected on a card of this ilk. What you do get, however, is a slight out-the-box overclock, with Palit raising boost frequency from 1,665MHz to 1,725MHz. The 4GB GDDR5 frame buffer, meanwhile, is kept to the default speed of 8Gbps.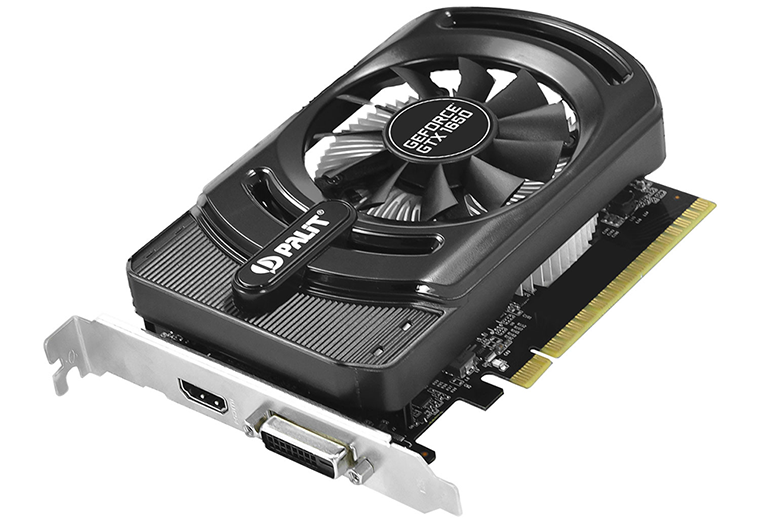 StormX OC has the makings of a simple, no-nonsense solution, but there are one or two provisos. Firstly, the selection of display outputs is unexpectedly limited to just HDMI and DVI, which is a shame as the absence of DisplayPort means no support for adaptive framerate synchronisation. A bummer if you've picked up a budget FreeSync monitor, and there's another snag in the StormX OC tale in the form of a £150 price tag. That's around £20 more than a faster Radeon RX 570, and there are no bundled games to help balance the scales.
Palit does offer a non-OC variant, priced a little more competitively at £138, but does GTX 1650 offer enough performance to warrant such an outlay? Let's run the benchmarks before reaching a conclusion.