Inno3D's Implementation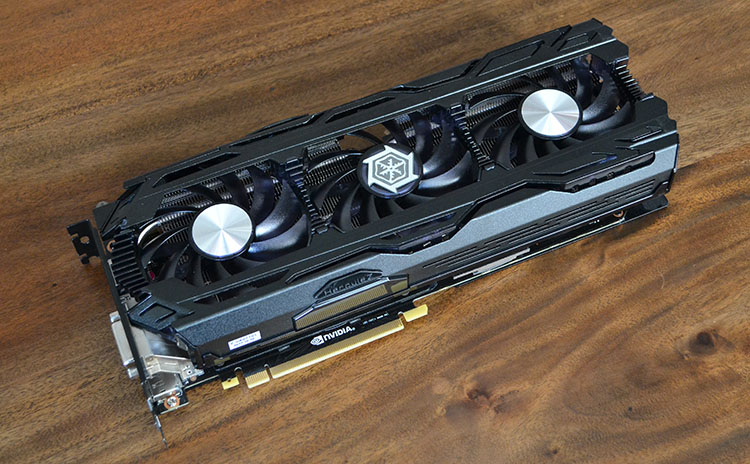 Each graphics card partner has multiple cooling designs for the same GPU. This remains true for Inno3D, too, as there are four models for the GeForce GTX 1070 Ti. They're easy to understand because each subsequent model packs another cooling fan. The basic Jet has a single fan, the X2 dual fans, X3 three and, guess what, the top-line X4 has four.
In our experience the iChill X3 offers an amenable blend of price, in-game performance and restraint with respect to temperatures and noise. It's no shrinking violet, measuring 302mm long, standing 115mm tall, occupying 2.5 slots whilst tipping the scales at 1,144g. Be sure that it will fit into your intended chassis as it can be a struggle to get into mid-tower cases.
Tank-like is an apt description of this beastie, and the industrial look and feel is like Marmite - you will either love it or loathe it. Three 92mm fans each have LEDs behind them, and while they are not that bright, their luminance is now controllable by the LED Equalizer section of GeForce Experience, rather than Inno3D's own TuneIT utility. In fact, that utility has yet to be updated to control the card's frequencies when overclocking.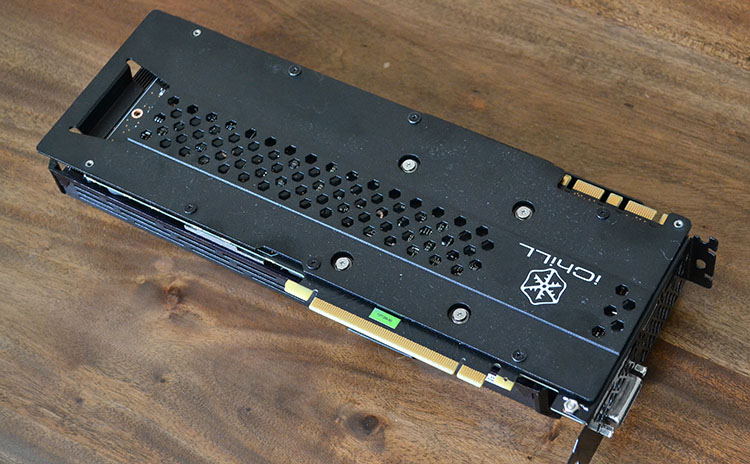 Underneath, the copper GPU contact plate has been increased from 44mm x 40mm to 68mm x 68mm compared to the previous generation, and there are now five heatpipes - 3x 6mm, 2x 8mm - connected to the upper block. There's a second block, attached to the first via four heatpipes for additional cooling. Further attached to the latter block is a large heatsink and thermal tape that makes direct contact with a couple of heatpipes on the PCB. Sounds complicated, but it's effective cooling helped on by a whopping 140 aluminium fins.
The full-length backplate, which picks up dust like no tomorrow, is a feature of the X3 design; the perforated section gets hot to the touch when the card is under load. Notice that we haven't spoken about RGB thus far? The card doesn't have any, as the side-lit iChill logo only lights up blue when the card is idle, green under moderate load, and red when full-on gaming. It's a shame that these cannot be changed to personalised colours, if RGB is your thing.
Speaking of loads, the trio of fans remains switched off until the temperature exceeds 50°C or so, and even then, they ramp up consistently as the load increases. Nvidia specifies the same 180W TDP for the GeForce GTX 1070 Ti as is present on the 1080, and Inno3D appears to adhere to that with this model.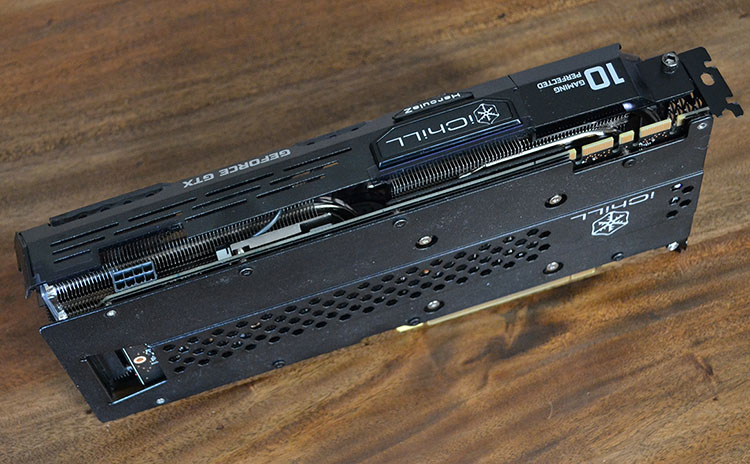 One clear change between the GTX 1080 that we have previously reviewed is the lack of a second PCIe power connector, and given the card's considerable length, it's sensible to have the single eight-pin located on one side. Should budget allow and you feel so emboldened, a second card is hooked up by the venerable SLI fingers on the right-hand side.
You'd imagine that such overt cooling would lead Inno3D, whose slogan is 'Brutal By Nature', to really go to town on the frequencies. That's not the case; the iChill X3 hums along at reference-matching 1,607MHz base and 1,683MHz boost core clocks. As usual, though, that isn't the frequency the card actually purrs at, because GPU boost dynamically enables it to run faster, at an average of 1,847MHz core in our slew of GPU-intensive benchmarks.
But looking into the frequency shenanigans further, it appears that Nvidia is inhibiting partners from raising the frequencies above stock; all GeForce GTX 1070 Tis ship at the same 1,607/1,683MHz, thus causing headaches for companies such as Inno3D who have various models in its arsenal. Frustrating indeed.
The 8GB of GDDR5 memory also runs at a reference 8Gbps and is provided by Micron in this instance. Decent cooling through a combination of heatsinks and three fans ought to give it scope to run faster, so it's surprising to see Inno3D shy away from overclocking this time around.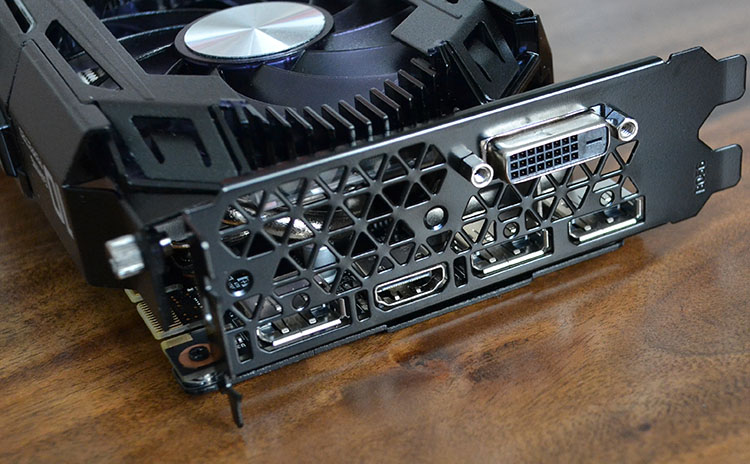 Dual-link DVI-D, HDMI 2.0b, and 3x DisplayPort 1.4 remain the outputs of choice. The card's design does mean that not all of the air is exhausted out of the rear of the chassis so we wonder just how beneficial the meshed I/O plate is.
Inno3D says it runs each card through a five-hour burn-in before packing it up. The card arrives to market armed with a standard three-year, non-transferable warranty and also has a few goodies in the box, namely a branded mouse mat and full versions of 3DMark and VRMark.
As an aside, it's disappointing that the GTX 1070 Ti isn't part of Nvidia's Destiny 2 bundle at present, which is only applicable to the GTX 1080 and 1080 Ti GPUs.