System setup and notes
System
Intel LGA775 system
AMD AM2 system
Processor
Intel Core 2 Duo X6800 (2.93GHz, 4MiB L2 cache, LGA775)
Intel Core 2 Duo E6700 (2.67GHz, 4MiB L2 cache, LGA775)
Intel Core 2 Duo E6600 (2.40GHz, 4MiB L2 cache, LGA775)
Intel Core 2 Duo E6400 (2.13GHz, 2MiB L2 cache, LGA775)
Intel Pentium Extreme Edition 965 (3.73GHz, 4MiB L2 cache, LGA775)
AMD Athlon 64 FX-62 (2.8GHz, 2MiB L2 cache, AM2)
AMD Athlon 64 X2 4600+ (2.4GHz, 1MiB L2 cache, AM2)
Motherboard
Intel D975XBX Bad Axe rev. 304
ATI Sturgeon Reference
Memory
2GiB (2 x 1024) Corsair PC8500
Memory timings and speed
4-4-4-12 2T @ 800MHz (PC6400)
Graphics card(s)
Sapphire Radeon X1900 XTX 512MiB
Disk drive(s)
Maxtor 300GB SATA (6V300FO)
Seagate 160GB 7200.9 SATA 3Gbps
BIOS revision
1304 (20/06/06)
08.00.13 (04/05/06)
Mainboard software
Intel Inf Update 8.0.0.1009
CATALYST 6.6 Southbridge package and SATA(AHCI): 2.5.1540.25
Graphics driver
CATALYST 6.6 BETA
Operating System
Windows XP Pro SP2 32-bit
Testing software
We ran the processors through our usual array of benchmarks
2D
ScienceMark Memory Bandwidth
ScienceMark Memory Latency
HEXUS Pifast calculation to 10M places
HEXUS Cryptography
Realstorm Raytracing 2004
KribiBench v1.1
HEXUS WAV encoding
HEXUS DivX encoding
Cinebench 2003 v9.5
3D
Far Cry v1.33
Quake 4 v1.04
Splinter Cell: Chaos Theory
Futuremark 3DMark05 b1.2.0
Notes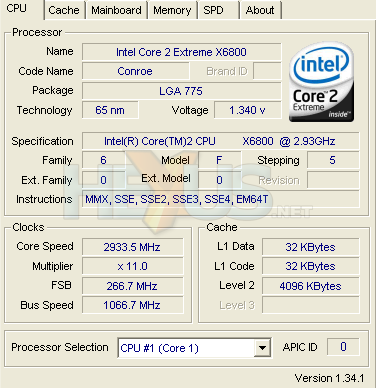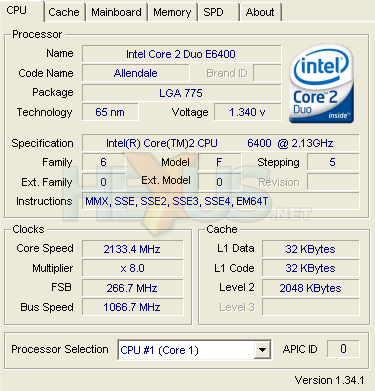 See, we do have 'em. Conroe and Allendale at your service.

We had no problems in running the Core 2-based CPUs in an Intel D975XBX 'Bad Axe' rev. 304 motherboard. Motherboard vendors are now adding Core 2 Duo support to their line of i975X boards. We're adamant that all the top tier guys have compliant boards. However, should you wish to jump on the 965-Express bandwagon, that's fine too.

Rather than give you all the treats at once, we'll wait a couple of days before showing you Core 2 Extreme X6800 performance on i975X vs P965.

We've added in all but one Core 2 Duo processor in our line-up here, and we've compared performance to the fastest Presler CPU around, the Pentium Extreme Edition 965. Further, we've added in benchmark results from AMD's Athlon 64 FX-62 and 4600+ CPUs, both run on a reference ATI Sturgeon AM2-supporting motherboard. This way, we feel, you'll better appreciate where each Core 2 Duo processor lies in relation to the competition.

On a heat-related note, using a reference LGA775 heatsink the Core 2 Extreme X6800 idled at 53C in BIOS and the 2MiB cache-equipped E6400 at 44C. Windows load temperatures were similar to these figures. Bear in mind that ambient temperature was 27C and no extra cooling, other than CPU fan, was directed towards the CPUs.

We'll be taking a look at overclocking a retail, off-the-shelf Core 2 Duo next week, rather than offer numbers from engineering samples, so stay tuned for that.

Anyway, on to the benchmarks.