Model numbers and positioning
Exposing Llano's architecture secrets doesn't tell you a whole heap about the performance of the actual chips. Here is how AMD is positioning the mobile APU.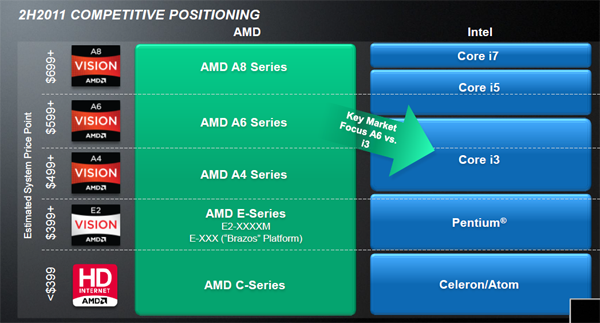 The C- and E-series of APUs fall under the Brazos platform and have been available for a few months now. Shaking up the mainstream is Llano.
AMD's taking a leaf out of Audi's nomenclature and refers to the Llano chips as A4, A6 or A8, followed by suffixes denoting the exact processor. A6 and A8 APUs feature a quad-core CPU portion and a Radeon HD 55xx-class GPU, while A4, coming later, is based on a smaller die and throws in a dual-core CPU and HD 54xx-series graphics.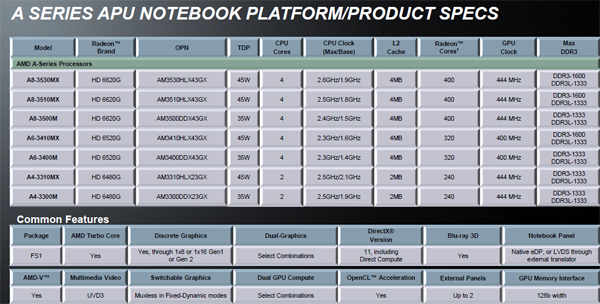 This AMD-supplied table spells it out. All APUs have Turbo Core support. Let's take the A8-3500M as a particular example. The 35W TDP quad-core CPU is backed up by a total 4MB L2 cache. Clock speed is a native 1.5GHz, rising to 2.4GHz when the TDP allows, though exactly how many cores this applies to is unclear. The graphics core, which operates without Turbo Core, runs at a maximum 444MHz and has 400 shaders.
Move higher up the stack and a 10W rise in overall APU TDP is compensated for by a jump in CPU frequency. Move the other way and the trio of CPU frequency, GPU cores and GPU frequency are reduced. The pick of the bunch, then, appears to the A8-3500M.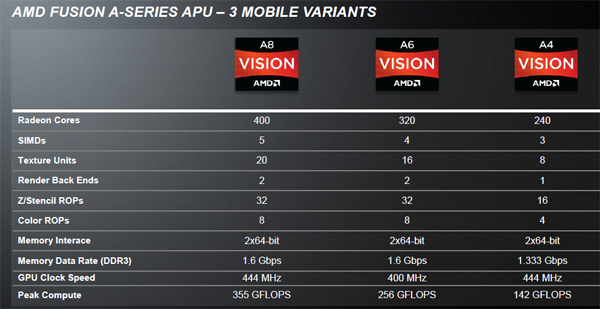 Looking at the GPU component alone, the A-series APUs each have a set amount of Radeon cores, neatly dictating graphics performance. The higher-specified models, A6 and A8, can grab more bandwidth from the system RAM through the use of faster SODIMM memory. AMD refers to the GPU as a Radeon HD 6K-series, which is a little naughty as it's mainly hewn from Redwood-class technology.
35W and 45W TDPs are standard ratings for laptop manufacturers, meaning that minimal retooling is required to bring Llano notebooks to market. There's nothing stopping said manufacturers from including a faster discrete GeForce or Radeon GPU - Llano provides a x16 PCIe link - but there's good reason in considering a mobile Radeon card.
Switching, and Dual graphics
Let's assume Acer decides to market a premium Llano laptop with an A8-3500M APU that integrates a 400-core Radeon HD 5K-like GPU (Radeon HD 6620G, going by AMD's naming structure). Now, assume the premium laptop also features a discrete Mobility Radeon HD 6650M card. The advice would be to use the discrete card for full-on gaming and the APU's GPU for on-battery compute.
AMD provides a method of switching between discrete and APU in the latest control panel. The switch isn't as seamless as NVIDIA's Optimus, and takes about five seconds to complete. However, due to the architecture similarities between dGPU and APU - they're essentially the same, albeit with differing shaders and speeds - AMD enables an option dubbed Dual Graphics.
Dual Graphics teams them up for two-GPU CrossFireX. Scaling is largely dependent on how well-matched the duo are, though AMD says there's gains to be had via practically any combination. With a potential increase of 75 per cent in a best-case scenario and around 20-40 per cent in an average case, Dual Graphics have been designed to deal with asymmetric GPU combinations and the graphics' different memory setups.
The implementation of Dual Graphics is a method by which AMD hopes to keep Llano laptops an all-AMD affair. Put in an Intel Sandy Bridge chip and the discrete Mobility Radeon card will work just fine though, of course, it won't benefit from the additional horsepower made possible by Dual Graphics.
What's in a name?
Understanding that combining the APU and discrete Mobility Radeon GPU leads to extra performance, AMD's marketing department has outdone itself by introducing new model numbers for this hybrid GPU.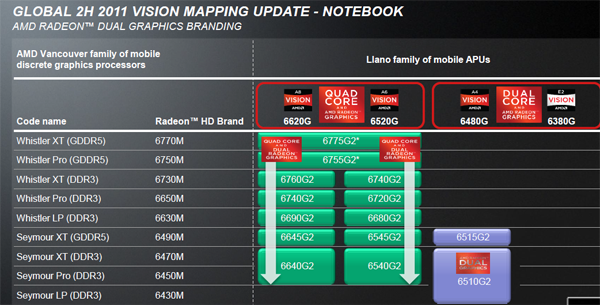 Yup, if you pair the A6 APU's 6520G graphics with a discrete 6650M you end up with 6720G2 - supposedly named to reflect the extra CrossFire-driven performance. But if the same discrete GPU is paired with the A8's 6620G then the hybrid GPU, run via Dual Graphics, is referred to as a 6740G2. Go figure.
We understand the rationale for doing so, though the process seems fraught with misunderstanding and unnecessary complication. Try explaining to Mom and Dad where the Mobility Radeon HD 6775G2 comes from, because it doesn't exist as a sole GPU.