Thuban - what makes it tick?
Before we delve into Thuban, readers should note that a history of AMD Phenom development is available via prior HEXUS reviews. Need a reminder on what the Phenom architecture is all about? Check out our reviews of the first-generation Phenom, the subsequent Phenom II and the introduction of the current AM3 package.
What follows is written on the assumption that have a rough idea of what Phenom II has had to offer thus far.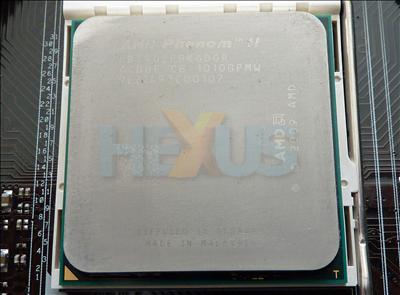 Arriving in the familiar 938-pin AM3 package, the Phenom II X6 1090T Black Edition doesn't look any different to existing AMD parts, but it's what's under the hood that counts.
Despite being built on the same 45nm process at the GlobalFoundries fabrication plant in Dresden, Germany, the X6 chip features six cores, as opposed to four, three or two on the X4, X3 and X2 lines, respectively.
Same package, same process, but more cores - so how do they do it? Quite simple, really, there's nothing particularly special going on, as AMD squeezes in an additional two cores by increasing die size.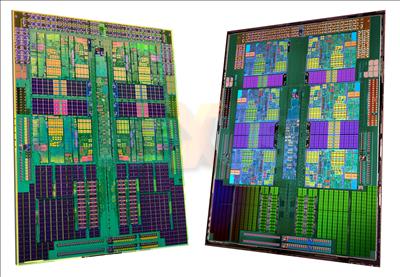 The above image - which of course isn't to scale - shows a Phenom II X4 die codenamed Deneb (above, left), alongside a Phenom II X6 die codenamed Thuban (above, right).
There's the same 6MB serving of shared L3 cache, and 512KB of L2 cache per core, but in order to fit the hexa-core components into a single package, die size is increased from 258mm² on the Phenom II X4 to 346mm² for the Phenom II X6.
That's a hearty 34 per cent increase, but thanks to improvements in manufacturing and better yields, AMD is able to retain a 125W TDP.
What matters to the end user is that you're now able to get a hexa-core processor that'll slot right in to your existing AM3 motherboard (though a BIOS upgrade may be required).
Extending the life of Phenom II
Processor
Clock speed
Cores
Process
Form factor
L2 cache (total)
L3 cache (shared)
TDP

10 Series, hexa-core
(Codename Thuban)

Phenom II X6 1090T Black Edition
3.2GHz
6
45nm
AM3
3MB
6MB
125W
Phenom II X6 1050T
2.8GHz
6
45nm
AM3
3MB
6MB
125W
9 Series, quad-core
(Codename Deneb)
Phenom II X4 965 Black Edition
3.4GHz
4
45nm
AM3
2MB
6MB
125W
Phenom II X4 955 Black Edition
3.2GHz
4
45nm
AM3
2MB
6MB
125W
Phenom II X4 945
3.0GHz
4
45nm
AM3
2MB
6MB
95W
Phenom II X4 925
2.8GHz
4
45nm
AM3
2MB
6MB
95W
7 Series, triple-core
(Codename Heka)
Phenom II X3 720
2.8GHz
3
45nm
AM3
1.5MB
6MB
95W
Phenom II X3 710
2.6GHz
3
45nm
AM3
1.5MB
6MB
95W
5 Series, dual-core
(Codename Callisto)
Phenom II X2 555
3.2GHz
2
45nm
AM3
1MB
6MB
80W
Phenom II X2 550
3.1GHz
2
45nm
AM3
1MB
6MB
80W
Phenom II X2 545
3.0GHz
2
45nm
AM3
1MB
6MB
80W
Looking at AMD's complete line up of Phenom II AM3 parts, the X6 1090T and X6 1055T slot in nicely at the top of the pile.
It's refreshing to see a top-to-bottom range of processors with easily discernible product names, and satisfying to know that they all retain the use of the same socket.
But it isn't just the core count that differentiates the new parts. AMD is taking the introduction of its 10-series chips as an opportunity to add a significant new feature dubbed Turbo CORE.