State of play
State of play



Before we embark on an exposition of what constitutes Westmere and how it's different from incumbent Nehalem (codenames, eh?), it's worth pointing out where Intel sees it fitting in.

The name of the all-encompassing architecture is Westmere, and it's most readily distinguished from Nehalem because all chips built on it are based on a 32nm manufacturing process. Westmere will come to market under the Core i5/i3 branding for the desktop (itself codenamed Clarkdale) and the full gamut of Core nomenclature for mobile (Arrandale).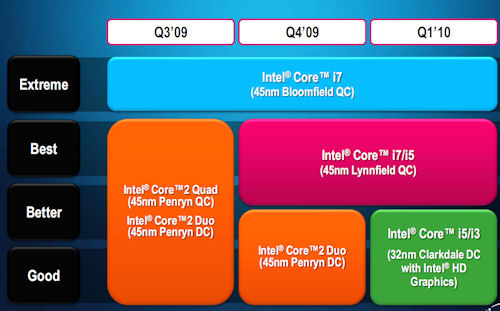 Interestingly, then, Intel will introduce the new architecture for the mainstream desktop market and leave the premium (best) and enthusiast (extreme) segments to present 45nm parts. Rumour has it we will see the new Westmere architecture appear in the extreme segment in Q2, under the Gulftown codename and, pragmatically, a chip imbued with six execution cores.

What this means is that Intel will ply the mainstream desktop market with older-generation Core 2 Duo chips as well as the new Core i3/i5. They're priced similarly so some degree of cannibalisation is inevitable.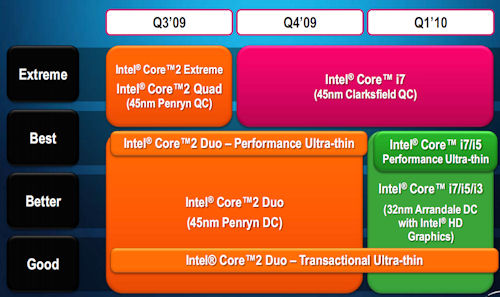 Westmere meant for mid-range and mobile

Here's a similar Intel-provided roadmap that shows how it sees Westmere fit into laptops. Note that the green-coloured section, representing Westmere, is larger here. Intel reckons that the 32nm process enables it to shrink chip-size and power-draw enough for the architecture to make implicit sense in a mobile environment. That thinking is reinforced by the new chips' ability to process both GPU and CPU calculations, and we'll go into detail on the following pages.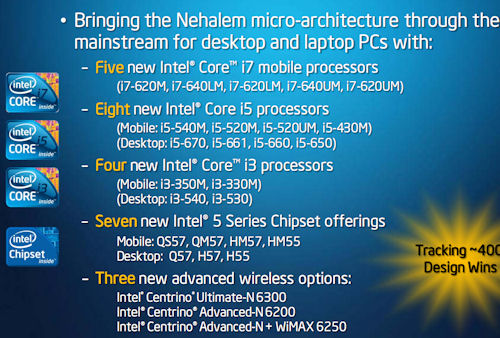 New chips

Here are the 17 new processors, released today, lined up, split between 11 mobile and six desktop. The chips also require motherboard support, made possible by new core-logic, and Intel is also rolling out seven chipsets, aimed at different segments of the market.

We have shown where these new chips fit in and what they will displace as a result. Getting granular now, let's examine what makes them tick.