What you get and initial thoughts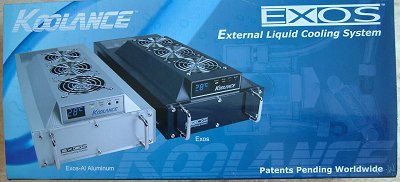 The Koolance Exos-Al external liquid-cooling kit arrives in a pleasant box that's surprisingly small. The whole design has been geared up towards retail selling. Koolance wants to position the Exos-Al just like any other component you could purchase from, say, PCWorld. Having neat, attractive packaging helps. You can already see Koolance's external approach on the cover. The AL in the name, as you might have guessed, denotes an aluminium chassis.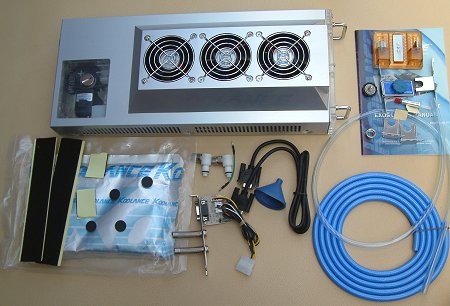 Removing the contents from the well-padded box leaves you the various parts of an external liquid-cooled setup. Just to note, the picture shows a multi-platform CPU block on the right-hand side. Standard Exos-Al kits do not ship with blocks as standard. CPU, chipset and hard drive coolers are available separately, as is an attachment strap that holds the external unit to a case.

Normal watercooling kits usually ship with a small additive bottle that's mixed in with water. Koolance, however, packages in its own special liquid in extra-large sachet form. It's the first time I've seen it presented this way, and leakage is always an issue. The sachet is contained within another bag, thankfully. Surely a plastic bottle would have been better?. The manual is a decent guide that explains setup and operation in an easy-to-understand manner. I'd have preferred colour pictures instead of the numerous black-and-white ones, however.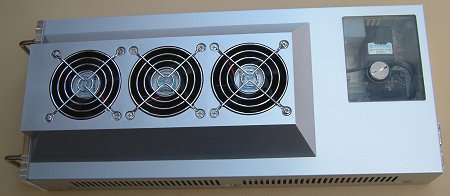 Taking a look at the self-contained unit first. Koolance has gone for style and weight points with a classy brushed aluminium finish. It's no coincidence that the colour and appearance of the unit matches Lian-Li and Coolermaster cases. The unit's size, at 18.4cm (w), 47cm( d), 9.5cm (h), is also designed to sit gracefully on top of a case. Three 80mm fans are used to cool the radiator that lies directly underneath. The reservoir/pump section is housed in the see-through section on the right. You'll also note that the unit's sides have are designed with ventilation in mind.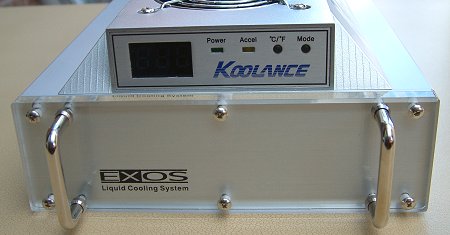 Looking at the Exos-Al directly from the front shows a control panel and reporting display. A couple of handles make transporting the unit a cinch. THE LED display is a pleasant, cool blue.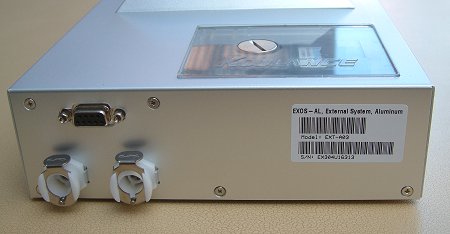 The back is home to a couple of quick-release tube fittings and a serial port that receives temperature data from a controller card. All nice and simple, which is a sign of decent engineering.