Introduction
Enermax may have been producing PC fans for the past six years, but it's the past 12 months that have been most exciting for the company's cooling department. In 2011 it released its first-ever CPU coolers - the ETS-T40 and ETD-T60 - and this year, it's ready to step up its game by launching an entire range of liquid-cooling solutions.
An interesting evolution, for while air coolers are relatively-easy to produce, liquid coolers pose a different challenge entirely. And it's a route that doesn't always prove successful. Danamics didn't get too far when it dabbled with liquid metal, and, while new-and-improved air coolers continue to impress, liquid-cooler success stories are few and far between; Corsair's Hydro Series being the one obvious example.
By utilising the expertise of specialist manufacturers such as Asetek and CoolIT, Corsair's all-in-one solutions have made liqud cooling available to the masses in the form of an off-the-shelf kit that's easy for anyone to use. The closed-loop approach isn't for everyone - hardened enthusiasts will argue that a custom loop is the only way to go - but all-in-one units do bring extra piece of mind.
It's this hassle-free approach that forms the basis of Enermax's new line-up. The manufacturer has three liquid coolers arriving at retail this month, and all of them are closed-loop solutions designed to slot in with minimal fuss.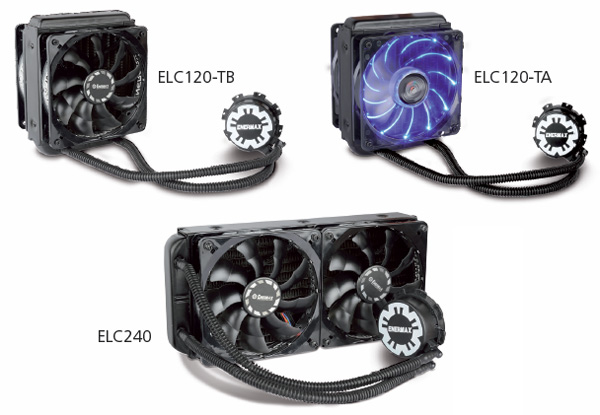 For mid-to-high-end systems, the ELC120 series offers a 120mm radiator and arrives in two unique flavours; an ELC120-TB that ships with a pair of T.B.Silence fans, and an ELC120-TA that comes bundled with two T.B.Apollish LED fans.
Both are priced at £69.90, but the one that's caught our eye is the top-of-the-range ELC240, priced at £89.90 and consisting of a 240mm radiator and two 120mm T.B. Silence fans. Somewhat precariously, the entire package costs £10 more than Corsair's established Hydro Series H100, but having spent almost two years developing the product, Enermax is hoping to "ring in a new era of liquid water cooling."
We've been sent a pre-production sample to play with, but we're told it's practically identical to the mass production units that are heading to retailers, and our sample did arrive with full retail packaging.
The box isn't the most attractive and doesn't do a lot to stand out, but it provides all of the pertinent details - including a complete specification and precise dimensions, making it easy for customers to measure it up for chassis suitability prior to making a purchase.
Inside, the contents are securely packaged and everything you need to get started on an Intel or AMD platform is included as standard. All of the latest sockets are supported, and the multi-lingual user manual is clear and easy to follow.
Liquid cooling may sound precarious, but these all-in-one solutions couldn't be any easier to install. We'll go through the process a little later in the review, but don't let the meer thought of liquid put you off - with a closed-loop unit such as this, you never see or come into contact with any fluid.
Providing high-end heat-disipating capabilities is a large 270mm x 120mm x 32mm radiator that can house up to four fans in a push/pull configuration. As with most radiators of this size, two 120mm fans are included in the box and Enermax goes beyond the basics by opting for T.B.Silence fans.
Each 120mm blower is equipped with a patented 'Twister' bearing technology that promises almost frictionless operation, as well as three integrated PWM control modes. These modes are controlled via a small switch positioned at the back of the fan, which allows the user to choose between silent (800 - 1,500 RPM), performance (800 - 1,800 RPM) and overclock (800 - 2,200 RPM) modes.
Enermax ELC-240 specification

Cold Plate
Material

Copper

Pump
Bearing

Ceramic Bearing

MTBF

50,000 hours

Motor Speed 2200 rpm

2,200 rpm

Rated Voltage

12 V

Rated Current

0.45 A (Average 0.34 A)

Radiator
Dimension

270 mm x 120 mm x 32 mm

Material

Aluminium

Tube
Material

FEP

Length

315 mm

Weight (w/o fan)

635 g

Bracket
Compatibility

Intel LGA 775/1155/1156/1366/2011
AMD AM2/AM2+/AM3/AM3+/FM1

Fan
Dimension

120 mm x 120 mm x 25 mm

Bearing

Twister Bearing

MTBF

100,000 hours

Silent Mode

Performance Mode

Overclock Mode

Speed (RPM)

800 ~ 1,500

800 ~ 1,800

800 ~ 2,200

Air Flow (CFM)

37.6 ~ 71.3

37.6 ~ 86.7

37.6 ~ 105.9

Air Flow (m³/h)

63.9 ~ 121.1

63.9 ~ 147.3

63.9 ~ 180.0

Static Pressure (mm-H2O)

0.7 ~ 1.7

0.7 ~ 2.4

0.7 ~ 3.6

Noise Level (dBA)

17.3 ~ 24.3

17.3 ~ 28.3

17.3 ~ 31.2

Rated Voltage

12 V

Rated Current

0.45 A (Average 0.25 A)

Connector

4 pin PWM

Warranty

5 years

MSRP

€119,90 / £89.90
The capable fans and a long, 32mm-thick radiator suggest that cooling performance should be top-notch, and Enermax rounds off the package with a strong five-year warranty.
But the ELC240 needs to do more if it's to stand out from the established crop, so let's take a closer look at the cold plate and pump.