Introduction
be quiet! has updated its premium range of CPU coolers with a new offering dubbed the Dark Rock Slim. As the name suggests, this latest addition to the Dark Rock stable is designed to offer high-end cooling capabilities in a thinner package, making it a useful choice for those planning a small-form-factor build.
Priced at £55, the Dark Rock Slim is intended to compete with the likes of Noctua's NH-U12S, and given the increased efficiency of today's modern CPUs, a reasonably compact cooler seems a sound idea in theory. The upfront cost is lower, there's likely to be less strain on the motherboard, installation should be simpler, and if you're wanting to free-up space around the CPU socket without resorting to liquid cooling, a single, slim tower such as this is a logical choice.
Yet don't be fooled into thinking the Dark Rock Slim is a budget choice. This is one of the priciest coolers in its class, which shouldn't come as a surprise as the Dark Rock range is positioned as a superior solution. Build quality is first rate - we're of the opinion that there's now little to separate be-quiet! and Noctua when it comes to construction - and overall presentation is excellent. An all-black colour scheme looks fantastic and blends neatly with just about any build; however some readers may be surprised - shocked, even - to learn that there are no RGB lights whatsoever. No bother, that suits us to a tee, and it means there's no superfluous cabling.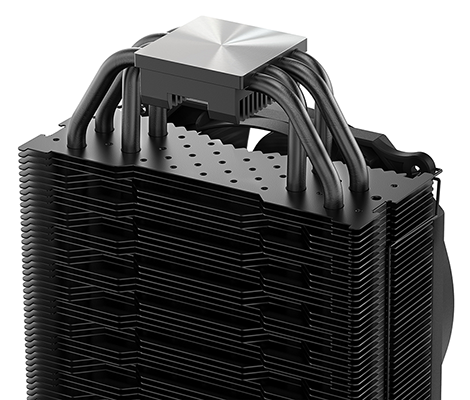 It is also worth pointing out that while this is the most petite cooler in the Dark Rock range, it's still a capable unit. Dimensions including fan come in at 72mm (D) x 127mm (W) x 160mm (H), there are four heatpipes connecting the contact plate to the aluminium fin array, total weight is registered as 620g, and be quiet!'s confidence is reflected in a quoted 180W cooling capacity.
As you'd expect from a Dark Rock product, there's also plenty of attention to detail. Small dots on the surface of the fins increase total cooling area, the ceramic black coating is said to be specially formulated to improve conduction, and the heatsink's 'wave-contoured shape' is intended to aid airflow. Of course, you also get a high-quality Silent Wings 2 120mm PWM fan as part of the package, complete with six-pole motor, fluid-dynamic bearing and the promise of ultra-quiet operation.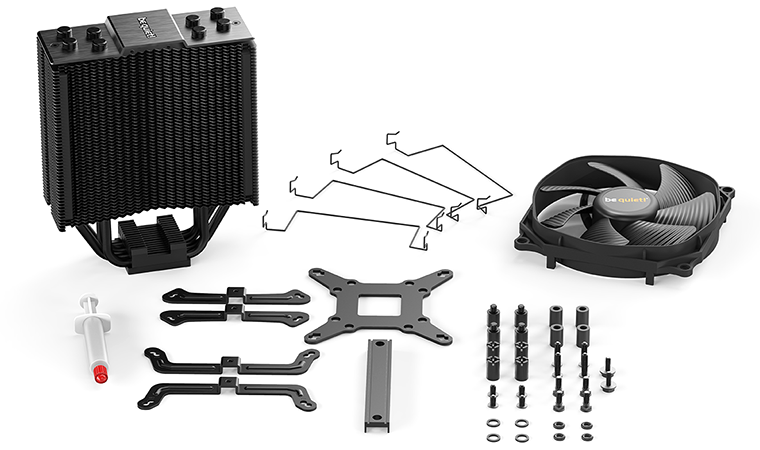 The bundle is almost perfect, too. be quiet! includes relevant fixings for all the recent AMD and Intel sockets save for Threadripper, and a spare pair of fan brackets are at hand should you choose to add a second fan somewhere down the line. So why only almost perfect? Well, the supplied tube of thermal paste contains a miniscule amount. You might be able to squeeze out enough for a second install, but we'd prefer to see be quiet! supply a full tube with all of its Dark Rock coolers.
Still, that's about it when it comes to criticism. Installation proved to be a cinch on our Intel LGA 1151 socket, where it's merely a case of security the mounting brackets to the motherboard using the supplied back and standoffs, then clamping the heatsink in place using the metal bridge. The whole process can be completed in a matter of minutes, and we like the fact that be quiet! has the AMD and Intel fixings in separately labelled bags to save confusion. If you do run into trouble, there's also a handy video demonstration that walks users through the installation process on various platforms.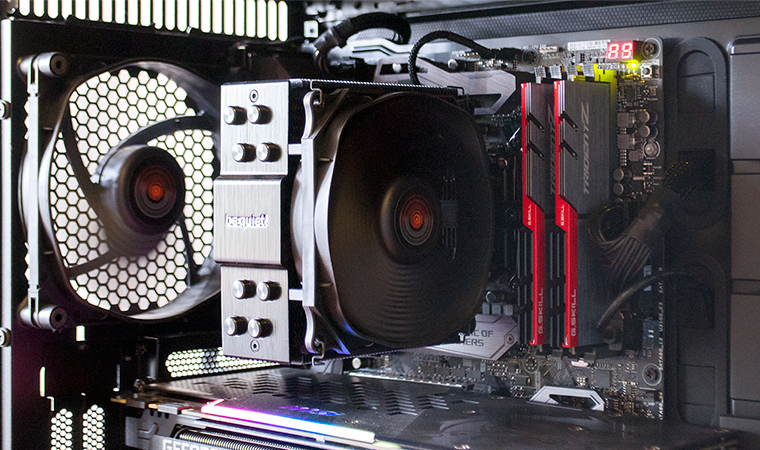 Dark Rock Slim is ultimately a very tidy cooler - the brushed aluminium top cover provides an elegant finish, as do matching heatpipe caps - and given the height of today's high-end memory modules, using a heatsink of this sort leaves plenty of clearance around the DIMM slots. It's certainly less imposing than the giant Dark Rock Pro 4, though conversely, users with windowed chassis may find the Slim model a little sparse in appearance; we reckon it would look better with a second fan attached to the rear. The only remaining question is how will this compact cooler fare when tasked with taming our overclocked Core i7-8700K? Only one way to find out, let's get to the benchmarks.