Introduction
AMD has steered customers of its Ryzen Threadripper CPUs towards liquid cooling by bundling an AIO bracket with each processor. Makes sense, you would think, given that Threadripper chips are equipped with either 180W or 250W TDPs. And the specific form factor, known as TR4, requires a custom bracket that is oftentimes an add-on for existing coolers.
Such minor obstacles haven't deterred the premium air-cooling crowd in producing TR4-compatible heatsinks. We've seen Deepcool and Cooler Master come out with suitably impressive models, and now it is the turn of German specialist be quiet!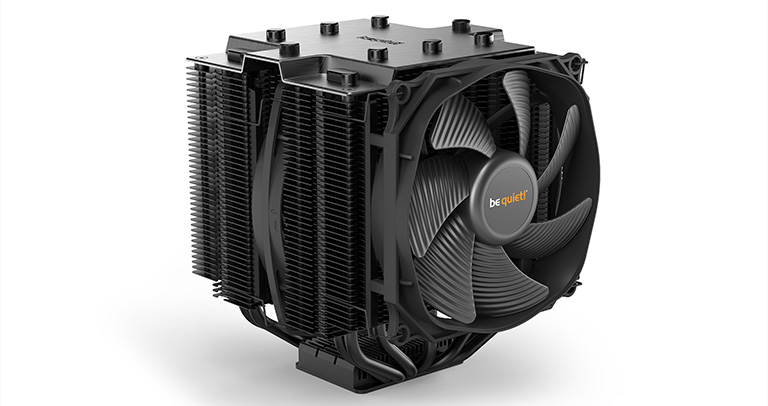 Seem familiar? It should. The Dark Rock Pro 4 is a known quantity, so much so that we took an in-depth look at its performance during our review in April.
It's worth reminding you that those who appreciate a good heatsink will recognise this as a beautiful piece of kit. Dimensions of 163mm (L) x 136mm x (W) 146mm (H) are almost identical to the previous-generation Dark Rock Pro 3, and the cooler retains a dual-tower form factor with seven black-coated copper heatpipes and two bundled fans.
The front fan is a 120mm PWM blower and squeezed into the middle is a slightly slimmer 135mm unit. Both come from the highly regarded SilentWings stable, feature a six-pole motor and attach to a single four-pin motherboard header via a provided splitter cable.
So what's new? Good question. The key difference is the necessary modifications for TR4 support. Compared to the otherwise-identical regular Pro 4 cooler, this TR4's upper section of the base is now completely filled in. The reason for this is in the way the TR4 mounting mechanism works.
be quiet! provides the two necessary, different-length brackets that attach to the mounting holes on TR4 motherboards by sitting on top of supplied spacers. Then a longer bar rests on top of this additional central section and screws into the holding brackets, provided a really secure fit easily.
Like before, be quiet! makes it simple to access the screws by having removable caps at the top of the heatsink, and the supplied screwdriver makes total installation a cinch. Without messing around with brackets at the back, it takes no more than 10 minutes to install the TR4 version of the Dark Rock Pro.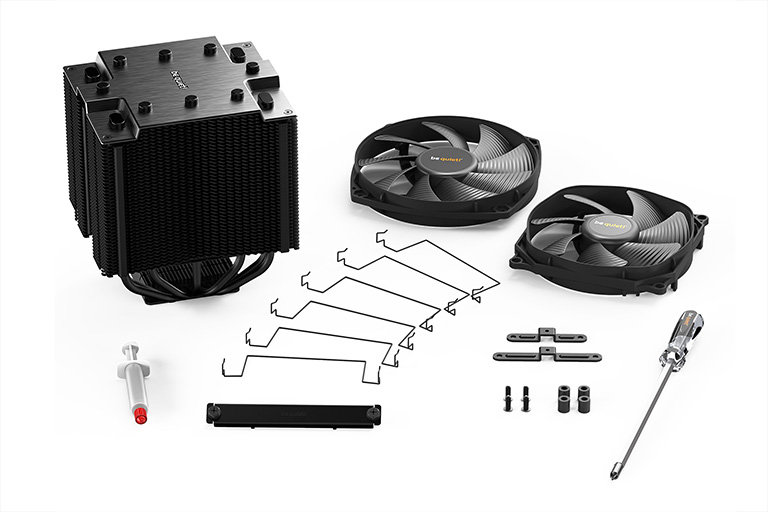 Sensibly, be quiet! quadruples the amount of thermal paste for this edition, and there's enough for two or three applications. Because the overall design is no different from the regular cooler, the copper block doesn't cover the whole of the Ryzen Threadripper heatspreader, going against the general advice AMD has provided to partners manufacturing TR4-compatible coolers. We'll see in the benchmark section whether this has a negative impact upon performance.
It is worth pointing out that, even with the wider motherboards typically used for the TR4 platform, Dark Rock Pro 4's sheer chunkiness and use of an outside-mounted fan means that at least two of the four RAM modules will be obstructed, necessitating fan removal if changing sticks. No biggie, but it's down to heatsink design choices. Like before, the outer fan may need to be moved up a few millimetres to install taller memory. For example, our 50mm-high G.Skill Trident Z modules are a very tight fit, with the fan effectively resting on them.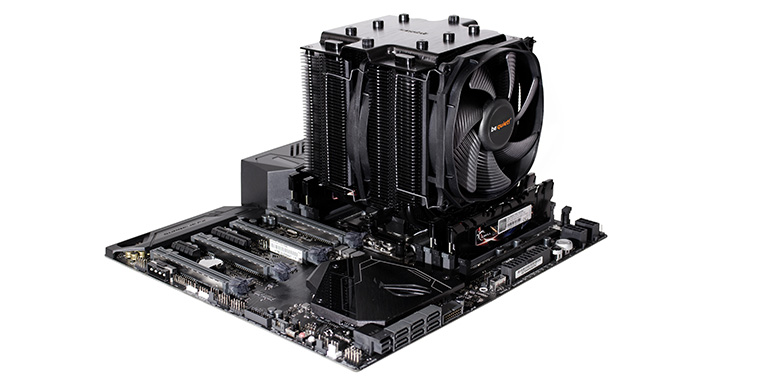 This is how the cooler ought to look when on a standard ATX motherboard. Note its hulking presence. Thankfully, with orientation only one way, it doesn't foul the topmost PCIe x16 slot, unlike the also-large Cooler Master Wraith Ripper that extends further down the board.
The £70 asking fee puts it firmly in premium territory, right alongside the Deepcool Fryzen but a full £50 cheaper than the Cooler Master jobbie. Let's now see if German engineering can trump all others.