Test Methodology and Performance
HEXUS CPU Cooler Test Bench

Hardware Components
Product Page
Processor
Intel Core i7-6700K (overclocked to 4.4GHz)
intel.com
Motherboard
Asus Z170 Pro
asus.com
Graphics Card
Palit GeForce GTX 980 Ti Super JetStream
palit.com
Memory
Crucial Ballistix Sport LT 32GB (2x16GB) DDR4-2400
crucial.com
Power Supply
be quiet! Dark Power Pro 11 850W
bequiet.com
Primary Storage
256GB Samsung 950 Pro
samsung.com
Secondary Storage
512GB SK hynix Canvas SC300
skhynix.com
Chassis
Fractal Design Define R5 Windowed
fractal-design.com
Monitor
Philips Brilliance 4K Ultra HD LED (288P6LJEB/00)
philips.co.uk
Operating system
Windows 10 (64-bit)
microsoft.com
Benchmark Process
Our test platform includes a quad-core Intel Core i7-6700K processor overclocked to 4.4GHz across all cores and 32GB of Crucial Ballistix Sport LT DDR4 memory set to run at 2,400MHz using the built-in XMP profile.
To get a feel for how the above coolers compare, CPU voltage is upped to an above-average 1.3V and temperature is logged while a large 4K video clip is encoded in multiple passes using the freeware HandBrake utility. The workload tasks all four cores/eight threads for a prolonged period and, in order to provide a stabilised reading, we then calculate the average temperature across all four cores from the last few minutes of encoding.
Actual CPU temperature is recorded and we also graph the delta temperature - that's CPU temperature minus ambient temperature. Last but not least, to give you an idea of cooler acoustics, we use a PCE-318 noise meter to measure overall system noise in both idle and load states.
Notes
Our Fractal Design Define R5 chassis is set to run with its two stocks fans - a 140mm Silent Series R2 front intake and a 140mm Silent Series R2 rear exhaust - both of which are set to low speed via the integrated fan hub. All CPU cooler fans are set to a 'silent' PWM profile from within the Asus BIOS, and when testing liquid coolers the pump is connected to the motherboard's dedicated water-pump header.
When a radiator is installed, the relevant top ModuVents are removed from the Fractal Design Define R5 chassis, and unless otherwise instructed by the manufacturer, any bundled fans are configured to push air through the radiator and out of the chassis.
Performance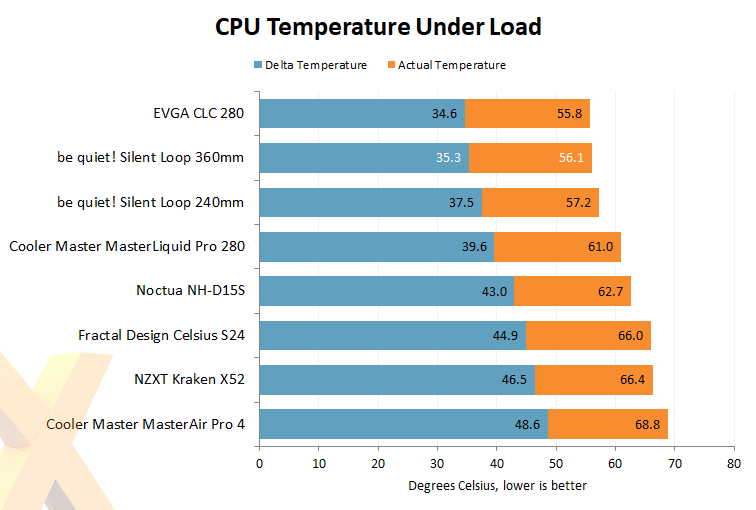 Choosing a larger radiator is an obvious path to improved performance. Compared to the Silent Loop 240mm, the 360mm variant shaves off a further couple of degrees, putting under-load performance within touching distance of the chart-topping EVGA. There is a price premium, mind, and the 360 model isn't as widely compatible as the 240, so chassis support may be the limiting factor.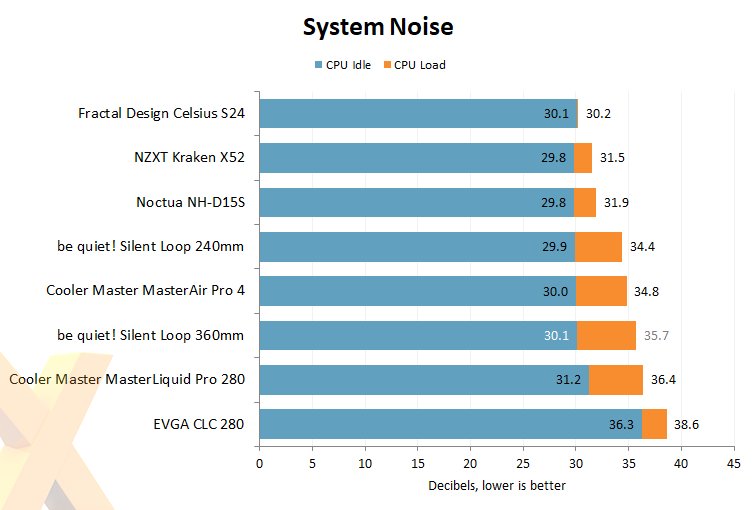 We touched on fan noise earlier and the numbers reinforce our original assessment. be quiet!'s pump is admirably quiet, and idle readings are in line with expectations, but place the CPU under full load and fan noise does become audible. The gentle hum is hardly off putting, however there are quieter all-in-one coolers out there.