Introduction
be quiet! has proven that it has the wherewithal to produce quality PC enclosures. The firm's initial two offerings - Silent Base 800 and Silent Base 600 - can be considered suitably proficient, and having set the stage, the German outfit is now ready to push the boat out with something far more enthralling. Enter the Dark Base Pro 900.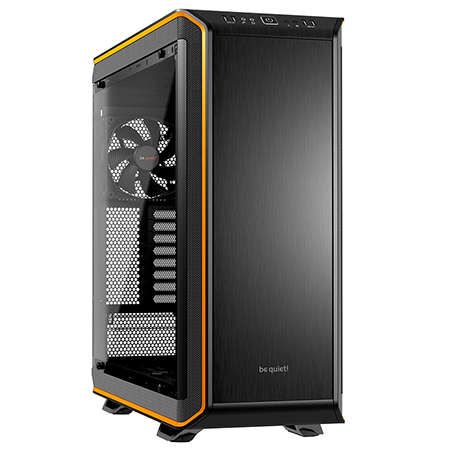 Introduced as a flagship offering, the Dark Base 900 is available in standard or Pro variants, priced at £169 and £209, respectively. Both are stylish full-tower solutions brimming with an intriguing array of features, but the latter ups the ante with a tempered glass side panel, a PWM fan-hub, colour-changing LED strips and, to top it all off, an integrated Qi wireless charging pad.
We have the range-topping model in for review in black/orange livery (black/silver and all-black are also available) and first impressions are very much favourable. £209 is no small amount, but then, this is no small chassis and when you lift the 14.4kg frame from the packaging, you're instilled with the feeling you're getting what you paid for. What's clever is that be quiet! has managed to produce a big, hulking box while retaining a sense of elegance. Dark Base Pro 900 measures 242.7mm x 585.5mm x 577.2mm in size, yet subtle angles and tapered edges make it an attractive proposition.
It's been a while since we've seen a full-tower enclosure looking quite so appetising, and while the black/silver model will serve as the safe choice, we're growing fond of the orange highlights. A brushed finish on the front door affirms the chassis' sense of style, and there are no unwanted distractions on the clean front fascia. You might have noticed there's no door handle, either, but fear not, press firmly in the top-left corner and the door is released. Should you prefer, the door's orientation can also be swapped over to open from right to left.
As you'd expect from a be quiet! chassis, the door is lined with thick sound-dampening material and it swings open to reveal a built-in fan controller, a toggle button for the internal lighting (more on that later), as well as two 5.25in optical bays and a pair of quality 140mm SilentWings 3 PWM fans. A third fan, of the same variety, serves as the rear exhaust. Keeping things accessible, the filter covering the intakes comes away for easy cleaning, while the bottom filter extends the entire length of the case and is pulled out easily from the front.
A neat row of I/O ports across the top-front edge includes dual USB 2.0, dual USB 3.0, a pair of audio jacks and a large power button that's backlit in a colour that matches the case (orange on our review sample). Such ports are par for the course on most enclosures, and it's a shame be quiet! hasn't future-proofed the Dark Base Pro 900 with USB Type-C. What we do have, however, is a Qi wireless charging plate integrated into the chassis' top side - a neat addition that works well with any compatible smartphone.
Build quality is good throughout, with be quiet! using a blend of aluminium, steel and plastic, and when you step inside the enclosure it's clear that the manufacturer has placed an emphasis on hardware flexibility. Dark Base Pro 900 supports up to 17 storage devices, the built-in fan hub provisions for up to eight fans, there's room for either an E-ATX, XL-ATX, ATX, M-ATX, or Mini-ITX motherboard, and eight expansion slots provide ample scope for multi-GPU setups.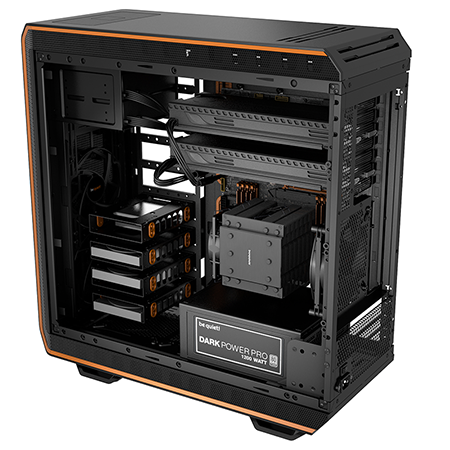 A total of 10 fan mounts ensure plenty of choice for air- or liquid-cooled concoctions, but what really sets the Dark Base apart from most competitors is its semi-modular interior. You can, should you so choose, take out the motherboard tray, PSU bay and storage column and reassemble the innards in an inverted layout. There's clearly more to this case than meets the eye, so let's get building and see what's what.