Lesson of the day
Billed as the ultimate gamers' chassis, you have, no doubt, read a review or two about this before. The first revision reached our shores and was reviewed by many who, on the whole, lauded it with praise.

HEXUS received one too but we couldn't review it. Why? Well, our toasty test-rig is designed around a twin-slot-taking GeForce 6800 Ultra sat atop an Intel 955XBK mainboard and the chassis' ports weren't playing ball.

Talking of playing ball, it seems someone somewhere at Antec had dropped it, the ball, that is. None of the first revision chassis could cope with the dual-slot coolers on non-SLI/CrossFire mainboards. The reason for this was all about alignment, the ports themselves were so close to the top of the chassis frame that you couldn't even plug in a monitor. Doh!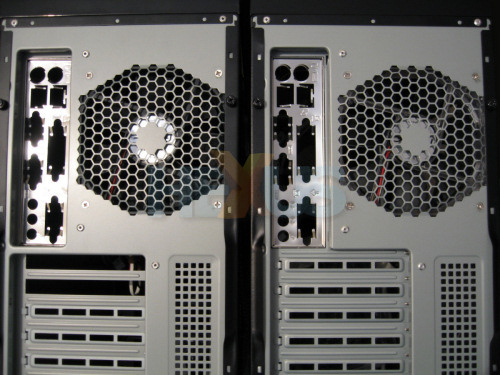 In the picture above we have the first revision on the left and the revised model on the right. You can clearly see where Antec has managed to make room for all the DVI users our there without the cash to splash out on a dual-graphics-based rig.

With more space round the top blanking plate and the removal of the metal strip between the plate and I/O panel, Antec has managed to accommodate the less well-off amongst us without much problem.

In fairness to Antec, it admitted the shortcoming, and pretty quickly. Pulling all stock off the shelves and getting it back to the factory to be reworked. Despite its best efforts, the shipping department at Antec somehow ended up sending me a second first-revision chassis before finally getting a revision 2 dispatched for this review.

So now, with three 900s stacked around me, including one revision 2, it's time to spill the beans on Antec's 900.