Introduction
Corsair may be a relative newcomer to the chassis marketplace, but having made its debut with the impressive Obsidian Series 800D back in 2009, the manufacturer has gone on to diligently deliver a couple of fan favourites in the form of the full-tower Obsidian Series 700D and mid-tower Graphite 600T.
It's becoming an impressive product range, but it's been missing a variation that fans have been longing for; a mid-tower enclosure with Obsidian Series pedigree.
Last year's Graphite 600T came close to fulfilling that need, but its molded plastic accents aren't ideal for modding and its cute, curvy exterior isn't every enthusiast's cup of tea. Agree? Well, Corsair now has something that might tickle your fancy; the Obsidian Series 650D.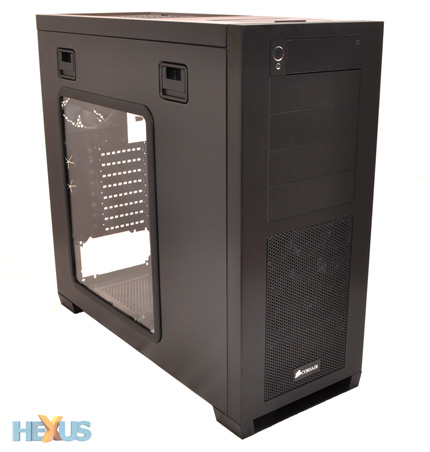 Designed to exude the understated elegance of the Obsidian Series range, the 650D is finished in black textured paint and maintains all of the right angles that helped its larger 700D and 800D siblings portray an image of clean and simple sophistication.
But by slimming down to 229mm x 521mm x 546mm in size, the mid-tower descendant becomes a unique proposition - it's subtly smaller frame is pleasing to the eye, and the bold, towering facade of its predecessors has been replaced by a modest exterior that could stand proud out on display or be tucked neatly beneath a desk.
As far as big, black boxes are concerned, Corsair's 650D is one of the classiest we've seen. There isn't a whole lot of flair, clearly, but signs of high-quality workmanship can be seen throughout. The front-panel mesh, for example, springs out with a gentle push to double as an integrated dust filter, and overall build quality is excellent. Aesthetically, our only complaint would be that the standard windowed side panel isn't borderless, and a completely window-less panel isn't available as an option.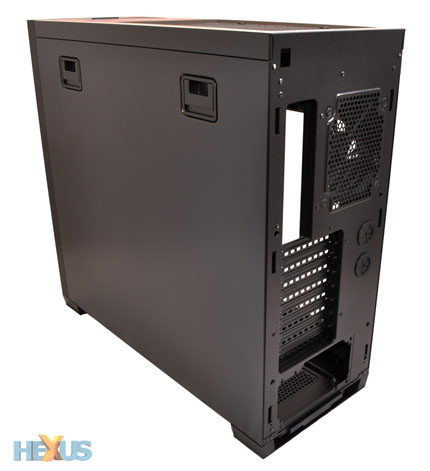 It's a lovely-looking chassis that's easier on the eye than the towering 800D/700D, and the slimming down has been reflected in the price tag, too. While the original full-tower models fetch £220 and £160 at retail, respectively, the 650D arrives at a more palatable price of £130. That's fractionally more than the Graphite 600T, so what are you getting for your money?
The question's more interesting than you'd think, as this new addition to the Obsidian Series line has a lot more in common with the Graphite Series 600T than first meets the eye. Both are roughly the same size, both consist of a steel central frame covered with a few visual niceties - namely a brushed aluminium front panel on the 650D - and both offer near-identical internals. Like the 600T, the 650D offers support for mATX or ATX motherboards, eight expansion slots, three integrated fans, a total of ten internal drive bays and a front I/O panel with USB 3.0, USB 2.0, FireWire and audio connections.
So is the 650D merely a 600T dressed up in Obsidian attire? Not quite, as Corsair has thrown in a few key alterations and upgrades.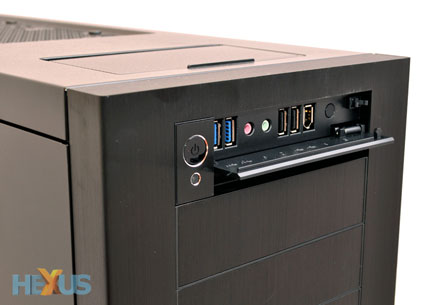 To begin with, the push-to-reveal front I/O panel features a duo of USB 3.0 ports - that's one more SuperSpeed connector than the 600T, though the overall number of front-facing USB jacks is reduced from five to four - and the 600T's analogue fan controller has been removed completely.
Instead, there's a new hidden compartment on top of the chassis that provides both three-step fan control and integrated hot-swap SATA connectivity.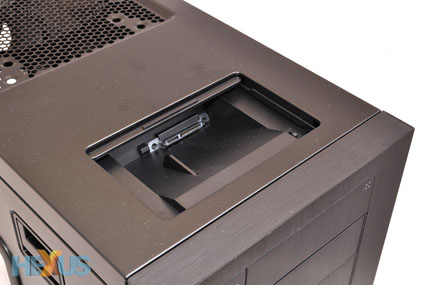 Sliding the compartment cover back reveals the external SATA connector (6Gbps if your motherboard supports it), which allows either 2.5in or 3.5in drives to be connected for quick data transfer between PCs, and a three-step fan control switch (look closely and you'll see it in the bottom right of the compartment) that lets the user choose between three fan speeds; high, medium or low.
Both the external SATA interface and the fan controller are welcome features, and they work as advertised, but Corsair's implementation could have been nicer. The thin, plastic compartment cover doesn't quite live up to the standards set by the rest of the chassis - it isn't spring-loaded and feels unrefined - and the basic fan controller switch is a little crude, too. Sure, it works, but it isn't as smooth or as visually attractive as the dial on last year's 600T.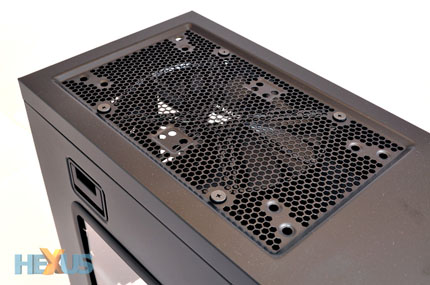 But the Obsidian Series traditionally favours function over form, and the 650D continues to do so by offering Corsair's best mid-tower cooling capability to date.
Hooked up to the four-channel fan controller are three pre-installed fans; a 200mm front intake, a 200mm top exhaust and a 120mm rear exhaust. That's the same configuration as the 600T, isn't it? In terms of fan size, yes, but the 650D's trio of blowers are rated to run at speeds of up to 1,000RPM - representing a 25 per cent speed increase over the 600T's default 800RPM fans.
On top of that, there's also better support for liquid cooling, with the 650D offering just enough internal headroom for a 240mm radiator to be paired with two 120mm fans. The internal cavern is accessed through the quick-release side panel latches first seen on the 600T, and though some consider the sizeable latches to be an aesthetic eyesore, we find their ease of use to be advantageous over traditional thumb screws.