Introduction
Thermaltake captured our imagination back in '09 with the introduction of the frankly awesome-looking Level 10 chassis. Co-designed by BMW, it was like nothing we'd seen before and its unique compartmentalised design had us champing at the bit.
The feeling didn't last long, though. We've said it before, but we'll say it again; the 2009 design was jaw-droppingly beautiful, but it ultimately offered impractical dimensions and average cooling performance at an exorbitant price.
We've been hoping that Thermaltake would rectify those wrongs with a second attempt, and it's trying to do just that with this, the Level 10 GT.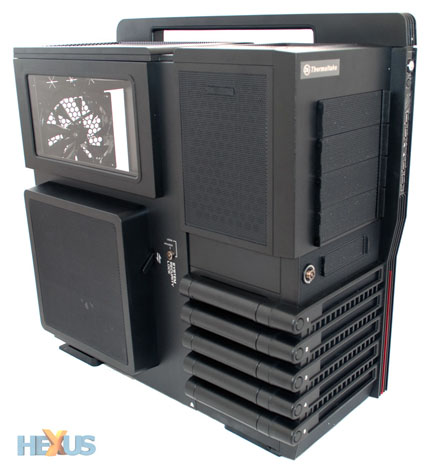 Fans of the original will recognise the design cues, but this is by no means a Level 10 Part Two. Designed to appeal to a more "mainstream" market, the GT successor is priced at a mere $259.99 (roughly £200). That's still a lofty investment, but one that's clearly more palatable than the £500 original.
And the drastic cut in price is reflected in Thermaltake's desire to trim down the enclosure's bulk. While the first Level 10 weighed a back-breaking 21.4kg and measured a giant 614mm x 318mm x 666.3mm, the new GT version slims down to 584mm x 282mm x 590mm and weighs a more comfortable 12.7kg. It remains a heavy bit of kit, but it's almost half the weight of the original.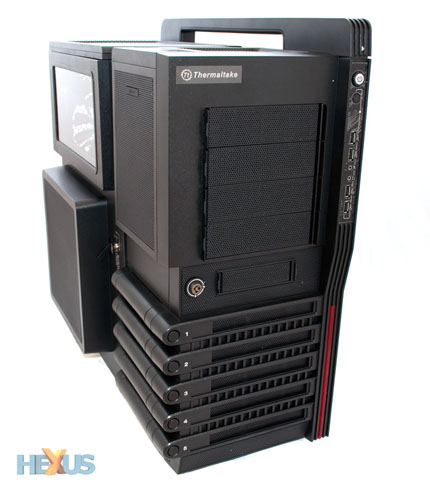 Chopping and changing clearly has its benefits, but there are some major drawbacks, too. First and foremost, the Level 10 GT just doesn't look as beautiful as its predecessor.
It attempts to echo the design philosophy of the original by simulating multiple compartments attached to a large side panel but the end result is far less appealing. BMW hasn't had a hand in this one, and it shows. The Level 10 GT comes across as a standard steel tower adorned with plastic moulds designed to mimic the Level 10 concept.
That doesn't sound particularly tempting, but Thermaltake might somehow have managed to get it right. Sure, the Level 10 GT is aesthetically a long way from the 2009 Level 10, but for Thermaltake's target audience of extreme gamers it ticks many of the right boxes. It's big, it's bold, it's different and it isn't lacking in features.
At the top of the chassis, an I/O panel provides a pair of SuperSpeed USB 3.0 ports, eSATA and three buttons to control fan speed and colour - more on that later. In keeping with the original Level 10, the power and reset buttons, activity LEDs, audio jacks and four USB 2.0 ports are housed smartly along the front edge.
Moving down from the four 5.25in drive bays and external 3.5in bay, you see the Level 10 GT's five hot-swappable hard-disk bays. All five are lockable, and each is released at the push of a button - allowing the drive tray to slide out sideways. Drive installation isn't tool-free, but you can screw in either 2.5in or 3.5in disks. The system is tidy and works well, but there are obvious downgrades. Cutting costs from the original Level 10, the drive trays are now plastic as opposed to aluminium, and there are no longer any status LEDs to indicate which bays are occupied.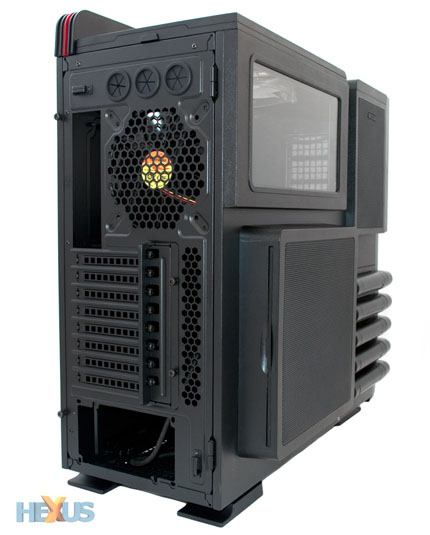 The view from the back suggests that the chassis offers ample room to work with. Eight tool-free expansion slots are available, as are a trio of pre-drilled holes for all your liquid-cooling needs. The power supply is mounted at the bottom and for those concerned about peripheral security, two fastened hooks allow for cables to be securely attached to the chassis.
The odd-looking boxes protruding from the chassis' side might be an attempt to mirror the aesthetics of the original Level 10, but they serve an entirely different purpose. Instead of acting as confined compartments for various key components, they merely add functionality to a large central compartment. Up top, a new windowed side panel provides a glimpse inside, and the large mesh-covered square beneath that houses a sizeable 200m x 200mm x 30mm fan. A spring-loaded pop-out filter helps keep it clean, and the side intake is one of four pre-installed fans.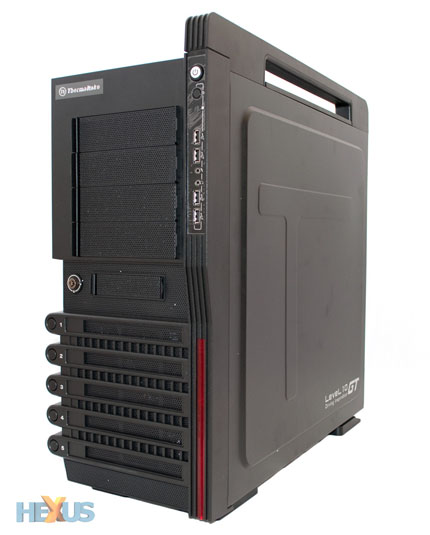 It's the opposite side that best resembles the Level 10 of old. Maintaining a tall pillar-like structure, the side panel provides a carry handle and is removable to reveal access to the chassis' excellent cable-routing facilities. Let's take a look inside, shall we?