Chassis tour - part two
As standard, Corsair ships the Obsidian Series 800D with a single windowed side panel. It's an unusual shape and you'll either love it or hate it - if you fall in the latter category, we're told that Corsair will be making available an optional plain-black panel available to order at a later date.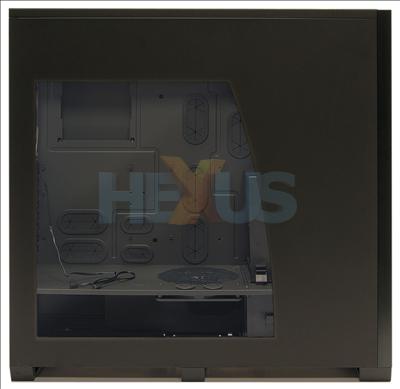 Useful for those wanting to show off their system's innards, but, like the black-matte finish, we found that the side-panel window marks very easily and can quickly become scuffed. Corsair may well bundle in a cleaning cloth, we hear.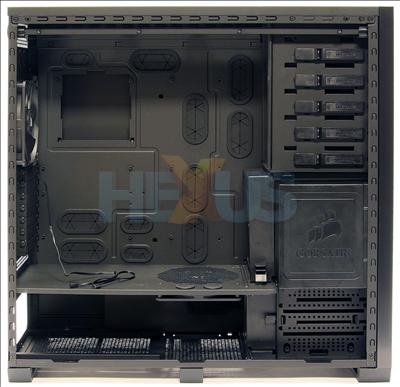 The interior, at first glance, is a thing of beauty. We might not be overly impressed by Corsair's exterior finish, but the matte-black innards exude quality. There's abundant room to work with, and the main motherboard area dwarfs a standard ATX board.
There's a cutout in the motherboard tray allowing for easier CPU cooler installation, and Corsair informs us that the cutout on the final shipping product will be larger - ensuring support for all Core i5/Core i7 boards.
The Obsidian Series 800D also goes all out in terms of cable management, and rubber-covered routing holes are in plentiful supply. There's a decent-enough gap between the motherboard tray and the rear panel, allowing for cables to be kept out of view, and it all makes for an easily-obtainable tidy finish.
It isn't all good news, though. The chassis is missing tool-less expansion card brackets (if you happen to like them), and we found that a few power supplies fitted with large 120mm/140mm fans - BeQuiet Dark Power Pro, for example, wouldn't fit properly without having their fan grilles removed first. Testing with Corsair's own range and an FSP didn't highlight this issue. There's also no anti-vibration shim to sit the power supply on, and component-silencing in general doesn't appear to be high on the Obsidian Series 800D's list of priorities.
There's no removable motherboard tray, but to give you an idea of how much room there is to work with, here it is kitted out with an ATX board: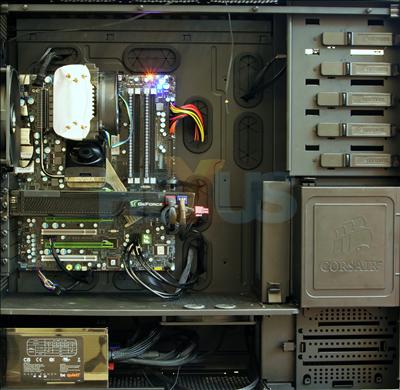 Corsair's implementation consists of three zones; a compartment for the power supply, a compartment for the motherboard/main hardware, and a compartment for all the disk drives. Each has dedicated cooling, with Corsair's default configuration comprising of three 140mm fans - that's one bottom-mounted intake, one used to cool up to four installed hard drives (housed behind the Corsair-branded open-bottom plastic shroud, seen above), and one rear-mounted exhaust.
The chassis is scattered with little niceties, too. There's a large removable dust-filter at the bottom, the chassis' feet are clad with rubber pads, the cabling for the front I/O is routed around the back and kept out of sight, and there's a series of ventilation holes beneath the seven expansion slots to help exhaust air from hot multi-GPU setups.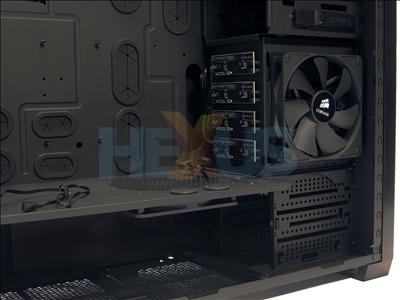 Going back to the plastic shrouds, they cover up a 140mm fan and the SATA backplane - to compartmentalise the cooling - but we found them to be not quite as well-fitting and out of character when compared to the solidity of the rest of the chassis. They almost felt cheap and didn't lock easily into place.
To the right of the power-supply compartment, you'll see room for a further two 3.5in hard drives to be installed. Should the drives need additional cooling, you'll also find room to install an optional 120mm fan.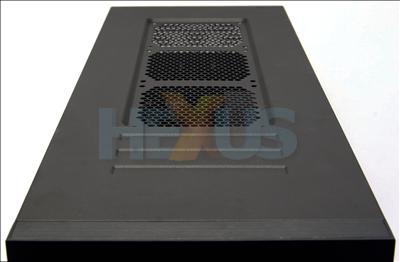 If cooling still isn't what you'd hoped for, up to three 120mm fans can be housed in the roof of the chassis, and enthusiasts will be happy to hear there's pre-drilled support for top-mounted single, dual, and triple radiators. There's plenty of room between the CPU area and the roof of the chassis, so larger radiators shouldn't pose a problem.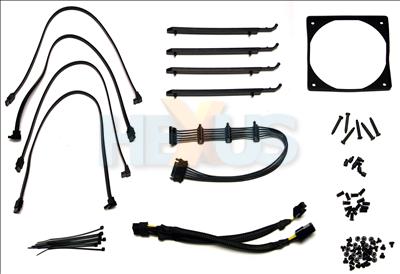 Corsair bundles in everything you need to get started, and a little bit extra. We're particularly fond of the right-angled SATA cables, and the four-way power cable designed to attach perfectly to the chassis' built-in SATA backplane.
In summary, it isn't by any means perfect, but it's a bold first attempt. You may come across a few niggles whilst getting up and running, but you'll ultimately end up with an ultra-tidy installation with plenty of room for expansion.