Introduction
be quiet! has slowly but surely put together a formidable portfolio of high-quality PC enclosures, headlined by the award-winning Dark Base Pro 900 rev. 2 and Dark Base Pro 700. Said cases offer plenty to admire, but respective price points of £230 and £160 put such goodness beyond the reach of mainstream consumers.
Sub-£100 enclosures are crucial to establishing a meaningful presence in the market, and be quiet! is hoping to broaden its appeal with the new Pure Base 500, the German firm's most affordable mid-tower solution to date.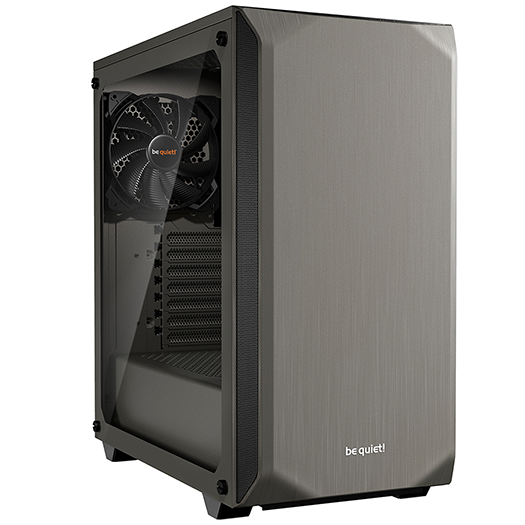 Priced from £70, Pure Base 500 was first introduced back in June and has been promising to deliver an 'outstanding price-to-performance ratio' in a 'compact and sophisticated design.' Sounds useful on paper, and there's also a good array of choice at launch, with be quiet! offering the case in black, white or metallic grey (pictured) colour schemes, each available with or without a glass side window. The available options are welcome; however it is worth pointing out that the £70 fee only applies to the regular all-black enclosure. Pricing rises to £75 for a white or grey model, £80 for a black model with tinted glass window, or at the top-end of the scale, £85 for a white or grey case with a clear glass window.
Is it worth paying more than a 20 per cent premium for the top models? That's open to debate, but we will say this; our windowed metallic grey review sample looks particularly sweet. The matte colour scheme gives the entire case a sort-of industrial look, and though the shades of grey on each panel aren't perfectly matched (they're similar, but you do notice a bit of variance on closer inspection), it is one of the nicest paint jobs we've seen on a mainstream chassis in recent years. Better still, there are no RGB lights to cheapen the overall aesthetic, and the case not only looks great, it also does a fine job of repelling fingerprints.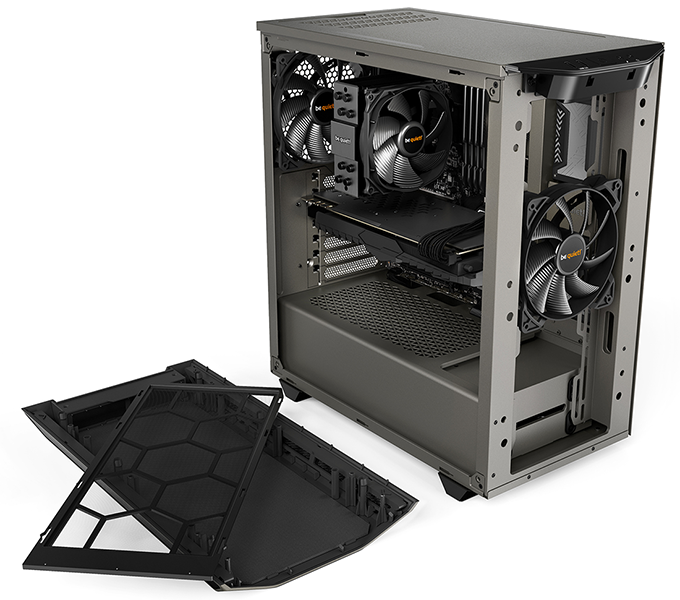 Build quality, as you'd expect from a be quiet! product, is good throughout, however the decision to streamline its mainstream enclosure has resulted in an I/O panel that is basic at best. Lining the chassis' top-front edge is a backlit power button flanked by audio jacks on the right and a pair of USB 3.0 Type-A on the left, and that's your lot. There's no reset button, nor is there an HDD LED, and as we approach the tail end of 2019, we feel it's a crying shame that be quiet! has opted not to include support for USB Type-C as standard.
Our disappointment in the absence of a forward-looking USB port is emphasised by the fact that we have very little else to criticise. Dimensions of 450mm (L) x 231mm (W) x 463mm (H) are reasonably compact and the logical internal layout leaves plenty of room for high-end gear. Graphics cards can measure up to 369mm in length, there's 190mm of clearance for a CPU cooler, and the usual selection of Mini, Micro and Standard ATX motherboard form factors are supported.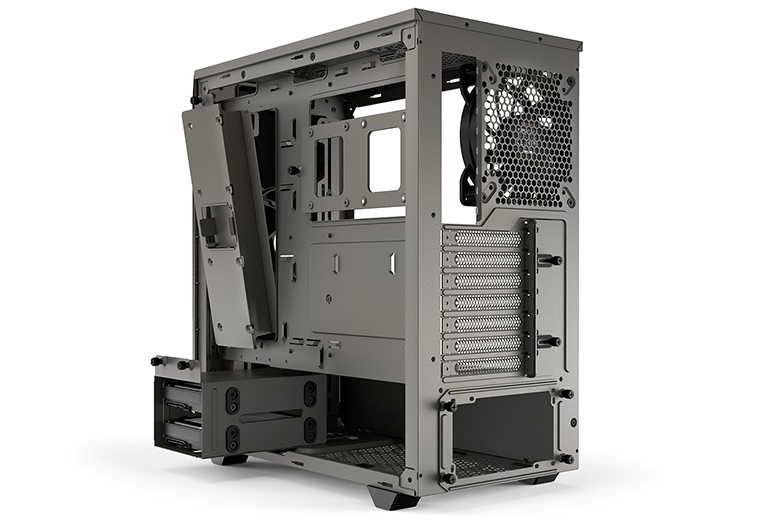 Enthusiasts planning an extreme build needing E-ATX support and more expansion slots will need to look further up the be quiet! product range, but for the vast majority of builds, Pure Base 500 ticks many relevant boxes. Seven expansion slots are joined by a dual-bay 3.5in hard disk cage, there's a tray for two 2.5in SSDs attached to the back of the motherboard cutout, and to the side of the motherboard a dedicated SSD bracket allows for a further two 2.5in drives to be put on display through the glass window. Said bracket is offset to double as a cable-routing mechanism, and though the system bodes well for users wanting to show off a couple of RGB SSDs, the emergence of M.2 drives arguably takes away the need for four 2.5in trays.
In the cooling department, be quiet! includes two 140mm Pure Wings 2 fans by default; a front intake and a rear exhaust. Given that so many chassis ship with mediocre fans, it is nice to see be quiet! includes high-quality units as standard, though nitpicking somewhat, we'd have preferred four-pin PWM variants as opposed to the standard three-pin that are included. Looking beyond the scope of delivery, the front of the case can accommodate up to two 140s or three 120s, and there's room for either two 120s or two 140s in the roof. That means a 240mm radiator will fit easily at the top, and if you're willing to remove or shift along the hard-disk cage, there's space for a 360mm radiator in the front.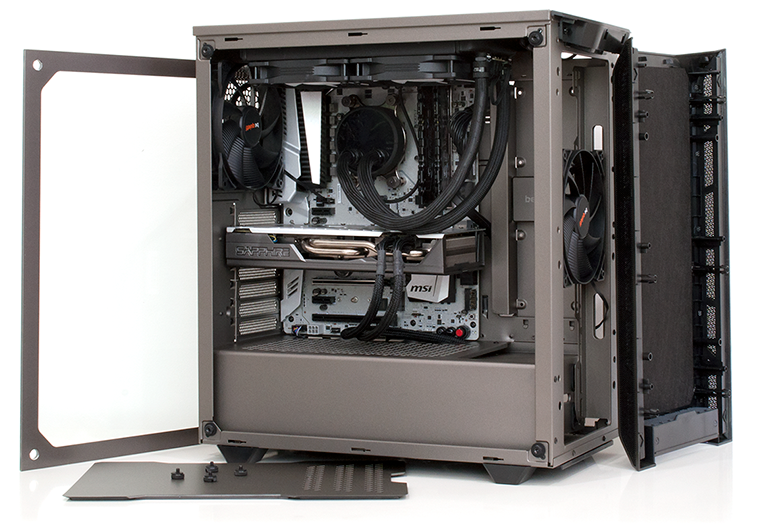 Our AMD-based test platform looks rather handsome when installed and there are some nice touches throughout. We like the fact that the front, top and rear side panel are all lined with sound-dampening material, pre-installed motherboard standoffs are always welcome, and the PSU shroud does a fine job of keeping everything tidy. Users seeking maximum airflow may lament the front panel design - the thin slivers of mesh lining the sides can only do so much - however a top-mounted radiator benefits from the optional mesh cover included as part of the bundle. Magnetically secured, the black mesh insert replaces the solid, sound-dampened cover to aid airflow at the top of the chassis, and in our opinion doesn't detract from the overall aesthetic.
The plastic front fascia is easily removed from the steel frame for cleaning purposes, and we appreciate that the bottom dust filter pulls out from the front for ease of use. be quiet! also has cable-routing holes in all the right places above and below the motherboard, and though there are no rubber grommets to speak of, they aren't missed as the SSD bracket does a fine job of neat cable management. Velcro ties around back help ensure a tidy build, and we encountered zero problems when putting together our test system. Heck, it is frankly refreshing not having half-a-dozen extra cables for the sole purpose of chintzy lighting.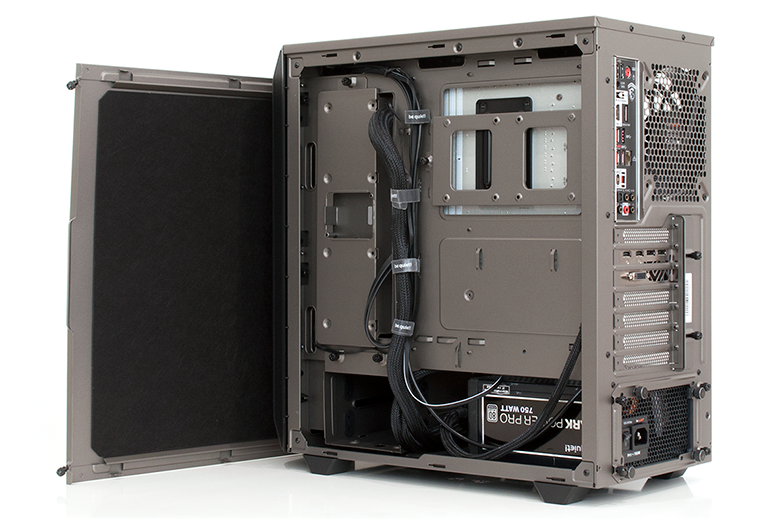 Any other points of contention? Well, there's no option for a vertical graphics card and some may also decry the absence of a 5.25in optical bay, which if you recall is something that the 2017 Pure Base 600 retained. We don't mind losing such functionality if there's a good reason, and be quiet!'s rationale is that the Pure Base 500 is a smaller design with a modern outlook. Putting dimensions into perspective, the PB 500 is 11mm wider than its older sibling, but shaves 7mm in height and 42mm in length; the latter is afforded by the absence of an optical drive and ultimately gives the enclosure a squarer appearance that's not only compact but easier on the eye.
Pure Base 500 isn't rewriting the chassis rule book, but by focussing on the essentials it gets plenty right and is quickly becoming one of our favourite mid-tower solutions in the sub-£100 segment. We get the feeling the omission of USB-C is all that will prevent an out-and-out recommendation, but let's run through the benchmarks before passing judgement.