Test Methodology and Performance
Notes
The time has come to overhaul our chassis test platform with modern components. Our trusty Intel Core i5-3570K processor and dual GeForce GTX 970 graphics cards have been retired from service, and in comes an all-AMD combination of Ryzen 7 1800X and Radeon RX 580.
AMD's eight-core, 16-thread processor is stock clocked (our chip struggled with stability when aiming for over 4GHz across all cores) and installed beneath a Fractal Design Celsius S24 liquid cooler. The CPU is joined by 16GB of G.Skill Flare X DDR4 memory operating at 2,400MHz, while the Radeon RX 580 GPU is provided by Sapphire in Nitro+ Limited Edition guise. Power for the entire system comes courtesy of a 750W be quiet! Dark Power Pro 11 supply. Do note that we attempted to run multiple memory kits at higher speeds, but were unable to maintain stability on this particular X370 platform, hence the 3,200MHz G.Skill kit operating at 800MHz less than advertised.
To find out how well the comparison chassis can cool the AMD-flavoured build, we log CPU temperature while encoding a large 4K video clip using the popular HandBrake software utility. This task puts heavy load on all available CPU cores and we extend the stress test by queueing multiple passes. In order to provide a stabilised reading we then calculate an average temperature from the last few minutes of encoding.
To get an idea of graphics-card cooling performance, we log GPU temperature while looping the F1 2017 benchmark at a 4K resolution with ultra quality settings. Last but not least, we also measure chassis noise by using a PCE-318 noise meter to take readings both when idle and while gaming. The meter is positioned 35cm from the front of the chassis in a direct line of sight 30cm from the ground.
All chassis are tested only with the standard manufacturer-supplied fans (any/all of which are set to a low-noise curve in the MSI BIOS or low-speed using a fan controller if present), and to take into account the fluctuating ambient temperature, our graphs depict both actual and delta temperature - the latter is the actual CPU/GPU temperature minus the ambient.
Performance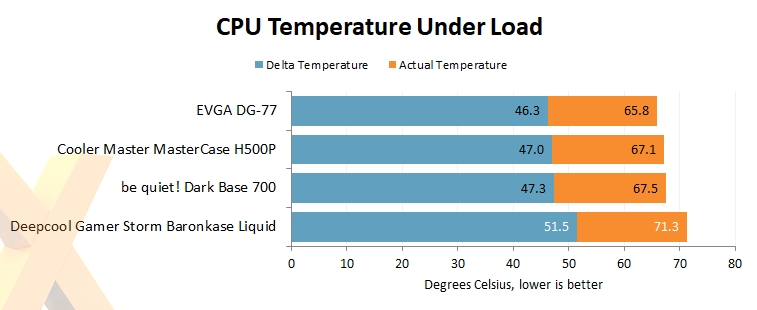 Unsurprisingly, the 120mm liquid cooler bundled with the Gamer Storm Baronkase isn't a match for the 240mm Fractal Design Celsius S24. The performance gap is to be expected but the Deepcool has no problem taming our eight-core chip.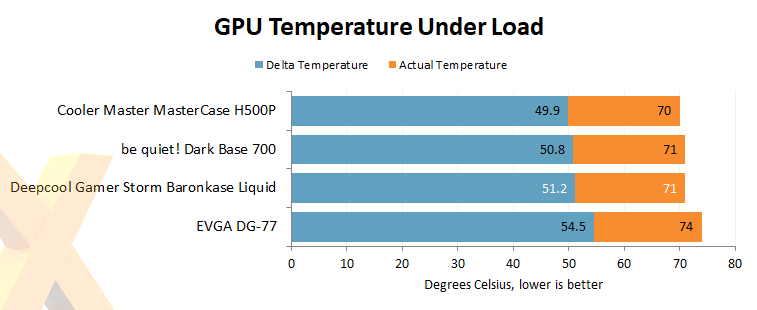 GPU cooling performance is solid. Despite the lack of a traditional front intake, our Radeon RX 580 feels right at home inside the Baronkase. Adding a bottom 120 or two would no doubt enhance airflow.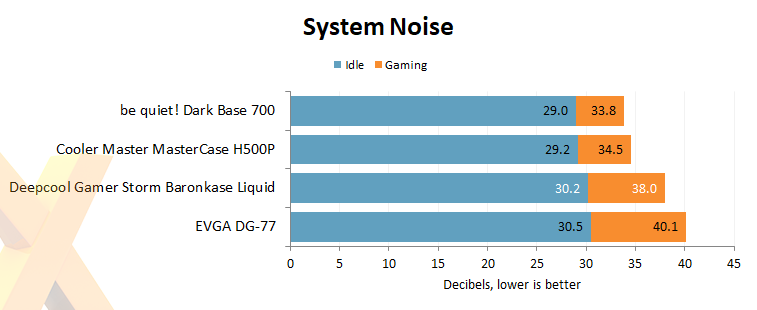 Most modern chassis have little trouble taming today's efficient components. Keeping noise levels down to an absolute minimum is arguably a tougher challenge, and the very best cases stand out through ultra-quiet operation. Baronkase Liquid isn't loud, but the pump is noticeable and the case doesn't dampen noise quite as well as, say, a pricier Dark Base 700.