Apple on the case

Reviewers and users have raved about the system case of the Mac Pro's forerunner, the Power Mac G5, and Apple has reworked the design to add a number of welcome features but, largely, we think, to deal with the massive heat output of FB-DIMMs.

We're showing below some PR shots of the Mac Pro's system case contrasted with some of our own, rather less glossy shots, of the Power Mac G5's case. Unlike most Windows PC mini-towers, on both these Macs you access card slots, RAM, and hard-disk drives by removing the right-hand side panel, not the left.

What you don't see in the interior shot of the G5 is the clear plastic contoured air-wall that is put in place before the side-panel. The idea is to make various compartments air-tight so that the heat from different areas of the chassis doesn't mix, leaving each to be dealt with by a dedicated fan array.

This was a very special feature of the Power Mac G5s case and has, we'd expect, been carried over into the Power Mac - though using, we reckon, a smaller wall or even baffles that are mounted on the inside of the case's removable side wall. That's pure speculation but we'll update you as soon as we can.





In the shot above, you'll see that the RAM compartment is now in much the same place as where the twin G5 processors live in a Power Mac (shown below). Each of the very-hot-running G5 CPUs has its own fan front and rear. The PC3200 RAM in a Power Mac G5 is near to the front and accessed by lifting out the twin fan assembly that sits above it and forward of the CPUs.

The relatively-cool-running Xeon Woodcrest CPUs, are, we think, located towards the front of the Mac Pro's case in that sealed compartment to the left of the RAM bay. Warm air from the Intel CPUs is drawn over the very hot air within the RAM compartment then out the rear, courtesy of what we'd guess is a 120mm fan in the enclosure to the right of the RAM compartment.

In theory, systems using these dual-core CPUs allow them to be easily replaced by quad-core processors but we simply have no idea from the available information whether this is the case with the Mac Pro or, if it is, how any additional cooling requirements are catered for.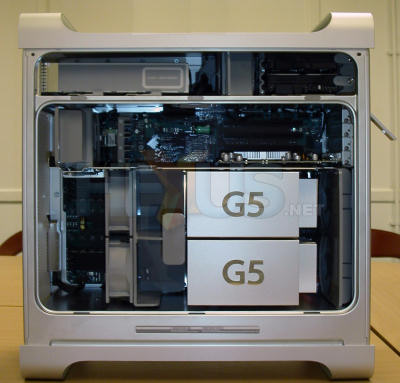 Power Mac G5 (click for larger image)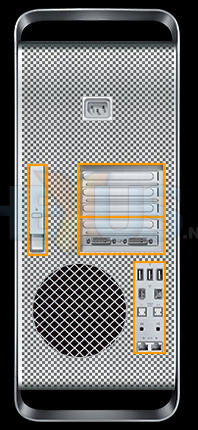 Mac Pro rear





The power-supply unit in the Mac Pro is at high level, rather than down low. We initially saw that as a backward step but its position is pretty much dictated by the motherboard design and it looks as though the location of the other rear sockets - all to one side except for the graphic-card ports - may still enable users to easily avoid cable clutter around the back.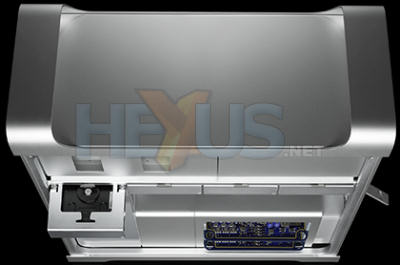 Four slot-in drive caddies are secured
by a lockable latch on the rear of the case

As well as the caddy-mounted hard drives and a long-overdue second optical drive bay, other new case features include a retain bracket for PCIe cards that uses thumbscrews and requires no tools; additional front ports (one FireWire 800 to accompany the original FireWire 400, and a second USB 2.0); and a locking mechanism for the side panel that has been revamped so that it also secures the HDD caddies in place.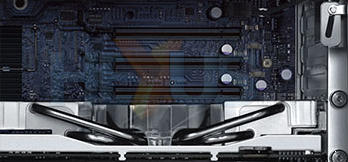 Tool-free expansion-card retainer


Apple's main target for the new Mac is professionals in graphics-design; page layout; video editing; music and audio; and photography; and others involved in processor-intensive and graphics-intensive jobs.

The company says that the 3GHz Mac Pro is up to twice as fast as the previous range-leader, the PowerMac G5 2.5GHz Quad, and has a page showing comparative performances.

To us, though, the figures suggest that for most tasks, the new 3GHz Mac Pro is less than 1.5x faster, while the 2.66GHz base model is only 1.3x faster.

However, Apple's boasting is hamstrung by the fact that much of the potential gain has yet to be realised because rather too many high-profile applications still don't run natively on Intel CPUs.

That's a big disappointment when we'd expected (and Apple may have hoped) that Adobe, among others big names, would have used WWDC to debut Intel-native versions of their programs.

So, even though it's now possible to buy a seriously top-end Core 2 Duo Mac, there are still no Intel-native versions of certain key apps - such as Photoshop, Illustrator and InDesign - and that's sure to limit sales at the outset.

The Mac Pro can be used as a server rather than a desktop PC. For that, you'd buy either a 10-client license of Mac OS X Server 10.4 for £349 or an unlimited-client license for £699.

However, a dedicated rack-mount Xserve model centred on dual-core Woodcrest Xeons is promised for October. The base Xserve configuration will cost £2,199 inc VAT and provide:



* Two 2.0 GHz Dual-Core Intel Xeon processors

* 1GB of 667 MHz DDR2 ECC FB-DIMM RAM

* A single 80GB SATA drive in an Apple Drive Module

* Dual on-board Gigabit Ethernet

* Internal graphics

* Three FireWire 800 ports and two USB 2.0 ports

* An unlimited-client license for Mac OS X Server



Build to order Xserve options and accessories include dual 2.66GHz or 3.0GHz CPUs;

up to 32GB of 667 MHz FB-DIMM RAM (!)

; 80GB and 750GB 7200rpm SATA drives or 15,000rpm 73GB and 300GB SAS (serial-attached SCSI) drives; an ATI Radeon X1300 graphics card with 256MB SDRAM; a combined CD-writer/DVD reader; a SuperDrive DVD burner; and a 650W redundant power supply.

For Apple's take on the Mac Pro, check out the official UK press release on the next page.

Having done that, you might care to share your thoughts with us in this thread in the HEXUS.community.

HEXUS.links
HEXUS.community :: discussion thread about this article
HEXUS.hardline - Apple to announce iPhone today?
HEXUS.hardline - Apple set to announce Conroe plans on August 7?
HEXUS.reviews :: Intel's Conroe spanks AMD FX-62's botty - for real!!
HEXUS@IDF Spring 2006 :: Intel's next-generation Core architecture
HEXUS@IDF Spring 2006 :: Apple's Conroe Plans
HEXUS.lifestyle.reviews :: Apple Boot Camp (Mac OS X/Win XP dual-boot utility)


External.links
Apple UK - Mac Pro home page
Apple UK - Mac Pro design page (interactive)
Apple UK - Mac Pro specs
Apple UK - Mac Pro performance
Apple - Xsan home page
Apple - Xserve RAID home page
Apple UK - Xserve home page
Apple - 2006 Worldwide Developers Conference
Apple press release - Apple announces move to Intel at 2005 WDC
Engadget - Too many Mac rumors
Wikipedia - Entry on Intel Core Microarchitecture
Wikipedia - Entry on Ethernet jumbo frames
Wikipedia - Entry on serial-attached SCSI (SAS)