Who needs a nettop?
We've seen some small PCs in our time, but the fit-PC Slim is ridiculously small.
The system measures just 10cm x 11cm x 3cm, and weighs only 380g. Normally, those dimensions would just make us laugh and presume the product to be useless. The fit-PC Slim, however, isn't all that bad - it features a 500MHz AMD Geode processor, AMD's CS5536 chipset, 512MB of RAM and integrated graphics that'll output at up to 1,920 x 1,440.
Granted, you won't be carrying out any intensive tasks anytime soon, but just take a look at the size of this thing: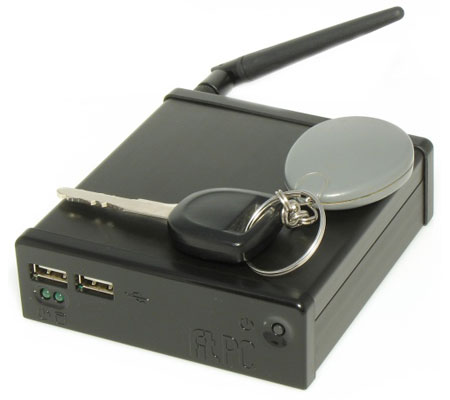 There's a 2.5in hard-disk bay - allowing users to upgrade the storage capacity as they see fit - integrated 802.11b/g Wi-Fi, Ethernet, three USB ports, VGA out, and a choice of Linux or Windows XP operating systems.
The super-small system is available in the following configurations:
fit-PC Slim Barebones (256MB, no WiFi, no HDD) - $220
fit-PC Slim Diskless (512MB, WiFi, no HDD) - $245
fit-PC Slim Linux (512MB, WiFi, 60GB hard disk with Ubuntu and Gentoo pre-installed) - $295
fit-PC Slim XP (512MB, WiFi, 60GB hard disk with Windows XP Home SP3 pre-installed) - $335
It might be a tad pricey, and expectedly underpowered, but we couldn't help but marvel at its size. Head on over to page two for the complete specification and some additional product shots.