News Story
An exciting fusion of the ability to play high definition movies and read both single and double layer Blu-ray disks, together with the functionality of high speed read/write capabilities with an expansive range of CD/DVD formats, is the forte of the new range of optical PC drives launched by Pioneer today.

Two versions, one of which is intended for installation by system integrators and PC manufacturers and the second, targeted towards consumers, will have both a beige or black colour option and ship at an estimated price of 250 Euros including VAT and are expected to be available at the end of May 2007.

Pioneer cite how the uptake of Blu-ray technology by seven, out of eight, major Hollywood studios, together with it being the format adopted by Sony's Playstation 3 console has spurred them to produce a drive that combines a mix of long established, current and next generation technology support, together with practicality.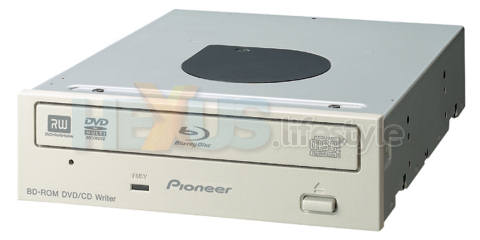 Pioneer go further and explain that multimedia PCs today, complement home environments and are powered by powerful system processors, graphics cards and soundcards, with flat screen displays all combining to provide excellence in movie playback and, as such, the new drives provide a cost-efficient, high-performance and simple method for consumers to experience new entertainment formats such as Blu-ray and High Definition content.

Retail packages of the drive will include a software solution to enable playback of BD movies, together with the creation, as well as playback of CDs and DVDs.

Delve into the capabilities of the drives here.