Second-gen storage from OCZ
We had to pinch ourselves at OCZ's suite at CES 2010, as with nary a memory module in sight, we wondered if we'd walked into the wrong room.
But nope, it was OCZ alright, and the California-based memory specialist was out to show off what's in store for solid-state storage in the coming months.
Up first is the company's second-generation Vertex 2 series, developed in collaboration with SandForce and soon-to-be-available in multiple flavours for enterprise or consumer use.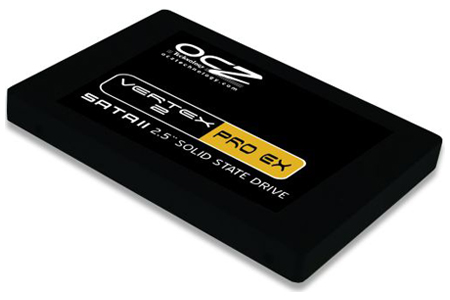 OCZ's SSD product range isn't exactly small, but it'll increase threefold in March when the Vertex 2 Pro EX, Vertex 2 Pro and Vertex 2 hit the shelves equipped with a SandForce processor promising improved performance.
The Vertex 2 Pro EX, a single-level-cell (SLC) drive, will be available in 50GB, 100GB and 200GB capacities, and could offer read and write speeds of up to 280MB/s and 270MB/s, respectively. OCZ also suggests that the drive could be capable of of 25,000 IOPs, but adds that performance figures aren't set in stone just yet.
For the home user, the Vertex 2 MLC drive will be available in capacities of up to 400GB. Preliminary figures suggest read and write speeds of up to 270MB/s and 260MB/s, respectively, with IOPs performance at 9,500. There's no word on pricing at this stage, but these enthusiast drives won't come cheap. Want to know roughly when you'll be buying 2.5in SSDs in 1TB capacities? OCZ's SSD product manager Daryl Lang reckons you could be waiting until 2011.
Vertex 2 just not quick enough? Click over to page two for an OCZ solution that's almost five times quicker!