Enterprise drives
Following on from leaked reports earlier this week, Intel officially announced its next-generation solid-state drives during a press briefing at IDF 2008.

Heading up the list is the X25-E Extreme model, designed for enterprise platforms, and it will ship with 32GB and 64GB capacities in a 2.5in form factor. The interface is SATA rev 2.6, and it's based on 50nm NAND, we were told.

Intel is quoting read/write speeds of 250MB and 170MB/s, respectively, and the X25-E uses faster single-level cell (SLC) NAND flash memory. Further, it uses a 10-parallel channel architecture, wear-levelling technology, and a read latency of 75 microseconds.

Quoting a MTBF of 2 million hours and an active power-consumption figure of 2.4W (0.06W idle, though), the speedy drive should make significant inroads into the market dominated by high-spinning traditional drives.

Intel representatives said that the 32GB model has been sampled to select partners already, and mass-production models will be available within 30 days. 64GB models will be released a little later, we were told.

Looking ahead, 34nm NAND memory will be used on larger-than 64GB capacities, pencilled in for Q1 2009.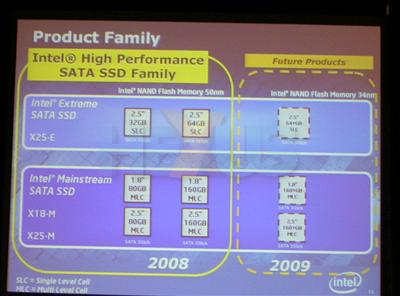 Click on the next page for consumer drive information