As October ended so did Microsoft's distribution of two operating systems to OEMs. Windows 7 Professional and Windows 8.1 have both reached the end of their sales via PCs with Windows pre-installed. Users of these OSes still have some time to use them and benefit from Microsoft support of some kind but Microsoft is now firmly cruising in a single gear - Windows 10.
To see the full range of Windows sales, distribution and support dates across various OS versions you can check out Microsoft's dedicated Windows lifecycle fact sheet on the web. Below I've embedded the end of sales chart from that site for your convenience, and highlighted the dates that we have just passed.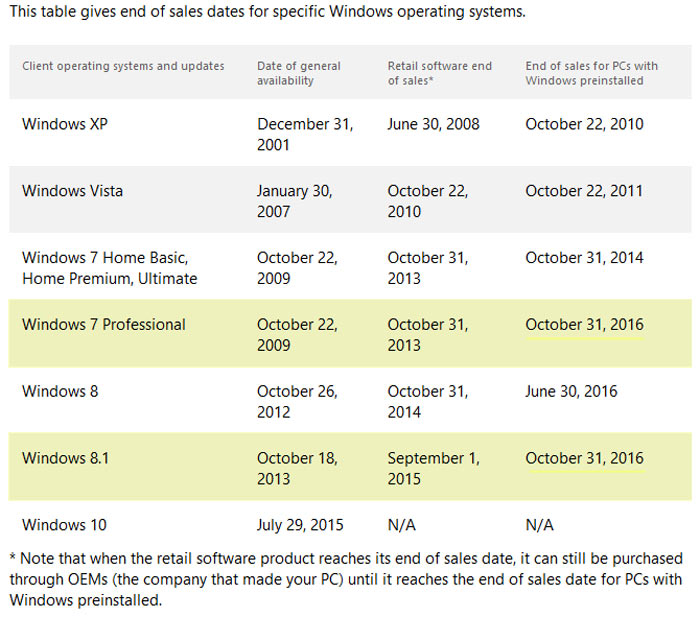 From now on it will likely be increasingly difficult to buy a new PC with either Windows 7 Professional or Windows 8.1 installed but there might be some in existing stocks etc. Nosing around Dell's site I could still configure a business laptop with Windows 7 Professional, even though "Dell recommends Windows 10 Pro". Other business machines may still come with downgrade rights for a while too.

Windows 7 Home Basic, Home Premium, and Ultimate became unavailable quite a long time ago – two years previously. However Microsoft granted Windows 7 Pro an uncustomary stay of execution, then provided an additional warning of the Windows 7 Pro OEM availability deadline a year ago.
At the time of writing Windows 7 remains the most popular OS on the planet with approx 48 per cent market share. Looking elsewhere on Microsoft's Windows lifecycle fact sheet you can see that it has already hit the end of mainstream support but will get extended support until 14th January 2020. The other OS we have just said 'goodbye' to, Windows 8.1, gets mainstream support until 9th January 2018 with extended support scheduled to end on 10th January 2023.