Microsoft has started to weed out apps from its Windows Store app catalogue. With immediate effect the corporation has updated its certification policy (Policy 10.1) to enforce "a more robust approach," to the software that can be listed in the Windows Store. New and existing apps will be assessed and apps that don't comply, by providing "Distinct Function & Value; Accurate Representation", will be removed and the developers informed. The hope is to improve the Windows Store experience for both customers and developers.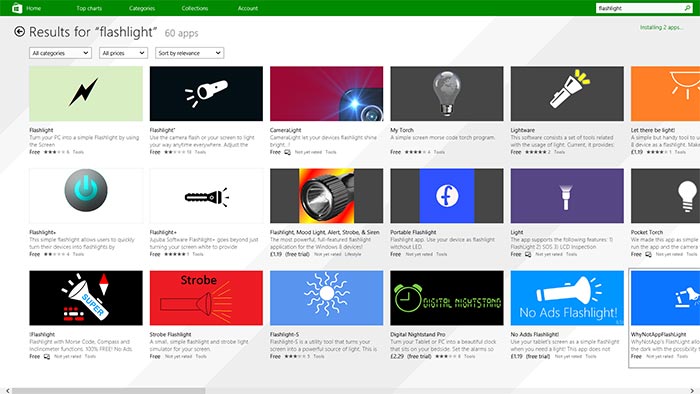 In an official Microsoft blog post Bernardo Zamora outlines the criteria upon which apps will be judged. There are four areas of focus for this Windows Store cleanup effort, as follows:
Eliminating app clutter
Ensuring apps are appropriately priced
Distinguishing informational apps
Ensuring relevant app titles and keywords
In the rather general sounding 'Eliminating app clutter' area Microsoft will ensure that developers use unique icons and app titles that match the content. Also any apps "that do not offer unique content, creative value or utility," may be removed from the catalogue. A particular mention is made of flashlight apps which clutter every platform out there.

Pricing will be scrutinised by Microsoft to assess whether it is fair. Higher priced apps may be removed from the Store if they are deemed not to offer superior functionality or value says Microsoft.
It's important for informational or reference apps to distinguish themselves from associated functional apps (e.g. a game), thinks Microsoft. Such apps should be easily recognisable via a textual 'GUIDE', 'TUTORIAL' or similar masthead.

Apps in the store must have relevant titles or keywords. It has been noted that some developers use popular keywords that are often irrelevant to the app functionality to boost its presence in store searches. Such apps may now be pruned from the store.
The above certification policy updates are in addition to the intellectual property compliance guidelines which seek to prevent app authors 'stealing' app ideas, content and so on to replicate successful apps. Overall it's a good move for Microsoft which with the introduction of the Windows Store focussed for a lengthy period upon quantity over quality.
As a reminder, Windows 10 for PCs and tablets is expected to ship this summer. Last month Microsoft started to roll out a unified (multi-platform) Windows 10 Store for Insiders which included apps, movies, TV shows and music.