Microsoft rolled out Windows 8.1 Update 1 last month, delivering a much refreshed user experience. It has also been busy updating its Windows Store with enhancements "that address customer feedback and make it a lot easier to find the apps you want" and to make this key app within the OS more accommodating to mouse and keyboard users.
Microsoft pinned the Windows Store app to desktop users' taskbar by default along with its Windows 8.1 Update 1. The update to the app comes with a substantial revamp which includes the following major improvements worth noting.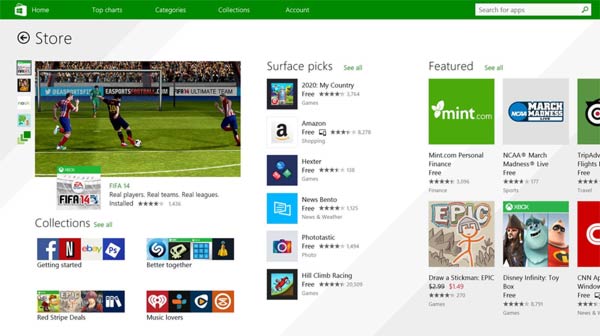 The new Store layout
First of all, navigation has been made more obvious, with the addition of an always-visible navigation bar, providing faster access. The new toolbar-like UI at the top of the app which focuses on Top Charts, Categories, Collection and Account, means that users will no longer have to finger-swipe or right-click to find this otherwise hidden navigation list.
The whole layout of the app has also changed, now allowing users to access the curated app collections, such as Getting Started, Better Together, Red Stripe Deals and Music Lovers, directly from the Stores app's hub view.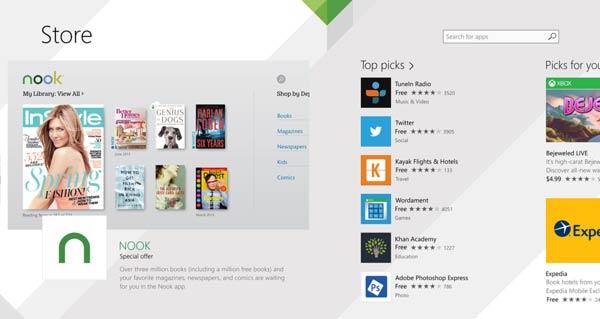 How the Store used to look
Microsoft has dedicated "an entire team of experts who curate Collections to help you discover new apps." The Getting Started Collection is an example of the company's efforts, which gathers some of the most downloaded and highest rated apps that new devices owners are likely to want to download. There are also theme based collections, relating to music, travel, sports etc. Also a deal collection called Red Stripe Deals features six apps every week with at least 50 per cent discounts.
The Store hub view now also includes a new Features apps group, showing apps Microsoft intends to highlight. Apps that are on sale will now feature a strike-through of the original price so users know it's a deal.
Cross-device linking
Last but not least, apps that are available for both Windows and Windows Phone can now be linked and downloaded across all of your Windows devices. This applies to both free and paid apps, depending on whether developers choose to allow it. This means that users can potentially have their paid apps on multiple devices without having to pay more than once. Below you can see embedded the 'multi-device' icon, look for this when downloading an app to ensure the app is compatible on all Windows devices without additional charge.

For anyone who has already installed the Windows 8.1 Update 1, the Windows Store revamp will soon appear in Windows Update for you. Most users should get it automatically via Automatic Update. Please let us know, once you have updated your Store app, whether you think it's a lot more user friendly or not.