Microsoft's Joe Belfiore took to the stage at the Mobile World Congress in Barcelona yesterday to reveal Redmond's plans for Windows 8.1 Update 1 and also to talk about Windows Phone. He is perhaps better known as 'the Windows Phone guy' and but now he is also now working on "the user experience of Windows 8".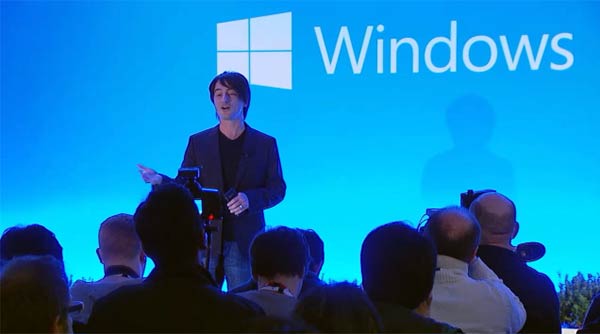 Windows 8.1 Update 1
Belfiore began by talking about the update for Windows 8.1 coming in spring. He talked about how people with touch enabled devices were happier with Windows 8 than Windows 7 or earlier but admitted traditional PC and laptop users without any touchscreen were a little less satisfied. This is the reason behind the upcoming tweaks and changes to the UI. This change is one of the biggest changes to the upcoming Windows revision, as shown in the slide below at #1.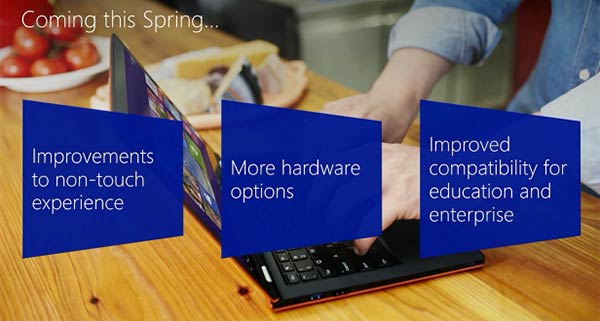 We have previously seen, in leaks of the OS update, what tweaks to the UI are coming to help mouse and keyboard users. Belfiore says the Windows team has managed to "keep our highly satisfying touch experience intact, but that make the UI more familiar and more convenient for users with mouse/keyboard".
The other two big changes are the lowering of system requirements for the updated OS. This, alongside the cheaper price of Windows 8.1 for system builders will enable more competitive Windows devices to hit the market.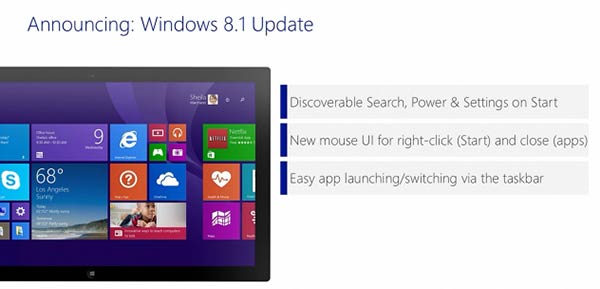 Windows Phone
There were three main announcements concerning Microsoft's Windows Phone platform. First of all Belfiore wanted to talk about the growth of Windows Phone. He pointed out that it was the fastest growing mobile OS last year. In Europe it seems particularly popular, with more than a 10 per cent share over the continent. Also notable was that the app store now has over 240,000 such mobile morsels, including key applications like Instagram, Vine and Mint.
New Windows Phone hardware support is on its way and support for Qualcomm Snapdragon 200 and 400 series chipsets was announced. This is good for vendors who may be interested in using their Android mobile designs to support Windows Phone. Another initiative to help more WP8.1 handsets come to market is a partnership with Qualcomm and the use of the Qualcomm Reference Design (QRD) program.
Microsoft also announced nine new Windows Phone partners at MWC yesterday. Joining HTC, Huawei, Nokia and Samsung,the nine new Windows Phone partners include: Foxconn, Gionee, JSR, Karbonn, Lava (Xolo), Lenovo,LG, Longcheer and ZTE. You might not have heard of some of these but we are told they are some of the leading brands in China, India and Taiwan.