Mozilla has pushed out the first stable preview version of Firefox built for touch and gesture control on Windows 8 systems. The organisation has been teasing the Modern UI enhanced touchy-feely browser for quite some time now and it's good to see a stable preview release make it before Windows 8.1 emerges.
The Aurora channel releases of Firefox are pre-beta early versions which are "not entirely polished" but nevertheless "run fairly reliably on Microsoft's touch-based platform," reports The Next Web (TNW).

Firefox Aurora Windows 8 tile
The official Mozilla blog says that this Modern UI version of Firefox has "a tile-based Firefox Start experience and supports Firefox Sync, Windows 8 touch and swipe gestures, Snapped and Fill views, and Windows Share integration all delivered with a streamlined, modern and beautiful interface". We are informed that behind the scenes the browser uses the same Gecko rendering engine and supports WebGL, asm.js and hardware accelerated full HTML5 video.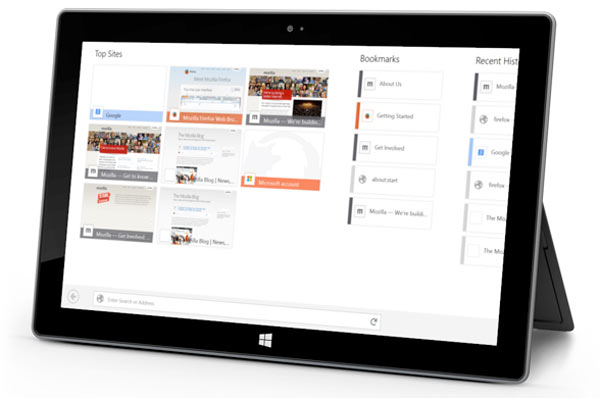 The tile based UI
If you wish to dabble and dip your fingers into this new pre-beta version of Firefox on your touch enabled Windows 8 system you can download Firefox Aurora here. Users are encouraged to share feedback on any quirks and bugs found while using the new software.
If you install the new Windows 8 mode version of Aurora you will notice that it doesn't share bookmarks, history and passwords with the desktop version out of the box. However Firefox Sync can be used to connect it to your Desktop version of the browser.
The first general release of Firefox for Windows 8's Modern UI is expected at the beginning of 2014. Aurora is not available for Windows RT.